GU Mock Trial: A Story of Grit in the Face of Adversity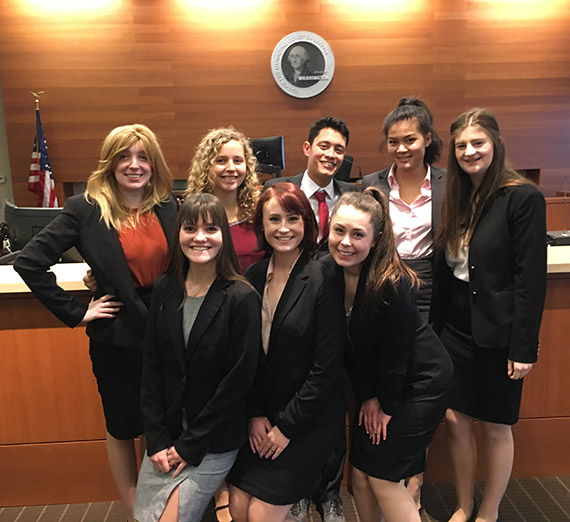 ---
The end of the Mock Trial season is near, and Gonzaga's teams sit at the Regional Tournament awaiting the competition results. The tension is palpable as the announcer mentions the winning team has a 7-1 record—true of both Gonzaga and University of Oregon. Members of each team are coiled like springs in their chairs ready to explode. The announcer reads the final result. The crowd erupts. Gonzaga students jump from their chairs in excitement and jubilation as they are crowned Regional Champions.

Gonzaga University is known as the proverbial underdog that manages great success from a smaller pool of resources than many of its competitors, and GU mock trial is no exception. This historic season has shown tremendous growth on the foundation of a powerful legacy and also illustrates the potential to ultimately compete and succeed on a national level.

The 2018-2019 Mock Trial season has largely been characterized by change. "The major challenges we faced this year were primarily ones of direction," GU Mock Trial President Kurt Wohlers recalls. Dr. Weatherby retired as the team's advisor after 21 years and was temporarily succeeded by Dr. Vik Gumbhir. Not only were there major administrative changes, but the graduation of many key team members called for underclassmen to assume major leadership roles in the program. Wohlers was the only returning executive board member among the four positions. Among all 26 team members, only three were upperclassmen.

While change may bring challenges, challenges push growth. A record turnout allowed for three full teams that fostered a healthy level of competition during periods of practice and preparation. "In some ways this [change] was difficult, but it was also liberating," Wohlers explains. "It allowed us to think outside the box, to avoid dogma, and to work together rather than in distinctly partitioned roles."

Maggie Kruzner, Tournament Coordinator on the Executive Board, credits the leadership of Mock Trial returners for the success of the program this season. In a program traditionally run by upperclassmen with years of experience, the shortage of juniors and seniors called for all returners young and old to step up to the plate. "Our underclassmen rose up in a large way in leadership positions to assist our few upperclassmen to help make mock trial successful in competition and moreover in team unity," Kruzner states. "Having young members of our teams fill these roles showed incredible growth for them as individual leaders and competitors, as they were tasked to take on challenging and dynamic roles in our program."

Fresh perspectives and eager minds ready to commit to over nine hours a week of practices and frequent weekend tournaments led to a season that solidified the Zags as a force to be reckoned with against much larger regional schools. A key success of the season was a first-place finish in the Regional Tournament—a feat only accomplished twice before in Gonzaga's history. Kruzner describes the magical moment they were awarded the regional title: "At the awards ceremony, the announcer informed all of the competitors that the winning team had a record of 7-1. My teammates and I looked around at each other. We knew that it would either be us, or the team we had just gone against—the University of Oregon. When the announcer called out Gonzaga University, we jumped from our chairs and started screaming and all of our competing teams cheered for us as well."

GU Mock Trial seeks to build off this year's success toward a bright future. Both Wohlers and Kruzner recognize that GU Mock Trial is on a trajectory toward big wins and the continued development of the club as a whole. Kruzner speaks of her hope to add a fourth team to expand the opportunity for students to participate and contribute to the legacy of the program. Perhaps involving the local attorneys in the greater Spokane community can contribute to further success.

Regardless of what the future holds, Gonzaga's Mock Trial team has demonstrated they are the epitome of the Zag mentality. When faced with some of the most challenging circumstances to date, these motivated students persevered to one of the best season performances in school history. The community cannot wait to see what these Zags—present and future—have in store as they build on this foundation.