Side By Side: Brother-Doctor Duo Helps Athletes in Anaheim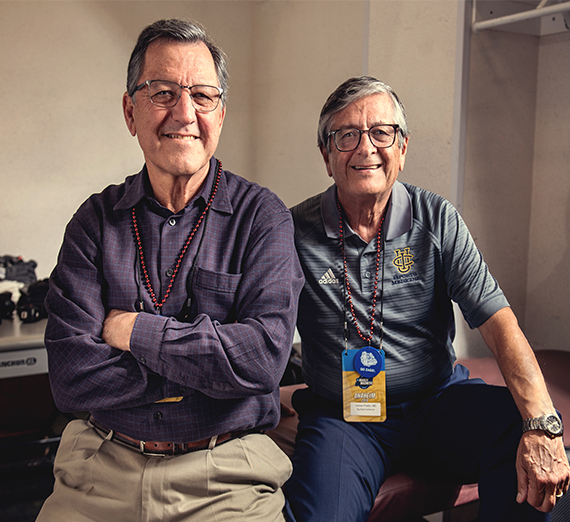 ---
In the fierce competitive action of muscled men on the hardwood during national basketball championship games, there are bound to be injuries. Twisted ankles and sprained knees are frequent, sometimes even torn ACLs and rotator cuffs. And the athletes themselves aren't the only ones at risk – the referees can be prone as well.
While universities have their own team doctors who will hit the road with them in tournament season, there's still the chance that an injury needs an additional set of trained hands to ensure treatment is speedy and appropriate.
So, is there a doctor in the house? When the tournament comes to Anaheim, there are two.
Brothers Carlos ('66, '67) and Miguel ('71) Prietto share more than family bonds – for decades, they also shared a medical practice, the Orthopaedic Specialty Institute of Orange County.
Both are orthopedic surgeons with fellowship training in sports medicine. Both have put those skills to use outside the clinic setting to care for athletes from a variety of sports in a mixture of high schools and universities in Southern California. And … both are on the court in the Honda Center where NCAA tournament games take place. Older brother Carlos credits Miguel for leading the effort to create an exam room there, set up with crutches, splints and other materials at the ready.
"We're the back-up medical staff," Carlos says. "And if someone needs to go to the hospital, we're there to help make the appropriate connections."
Carlos is a team doctor for the University of California at Irvine, where he's a graduate of the medical school and a recipient of the distinguished alumnus award. Miguel has retired from the clinic and hospital work but continues as the team physician for Cal State-Fullerton where he is also a preceptor for the Athletic Training Program.
They've been on hand for this service the last three or four times the tournament has come to Anaheim, and they enjoy sitting courtside and having access behind the court that few others, besides media, typically have.
This year, however, "Everything is serendipitously falling together," for the Prietto duo, since Gonzaga played the Sweet Sixteen and Elite Eight there. "We're quite big fans," says Carlos.
There's more to the Prietto story than sports medicine, however. Carlos and Miguel are two of 12 siblings and nine of them have attended either Gonzaga University or Gonzaga-in-Florence, the university's acclaimed study abroad program in Italy. Undoubtedly, the physician-brothers learned quite a bit about teamwork in their family.
Miguel says as much in a letter he penned to patients and colleagues when he retired from the orthopedic practice: "I have been very fortunate throughout my life in being on very good teams. I started out fifth of twelve siblings, excellent team. Best lessons learned: loyalty, common good, cooperation, hard work, and perseverance; and always listen to and help your brother or sister."
Those are good lessons for the NCAA court, too … and far beyond.