More Than a Game: Inspired to Support Students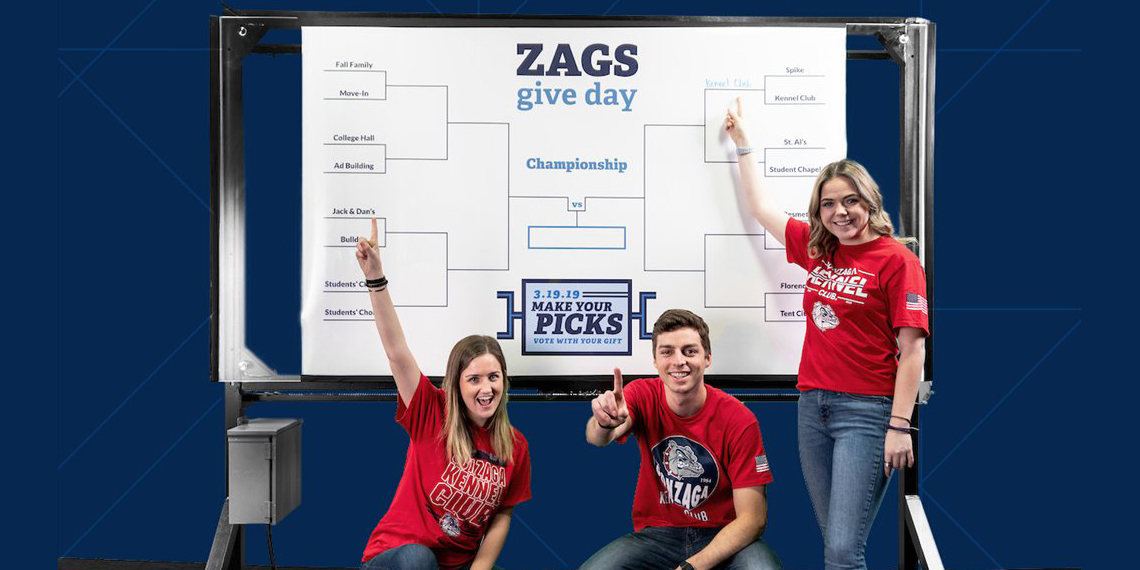 For the sixth year in a row, the Gonzaga community is stepping up to support students through Zags Give Day, the 24-hour fundraising blitz. Even before the official kick-off, more than a hundred alumni, friends, families, faculty, staff, and students made scholarship donations, which this year, count as votes in a bracket battle of GU icons. Scholarship support is at the center of every Gonzaga experience (students wouldn't be here without them), which is why they're at the center of Zags Give Day this year. It's also why an anonymous Gonzaga family has agreed to match all Zags Give Day donations to the Zag Scholarship Fund, dollar-for-dollar until midnight on March 19.
Since 2014, more than $800,000 has been generously donated on Zags Give Day, with more than half a million dollars dedicated to student scholarships. This year, Gonzaga supporters are having fun with the bracket-style twist that's been put on Zags Give Day, and they're sharing some great stories about why they're giving to vote for the Gonzaga icons in the bracket.
"Zag dining touches everyone. I started my career in college working for food service. They sometimes go under-appreciated," said Sue, who voted for COG Cookies. Cindi added with her vote that "inspiration comes in all forms, including cookies!"
"Some of the best memories I have from my time at Gonzaga were in Florence, studying abroad. I made several lifelong friends that year," shared Katie, who voted for Florence. Also voting for Florence, Rebecca expressed her appreciation for international exposure, while Greg and Jessica cast their vote together saying, "Florence will forever be in our hearts—we met at Gonzaga in Florence in 2001."
Emily offered a shout-out to a fellow alum as she voted for Jack & Dan's, saying, "Long live Big E!"
Megan voted for three contenders in the first round and said, "My husband lived in DeSmet and we are still close with his dorm-mates to this day. We got married at the Student Chapel and had some of those DeSmet guys as groomsmen in our wedding. We then celebrated with an after-party at Jack & Dan's. All good memories to be had!"
Danielle similarly voted for several icons. She explained, "I'm from the Ad Building and pre-Jack & Dan's expansion era. Florence will always be special and COG cookies always beat out first day of spring for this Southern Californian."
Gina voted for Catherine-Monica Hall in the match-up against DeSmet and pointed out, "C-M was my first home when I started my time at Gonzaga in 1980!"
Meanwhile, Judi shared what the Student Chapel meant to her GU experience. "As a student I spent many a prayerful moment in the Student Chapel," she said, "whether at Mass or just hoping to do well on a test! To me, the chapel represents the faith building aspect of my Jesuit education."
Gonzaga parents are getting in on the fun, too. Elisa made donations casting votes for COG Cookies and Catherine-Monica Hall and remarked, "We have two daughters that are or have been part of the nursing program and a son that is a freshman there now. We love the Gonzaga community!"
"I lived in C-M, was lucky to have spent a summer in Florence, and am nostalgic about Jack & Dan's," said Thomas. He then added, "Go Zags!"
You can help the next generation of Zags discover their favorite things about Gonzaga by making a Zags Give Day donation. Visit www.gonzaga.edu/zagsgiveday now.