U.S. Military Catholic Archbishop Broglio Visits Gonzaga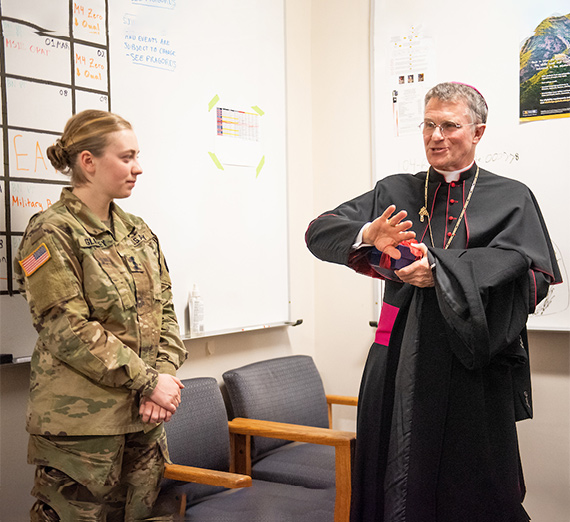 ---
He didn't come with shiny silver stars on his lapels, but the magenta red piping on his black cassock, starched white collar and large bright cross around his neck caught the attention of ROTC instructors and cadets just the same.
On March 4, Catholic Archbishop of the U.S. Military, the Most Rev. Timothy Broglio, made his first visit to Spokane, Fairchild Air Force Base and Gonzaga University.
Archbishop Broglio served as chief celebrant and homilist at a noon Mass in the University Chapel, visited with cadets and ROTC personnel afterward, toured ROTC operations and met with Gonzaga President Thayne McCulloh.
Numbers have decreased in church congregations around the globe as well as in ROTC programs here in the U.S. The Archbishop and Maj. Ed Adams, commander of the Gonzaga ROTC program, have that in common.
"This generation is not streaming to us." Archbishop Broglio said. "Recruiting students and recruiting millennials seeking God, we have to meet them where they are."
He joked that he left a job in an island paradise (Apostolic Nuncio, or diplomatic ambassador of the Holy See to the Dominican Republic) to take this appointment as Archbishop of Military Services in November 2007. Since that time he has logged hundreds of thousands of miles caring for those in the military, meeting them where they are.
Broglio is one of about 40 archbishops in the U.S., appointed by the Pope. However, unlike other diocesan bishops who lead a local, geographical church, he serves service men and women's spiritual needs in the U.S. Army, Navy, Air Force, Marines and Coast Guard, wherever they may be stationed. Headquartered in Washington, D.C., he travels about 200 days a year, all around the globe. For example, he flew back to D.C. on March 5, and on March 6 he was off to Rome for two days of meetings. But unlike most clergy, "My congregations are always changing," he said.
Born and raised in Cleveland, Ohio, studying at Jesuit intuitions, Saint Ignatius High School, Boston College and the Pontifical Gregorian University in Rome, he was part of the Vatican's diplomatic corps, serving in the Ivory Coast and Paraguay. He then worked at the Vatican Secretary of State's office, before his appointment in the Dominican Republic in 2001.