Zags Care: Giving Back to the Community
Gonzaga Athletics Fosters Culture of Service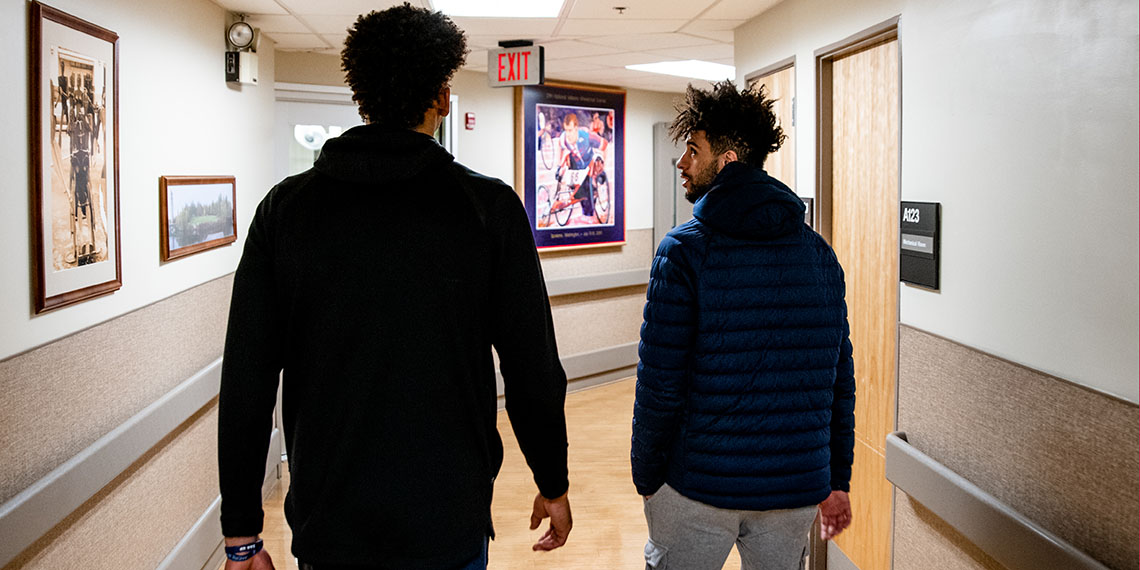 Outside the men's locker room at the Staples Center, a short but intimate conversation spoke volumes about what matters most to Zags.
Following the Gonzaga Bulldogs' Sweet Sixteen loss in the 2018 NCAA men's basketball tournament, Mike Roth shared his admiration for the team's members with a handful of reporters.
Roth, director of athletics, reminded the media that the success of GU athletics is measured by more than game stats. As he is known for saying, Gonzaga student-athletes succeed not just on the court (and other fields of play) but in the classroom and in the community.
Gonzaga Athletics has created a culture, consistent with the university's core values, of developing the whole person. Yes, the No. 1 men's basketball team and a wide number of Gonzaga teams succeed in competition and are top-ranked nationally in annual academic rankings. Often unseen, their collective community outreach is just as impressive.
The efforts are intentional and focused. Data tracked by athletics shows the depth and breadth of community connections. In the 2017-18 academic year alone, more than 300 student-athletes spent more than 4,000 hours partnering with 30 local agencies.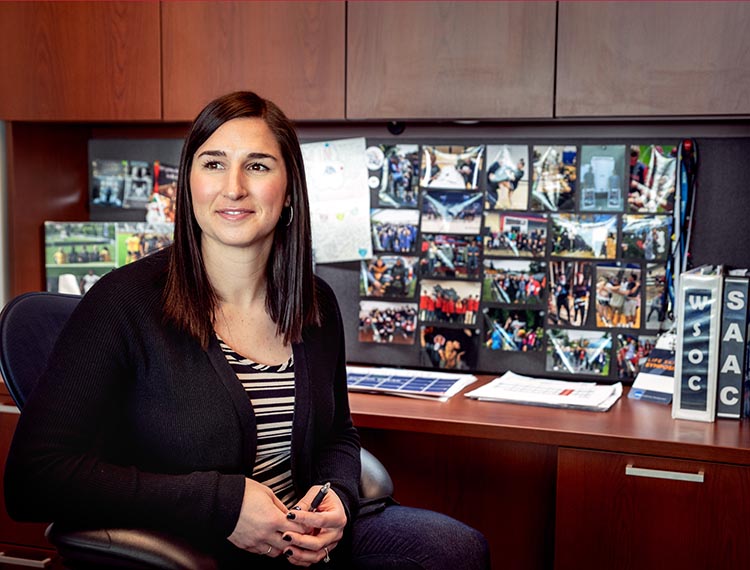 Coordinating it all is Emma Moon, a former Zag student-athlete who saw firsthand the benefit of giving back while playing soccer from 2008 to 2012. One wall of her office in the Volkar Center for Athletic Achievement features a whiteboard calendar packed with community outreach events scheduled for every team.
"My experience is much the same as our student-athletes now," says Moon, "except that it (our community outreach) has grown exponentially. It's a huge reason why I stayed, after graduation. (Service) shaped my experience as a student-athlete. The impact we were able to make in the community is what fuels me now in my work."
Moon is part of the robust student-athlete support services team. As director of life skills development, she coordinates outreach opportunities and tracks outcomes, in addition to providing academic counseling and leadership advising to student-athletes.
Visiting Veterans
Recently, she accompanied men's basketball seniors Josh Perkins and Jeremy Jones on a visit to the Veteran's Administration hospital in north Spokane. The players brought smiles to patients, long-term care residents and staff during their whirlwind visit in their busy days.
"They're here because of you. They want to acknowledge your service and say thanks," a VA official explained to the first of several surprised waiting rooms of patients and loved ones. Over the next hour, staffers and patients posed for photo ops and chatted with the players.
"It's the highlight of my year," said a surprised Marine Corps veteran waiting to receive medical care. "[Gonzaga] is a class school. They stick to their morals and they stick to their academics."
Jones and Perkins have participated in other opportunities with their team during their careers, but each was moved by the visit to the VA facility.
"It's just a pleasure to see the smiles on the vets' faces, and it's quite an experience to see we can make people's day like this," said Jones, who jumped at the chance to honor veterans like his grandfather.
"I'm just glad we got the opportunity to come," said Perkins, who recently became the school's all-time assists leader and is also a perennial all-West Coast Conference academic honoree. "It was eye-opening; it was life-changing. To give back something so small like that, just an hour of your day, and have it make such an impact — it was awesome."
Like many GU service opportunities, there is a story behind the VA visits. They started when a retired local veteran connected with men's basketball assistant Donny Daniels a couple of years ago at a coffee shop and encouraged him to have athletes visit the facility.
"It's a very humbling experience going to the VA," says Daniels. "The kids are very insightful after their visits and have an attitude of gratitude, but, as young adults, I don't think they really understand how much they mean to the community."
Saying Thanks
The women's basketball team similarly has a set of "favorite" partner agencies, many of which have a personal connection to the coaches and players. Of note are the ALS walk and the Martin Luther King Jr. rally in support of family members or teammates.
"When possible, we pick things that mean something to us or our players," says Lisa Fortier, a longtime Zag assistant who started some of the current outreach efforts before becoming head coach in 2014. "Given how well-attended and how well-supported our team is, it's important for us to say, 'Thank you,' and to be in the community donating our time."
Women's team members regularly volunteer at programs such as Blessings Under the Bridge, which provides support to the homeless population in downtown Spokane. After serving meals at the site with teammates on a recent cold winter night, senior Chandler Smith said the connection with the community is a big part of why she decided to play at GU.
"That was something that definitely resonated with me when I was looking at schools," said Smith, an area product who transferred to Gonzaga after playing a year at Nebraska. "It means the world to us — because we know they give so much for us — just to spend a couple hours here and there trying to give back to them."
That sentiment was echoed by fellow senior Laura Stockton, who was first exposed to similar service opportunities while attending Saint Aloysius school and Gonzaga Prep near GU.
"Being from Spokane, it really hits home, so I try to do a little bit extra when I can," says Stockton, who recently returned to her former grade school to talk about servant leadership, a topic she says is discussed often at Gonzaga. "I love that we give back to the community."
Making An Impact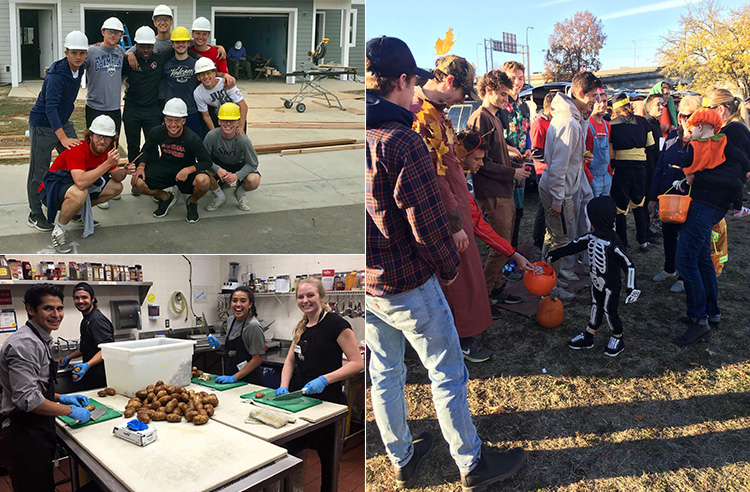 The collective efforts are not only quantifiable in the numbers, but also in the individual impact on some of the most vulnerable community members: feeding those who are hungry, building homes for low-income families, or mentoring a child in an area elementary school.
It's all part of a broader culture, fostered and sustained by generations of student-athletes and designed to better prepare student-athletes for their lives beyond their time at the university.
"I'm glad I came to GU where I could do something like this," says Perkins. "Obviously, basketball is a huge piece of our life, but such a small piece of who we are as people. Life is bigger than basketball and this is just a small part of us showing it."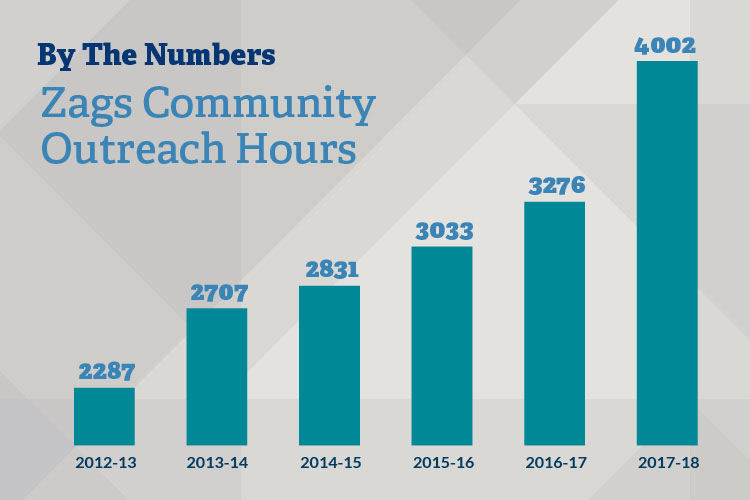 Partner Spotlight
Catholic Charities of Spokane is a principal partner of Gonzaga Athletics. Over the academic years ranging from 2011-12 through 2017-18, 2,356 Zag athletes volunteered 5,822 hours helping to collect thousands of pounds of food, books, clothing, and diaper items contributed by members of the Spokane community. Holiday traditions hosted by Catholic Charities include Trunk-or-Treat, an annual Halloween event that provides local children a safe place to gather. Student-athletes staffed the event and gathered more than 800 pounds of donated candy for the kids. In December, student-athletes adopted six families in need as part of the Christmas Blessings program.

During the current academic year, partner organizations include: Habitat for Humanity, Union Gospel Mission, Spokane Public Schools, American Childhood Cancer Organization of the Inland Northwest, Juvenile Diabetes Research Foundation, Boys & Girls Clubs, and Transitions Help for Women.
Service & Community Impact