Gonzaga Student Athletes Give Back to Northeast Spokane Community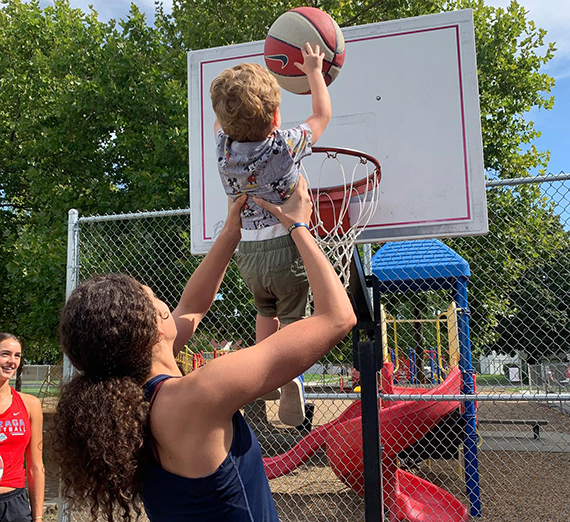 ---
GU's Athletic Director Mike Roth likes to remind people that the success of GU athletics is measured by more than game statistics and wins.
"Gonzaga student athletes aim to succeed not only on the court and the field, but also in the classroom and in the community," he says.
For Northeast Spokane that means Zag student athletes show up in many ways – making quick work of setting up tables for the Logan Block Party, for instance, or conducting a Leaf Raking Blitz in partnership with Catholic Charities, for neighbors who have a hard time with yardwork. You will find student athletes from all sports involved.
Last year 252 athletes served 684.5 hours in Northeast Spokane conducting such diverse activities as visiting classrooms to read for Dr. Seuss Week, and helping the Salvation Army clean out refrigerators and freezers in preparation for new stocks of food.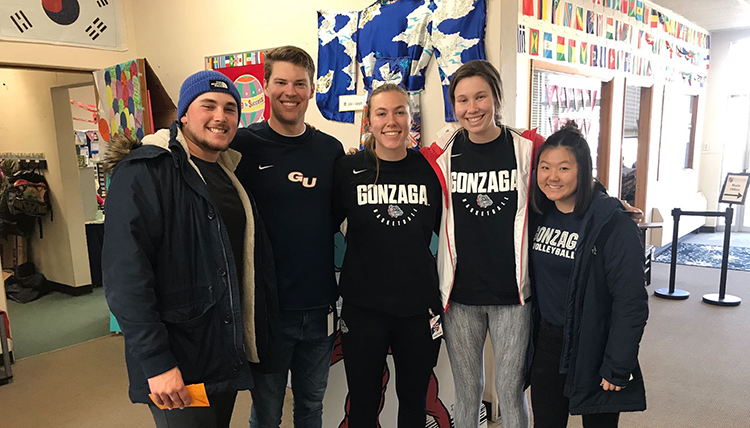 The 50-member Student Athlete Advisory Committee (SAAC), made up of representatives of each athletic team, encourage participation and select projects across the entire community. Emma Moon, Life Skills Director, and a former member of the women's soccer team (2008-12) helps coordinate and track involvement.
"Much of Gonzaga's student population lives in and around Northeast neighborhoods, including student athletes," she explains. "They recognize that their neighborhoods, and Spokane as a whole, support them in their athletic experiences, and in their personal growth as members of society. They want to give back."
Jordan Thompson, who plays on the women's soccer team shares the sentiment of her fellow athletes: "Working with the Northeast community has meant so much to the athletics program. It's really special to be able to have a direct impact on the community that shows each of our teams so much support."
Matt Perkins, a member of the men's tennis team, expresses a similar sentiment: "It's given us the ability to create relationships, serve, and give back to this community that we are all living in, and that has given so much to us and our experience as students."


Learn more about the community initiatives of Opportunity Northeast.