Zags Give Day 2019 Gamifies Scholarship Support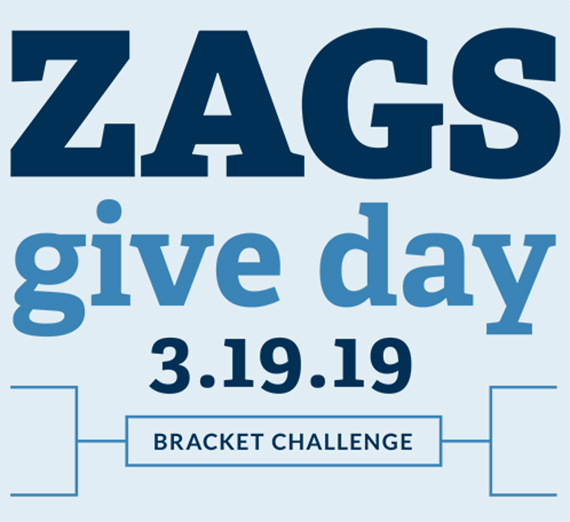 ---
SPOKANE, Wash. — Gonzaga University will hold its sixth annual 24-hour online fundraising blitz on March 19 at www.gonzaga.edu/zagsgiveday. This year's bracket-style twist pits GU favorites against one another in head-to-head challenges in which each icon that inspires the most unrestricted scholarship gifts will advance into the next round until an overall champion is named.

Additionally, all gifts made during Zags Give Day will be matched dollar-for-dollar by an anonymous Gonzaga family who hopes their investment will help inspire further support for students through scholarship donations.

In each round, participants choose the icon to which a vote will be assigned by making a scholarship gift through the website. All gifts and matching funds will benefit students through the Zag Scholarship Fund. Because 99 percent of Gonzaga students rely on financial aid, fundraising is critical to keeping Gonzaga affordable to students. Zags Give Day has become an impactful and important day for the Gonzaga community.
"Gonzaga exists only because of the generosity of others," said Gonzaga's Associate Director of Strategic Engagement and Communication Ryan Hershey. "Scholarships are critical to ensuring students can come to GU and become the service-minded leaders our world needs most. As a private, nonprofit university, Gonzaga relies on donations. Zags Give Day provides an opportunity to inject a little 'fun' into our fundraising."
Over the past six years, Zags Give Day has inspired 5,938 donors to give more than $883,640 in support of students through scholarships and other operational and programmatic funding. In 2018 alone, more than $420,000 was given by more than 1,890 donors. In addition to student scholarships, Zags Give Day benefits all Gonzaga schools and colleges, its sustainability efforts and athletics.

Current students are encouraged to get involved by helping to choose the University icons featured in the bracket and to share the importance of scholarship donations with others.
Donations can be made at www.gonzaga.edu/zagsgiveday and will be doubled through March 20. Participants will also receive updates about the impact of their gifts.
For more information, contact Ryan Hershey (509) 313-5963 or hershey@gonzaga.edu.