First Class: Myrtle Woldson Scholars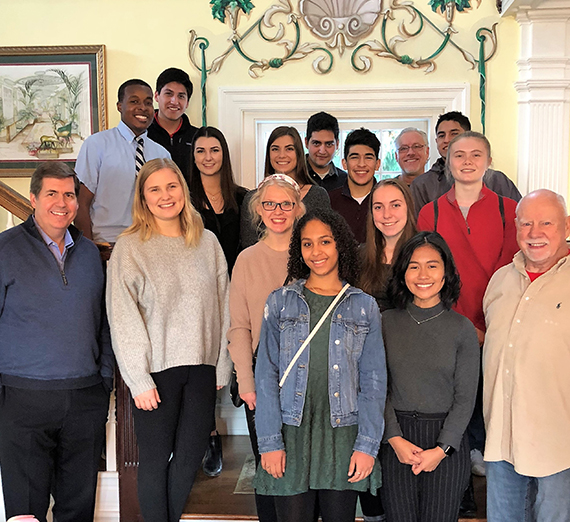 ---
Gonzaga has announced the 2018-19 class of Myrtle Woldson Scholars, each of whom has received a $10,000 scholarship for scholastic achievement, community involvement and leadership. Each scholarship is renewable for all four years of undergraduate study, as long as the recipients remain in satisfactory academic standing.
These 14 students have a penchant to serve others, each has distinct and rigorous educational aspirations, and all possess immense gratitude for the opportunity Miss Myrtle Woldson provided them through her bequest to Gonzaga University after her passing in 2014.
Here's a brief look at the inaugural class of Woldson Scholars:
Miranda Abunimeh ('21), Oak Harbor, Washington
She is busy as a member of the Filipino American and Asian American student unions, the Residential Housing Association and as marketing manager for her residential hall block. She'd like to pursue a law degree and work in immigration law.
Jalen Dove ('22), Altadena, California
He is a member of GU's Black Student Union, and an active volunteer. "In order to receive, I must give," he says. "I enjoy community service, and it is the right thing to do." Not sure on his major, Jalen studies hard to set himself up for future success.
Eduardo Escalera ('21), Manson, Washington
He comes from a hard-working family who provides motivation for him to succeed. He aspires to grow spiritually at GU while majoring in human physiology to be a physical therapist in a rural area.
Mya Gillingham ('22), Vancouver, Washington
Mya returns what she receives. She volunteers at a local elementary school with the SMILE mentoring program. Kindness is what she finds in GU students and faculty. "People are always holding the door, sharing a smile, finding other ways to help."
Savannah Gitchel ('22), Spanaway, Washington
She is impressed with GU students, overall, in how serious they are about learning. Savannah is a fine example. She is studying to be a mechanical engineer with hopes someday of designing roller coasters and/or amusement parks.
Mark Hegbloom ('22), Hesperia, California
Hailing from a single-parent household, Mark appreciates the "complete understanding and acceptance that students and faculty have for one another." He is a member of GU's cheerleading squad, and a civil engineering major.
Jae Hugs ('22), Billings, Montana
His love for the GU community may only be superseded by his love of the outdoors. The "understanding, caring and welcoming community made my transition from high school to college better than expected." The business major finds the close connection with faculty a plus.
Andrew Jimenez ('22), San Diego
He is the first in his family to attend college. He was active in retreat planning in high school, and is enamored with the sense of community at GU. His major in biology is the first step toward becoming an anesthesiologist.
Francisco Jimenez ('22), College Place, Washington
Aspiring to be a civil engineer, he particularly loves mathematics. When he first visited campus, he found everyone welcoming, "and it felt like I was already home." GU feels as much like a family to Francisco as it does a school.
Morgan McCurdy ('22), Shoreline, Washington
She could sit for hours in front of whiteboard and work out long mathematical equations. She would like to teach young children math during a Peace Corps assignment following graduation. She finds GU professors speaking with energy and love for their subject matter.
Lilia Perez ('21), Monroe, Washington
A nursing student, Lilia is also a member of the women's rowing team. She enjoys attending sporting events, and time with her friends, while also making new ones. She visited many campuses, and GU was the one where she felt supported and welcomed.
Grace Portch ('22), Richland, Washington
Nursing is her academic passion and serving others warms her heart. Last year she helped stage Dresses For Hope, which provided high school girls with dresses so that they might feel confident attending school dances.
Jamal Shateri ('22), Spokane
He emigrated from Iran to Moses Lake three years ago, and is studying computer science. He is impressed with GU's small class sizes which allows him to communicate easily with professors. Loves the "nice atmosphere and cool students" on campus.
Anastacia Whitaker ('22), Phoenix
As a high schooler, she was involved in dance and theater, and advocated for equality and inclusion. She enjoys photography and ceramics and exploring environmental studies.
Miss Woldson's gifts were extraordinary — you can have a significant impact with a gift of any size. To join Miss Woldson in supporting Gonzaga students with much-needed scholarships, click here