Miss Myrtle Woldson Celebrates Arts, Education with $55 Million Gift to Gonzaga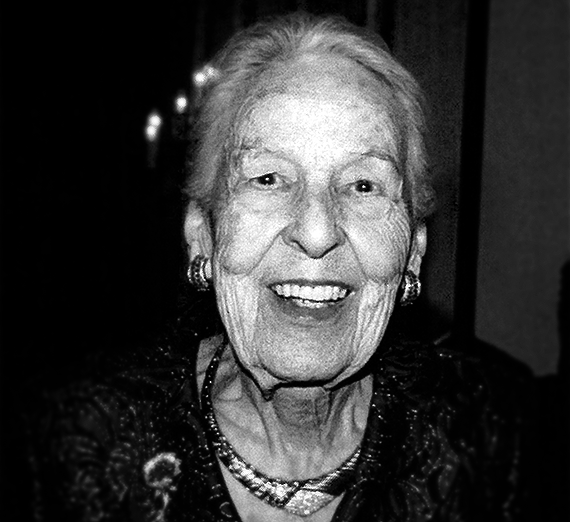 ---
Largest Gift in GU History Will Fund Scholarships,
Build Performing Arts Center
SPOKANE, Wash. – Miss Myrtle Woldson, an accomplished businesswoman, musician and philanthropist, has celebrated her love of the arts, music and student success with a $55 million gift to Gonzaga University – the largest in University history – to fund student scholarships and build a performing arts center.
Miss Woldson, a Spokane resident who had ties to Gonzaga for more than five decades, passed away on April 11, 2014 at the age of 104. Speaking to University supporters Thursday evening at the Davenport Grand Hotel, Gonzaga President Thayne McCulloh said Miss Woldson gifted $25 million to create an endowment fund to provide scholarships for students with high financial need from both low- and middle-income families, and $30 million to build the Myrtle Woldson Performing Arts Center on campus.
"Miss Woldson decided that Gonzaga was worthy of her trust, because of who we are and where – with her support – we could go. She saw Gonzaga as something to believe in; an endeavor worthy of her support," President McCulloh told the crowd gathered to learn about the University's vision for the future. "While she herself did not attend Gonzaga, Miss Woldson always believed that this University's primary work was to open doors: creating opportunities for supporting bright men and women who could make positive and lasting contribution in the world. Just as she did."
Miss Woldson's gift is the second-largest from an individual to a college or university in Washington state history, according to data from the
Chronicle of Philanthropy
, and will create the largest scholarship fund for students with high financial need in Gonzaga's history. Miss Woldson's scholarship fund will bolster the University's endowment – helping to graduate students with less debt and make Gonzaga less dependent on tuition revenue.
"Miss Woldson's legacy will live forever at Gonzaga University and through future generations of our students. A true friend and giant of philanthropy, her quiet, private generosity to Gonzaga, the City of Spokane and so many causes in our region over time is but one of the great expressions of her legacy of love," President McCulloh said. "Miss Woldson was an avid member of the Gonzaga family – a proud Zag who attended University events and loved to cheer on the Bulldogs at basketball games. She made generous gifts to the Jundt Museum Art Endowment, athletics, and student scholarships over the years."
Miss Woldson's bequest serves as an inspiring gift for Gonzaga's $250 million fundraising campaign – titled
"Gonzaga Will: The Campaign for our Future,"
which President McCulloh formally announced this evening.
"Thanks to the unprecedented generosity of Miss Woldson and more than 23,000 other supporters, Gonzaga has raised $183 million toward our campaign goal," President McCulloh said.
A skilled pianist, Miss Woldson's love of music and the arts is reflected in her bequest for the Myrtle Woldson Performing Arts Center. The estimated 52,000-square-foot building will include a 750-seat performance theatre named for Father Bernard J. Coughlin, S.J., chancellor of Gonzaga, as well as areas dedicated to instruction in music, dance and theatre arts. Pfeiffer Partners of Los Angeles has been selected as the lead architect for the facility with Bernardo-Wills Architects of Spokane. The theatre and music consultant is Auerbach Pollock Friedlander of San Francisco. The building will be located west of Astor Street in the vicinity of the Knights of Columbus building.
"Miss Woldson's gift to scholarships will allow generations of deserving scholars to discover their promise at Gonzaga," President McCulloh said. "Her gift to build a performing arts center honors the rich heritage of the arts in the Jesuit tradition. It will usher in a new era of teaching and learning in these creative disciplines at Gonzaga, as well as create a magnificent venue for the entire community to enjoy. Miss Woldson is building on the solid foundation for the arts at Gonzaga created by the Jundt Art Center and Museum and the Harry and Colleen Magnuson Theatre, as well as the dedicated work of our exceptional faculty and staff in these fields."
The daughter of a self-made industrialist, a railroad contractor who helped build the Great Northern Railway, Miss Woldson quietly carried on her family's tradition of investing, industry and philanthropy. Through discipline, creativity, a sharp intellect and a keen eye for commerce, she became a successful businesswoman in her own right. Her love for the Spokane community can be seen in developments that honor her parents, to include The Martin Woldson Theater at The Fox and the Edwidge Woldson Park on Spokane's South Hill. Far more frequently, her philanthropy was discreet. Miss Woldson's quiet, dignified support makes her compassion all the more powerful, reflecting her commitment to hold the community she loved "in trust."
For more information, please contact Mary Joan Hahn, director of community and public relations, at (509) 313-6095.