Duty Calls Navy Reserve Lt. Commander Rorholm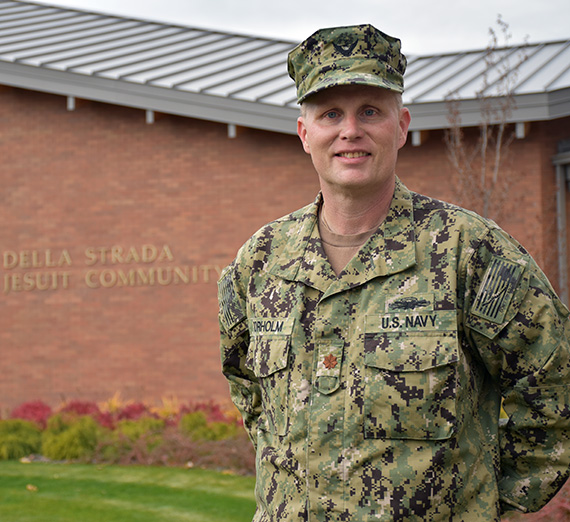 ---
Mike Rorholm grew up thinking about military service . . . a lot. His grandpa was a Navy military trainer, stationed at Farragut in north Idaho. His grandma worked for the USO in Coeur d'Alene. But a baseball scholarship awaited him after graduating from high school, and off to college he went.
But the bug to serve never left him. It wasn't until he was 34, after being obsessed with the tragedy of 9/11 and all the news accounts of the aftermath, that Gonzaga's business manager for the Jesuit community decided to sign up for the Navy Reserves. He expected to serve his career as an enlisted man. But others saw officer potential in him. He went to school to get his master's degree, and now is a lieutenant commander, making final preparations to head to the Middle East on a 10-month mobilization with U.S. Central Command, heading out just before Thanksgiving.
On the eve of his departure from his wife, Marnie (program assistant in Music), sons Gunnar (Lewis & Clark High School senior) and Eric (junior at Marquette studying theater and political science), he has no regrets about joining the military 16 years ago. Sure, he is sad to be missing Thanksgiving, Christmas, an anniversary and his youngest son's high school graduation, but Rorholm is a man called to serve. "That's why I've only had one job here for so many years because I love serving with the men in our Jesuit community," he says.
"But I also love the people in the military. My service with them has made me a better person . . . maybe that's debatable," he says with a distinctively hearty Rorholm laugh. "I can tell you I appreciate everything in my life a lot more, especially my family."
Rorholm has known of his pending mobilization since May, giving him time to get all of his business affairs in order at Della Strada. "I'll have as much as I can lined up and ready before I go, and members of our team here will carry on fine." He plans to return to the only job he's had here at GU since he arrived in 2003.
On his new assignment, Rorholm will serve as deputy chief of a joint logistics operation center, in a "backfill position." Basically, that means troops have been stationed in the Middle East for some time, and the regular troops need a break.
Rorholm's work will entail logistical planning to move equipment, supplies and personnel from one place to another, and making arrangements to deliver the remains of fallen warriors back home to their families.

Both he and Marnie are working on their doctorate degrees here, and in the process of defending their dissertation topics – Mike on minority leadership in the military, and Marnie on interruptive symbology. Mike says his dissertation work, along with a military certification program in joint military operations he's taking online, will help keep his mind from thinking about how much his misses his family.
He choked up thinking about missing his son's high school graduation. "The hardest part is on my family. I know what I'm doing but they won't know what I'm doing all the time, and that'll be hard. The good thing is we live in a time where communication isn't as tough today as it was in past eras."
Retired Lt. Col. Alan Westfield, Army ROTC assistant professor, took leave in 2015-16 to serve in a civilian role with armed forces in Afghanistan. But Rorholm's mobilization for active military duty is believed to be the first at GU in recent times.
"Now it's my turn," he says.
Peace be with you.