Gonzaga Law Celebrates its Grads' Fine Print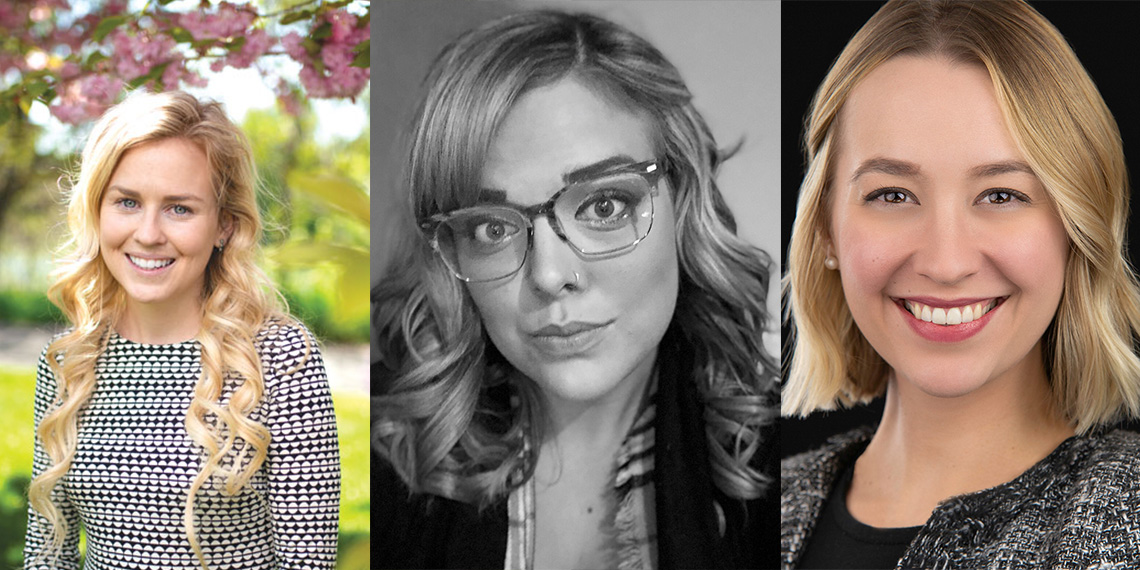 Law is a literate profession and Gonzaga Law understands and embraces this truism. This understanding is why Gonzaga Law requires two full years of legal research and writing education and offers advanced coursework options. Members of the legal academy know how difficult it is to publish their work. But for law students, finding a print outlet for their scholarship is especially difficult. Nevertheless, three recent Gonzaga Law graduates have already started their CVs off with a scholarly bang by having their work, begun while in law school, accepted for publication by impressive journals.
Emily Hazen's ('19) dedication to advocating for victims of military sexual assault began long before she started at Gonzaga Law. Hazen's article, "Restructuring U.S. Military Justice Through a Comparative Analysis of Israel Defense Forces," was published in the Fall 2019 edition of the
Wisconsin Journal of Law, Gender & Society
. In her article, Hazen advocates for the adoption of the Military Justice Improvement Act, which removes military sexual assault allegations from the chain of command. Hazen argues that the current military justice system chills victim reporting and fails to provide justice for victims of sexual assault.
While a student, Hazen found that journals were uninterested in publishing a student piece. However, in April 2019, Hazen's paper won the 2019 YCC Phanor J. Eder Prize in Comparative Law. Now, with her degree complete and armed with this impressive distinction, Hazen resubmitted her paper and began to receive offers. "I think the best advice for young lawyers going through the publication process for the first time is to continue to submit the paper for publication," Hazen said. "Eventually some editorial member will take the time to read the paper and hopefully extend an offer for publication." Hazen's tenacity paid off and her article was published in a journal that is one of the earliest in the nation devoted to the study of women and the law.
When Ellie Boatman ('19) began her research and publication odyssey, she also tackled a tough issue. Boatman's article, "The Kids Are Alt-Right: How Media And The Law Enable White Supremacist Groups to Recruit And Radicalize Emotionally Vulnerable Individuals," addresses the rising threat of white supremacist violence and recruitment of emotionally vulnerable people. A year ago, this topic may have been seen as too contentious to publish. But Boatman's work has gained traction as tragic events of the past year have unfolded. While at Gonzaga Law, Boatman received help from her mentors that she credits with her ability to develop, research, and write about her thesis. Boatman's article was published in Fall 2019 by the
Law Journal for Social Justice
at Arizona State University. "It is important to trust the product that you put work into," Boatman said. "Focus on your writing and message, and be comfortable putting yourself out there. Always shoot your shot."
"Focus on your writing and message, and be comfortable putting yourself out there. Always shoot your shot."
Nicole Luth ('19) spent the summer after her second year at Gonzaga Law as an intern with the Washington State Bar Association, an experience which led to an unexpected opportunity. Luth became a contributing force behind the second edition of the
Annotated Standards for Imposing Lawyer Sanctions
, which will be published by the American Bar Association. The publication provides guidance to state courts, lawyers facing disciplinary action, as well as the lawyers representing them, on how the ABA's Standards are applied around the country.
Luth assisted with updating and revising the volume's Chapter 9.2, which pertains to aggravating factors courts consider when determining the appropriate sanctions for attorney misconduct. But as any first-semester law student knows, annotations are fiendishly detailed and comprehensive resources for analysis, research, and guidance. Because of the depth and breadth of her work, Luth's name now joins esteemed company alongside 21 other contributors from around the country.
Going through the publication process can be a daunting task for recent graduates. These three new lawyers prove that passion and dedication can be just as moving as reputation and prestige. Gonzaga Law extends hearty congratulations to Hazen, Boatman, and Luth for their impressive achievements and their contributions to the profession of law.