Speakers Applaud Graduates' Persistence at Commencement
Commencement 2020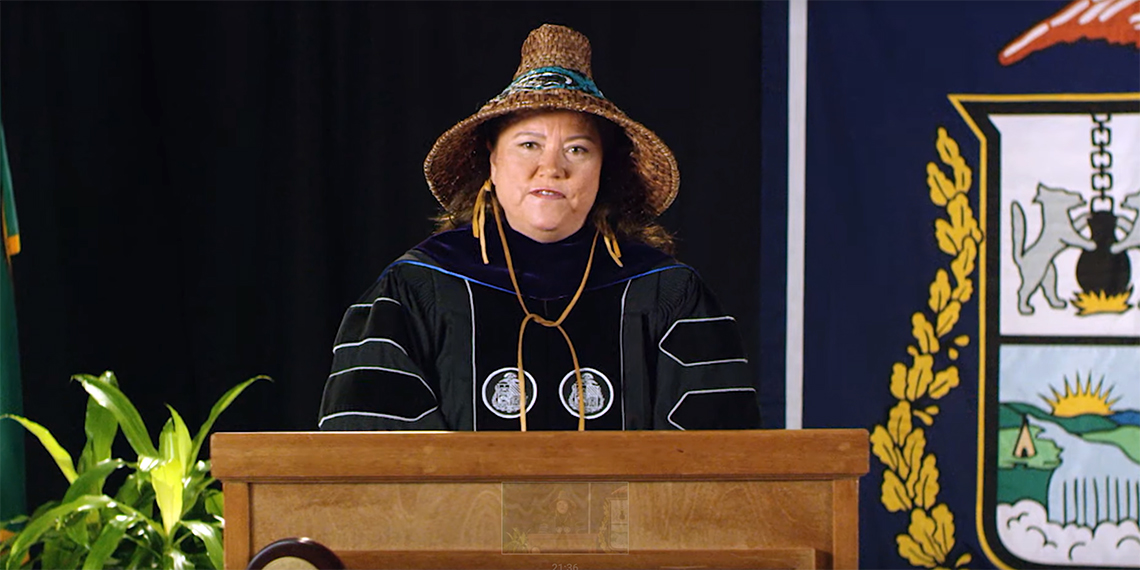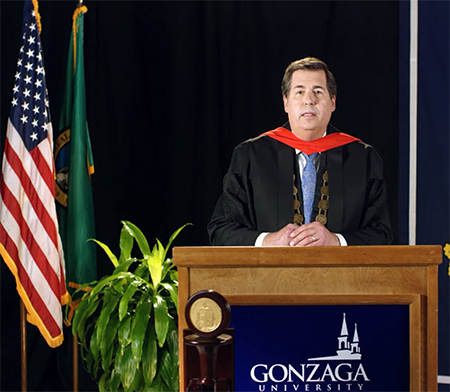 Despite the turbulence college graduates faced in the final months of their studies, the common thread in the speakers' messages was hope at Gonzaga University's ceremonies Sept. 5-6.
Hope is evident in our graduates' vision for the future, and in the contributions they continue to make in shaping a better world.
"We are facing apocalyptic challenges on many levels. Our Creator told us we are strong and ready for this moment," said Commencement speaker Fawn Sharp ('91), president of the Quinault First Nations, who received an honorary doctor of laws degree from Gonzaga.
"Embrace all your dreams, embrace the darkness and be that beacon of hope. We must rise to the challenge. I promise you that Gonzaga has prepared you to face this moment. Strive, soar and meet these challenges."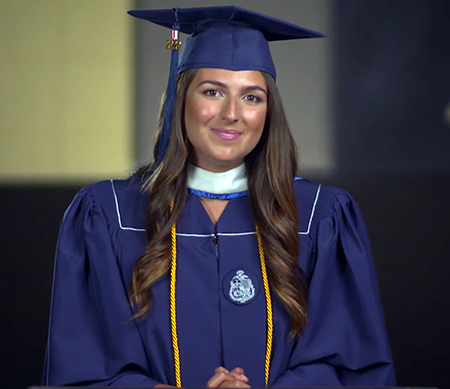 Undergraduate student speaker
Arcelia Martin
reminded her fellow graduates that "Our most valuable assets are the connections we have with each other. Seek the stories that make the world seem more abundant, that challenge you to think differently, that lead you to toward love."
Kristen Miller, graduate student speaker, offered this counsel to her classmates.
Adversity is necessary and resilience is optional. You have exemplified resilience and overcome obstacles. You have grown personally, professionally and academically. The adversity is shaping you.
The world is your new classroom and your teachers are those around you. Associate with people different from you, and learn from them. Every encounter brings a new perspective. Our education is now dependent upon the lessons learned from those around us.
You are forever a Zag. You are part of a network of more than 100,000 people – teachers and classmates. You are never alone because you are part of the Zag family.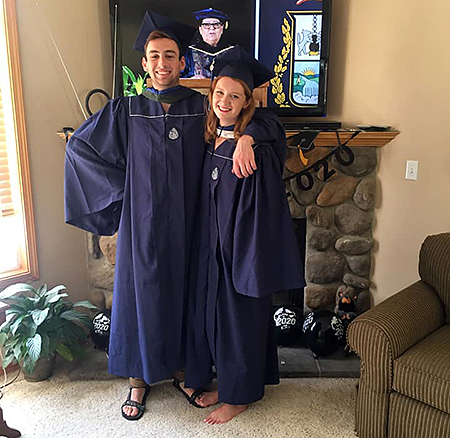 President Thayne McCulloh, who has carefully watched over the student body as it coped with obstacles presented by COVID-19, applauded the students for their understanding and grace with which they met the challenges of the world's pandemic. "It is nothing short of extraordinary to witness firsthand how tremendously courageous you all have been in the face of circumstances none of us have ever borne witness to before."
This was Gonzaga's 127th Commencement, and the University's first presented via remote means. It honored 2,401 undergraduate, graduate and law degree recipients, with 1,436 bachelor's degrees, 791 master's degrees, 70 doctorates and 104 law degrees. The Graduate and Law Ceremonies aired on Sept. 5, and the Undergraduate Commencement on Sept. 6. Videos presented every graduate's name, and for most, a picture or brief video displayed. Grads and their families watched together in real time from their respective homes and many shared their pride through photos on social media, to garner a glimpse of the excitement they would have normally experienced in person. Some still wore their caps and gowns and even came to campus for the traditional photo in front of College Hall.

Surprise Guests
New this year, Gonzaga welcomed video messages from several well-known alumni and other personalities.
Former Washington State Supreme Court Chief Justice and Assistant Attorney General
Mary Fairhurst ('79, '84 J.D.)
, offered graduates three pieces of advice: Make a difference; believe in miracles; and be the leaders the world needs most.
"Dancing with the Stars" celebrities Julianne and Derek Hough, and their GU alumnus father Bruce ('19 M.O.L.), shared personal advice with the graduates. Julianne said, "Continue to stay a student, stay curious and don't lose that childlike wonderment, creativity and curiosity." Brother Derek said, "You don't have to have a great start, but you have to start to be great." And dad Bruce chimed in, "Always put people before things. Relationships will last forever."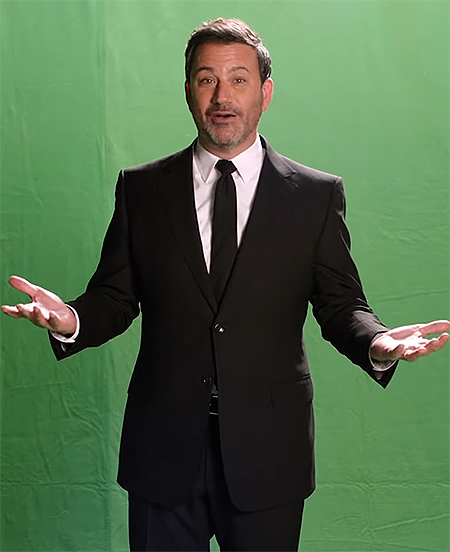 TV late-night talk show host
Jimmy Kimmel
, who challenged whether Gonzaga even existed when the men's basketball team made its 2019 run to the Elite Eight of the NCAA men's basketball tournament, said "I want to congratulate the class of 2020 at Gonzaga University (pause) . . . wait, there is no Gonzaga University."
Zag basketball standouts Killian Tillie ('20) and Zykera Rice ('18, '19 M.O.L.) also congratulated the seniors, as did Giving Back Packs founder Rick Clark ('19), U.S. Sen. Maria Cantwell and U.S. Rep. Cathy McMorris Rodgers.
The Law School's student speaker Dane O'Connell had the last word, figuratively speaking. "We did it. What an anticlimactic ending. On the bright side, we are done. We will never again take a mid-term, download ExamSoft and take a practice test, never again be called upon to recite the legal definition of … bootstrap authority… Never again must we stand in litigation skills class and recite what reflective and active listening means to 45-plus people at 7:45 in the morning. And for that, congratulations everyone."
Academics
Diversity & Inclusion
Faith & Mission
Service & Community Impact
Student Life
College of Arts & Sciences
School of Education
School of Engineering & Applied Sciences
School of Law
School of Leadership Studies
School of Health Sciences
School of Business Administration
Online Programs
Academic Vice President
Alumni
President's Office