Giving Thanks: A note from scholarship recipients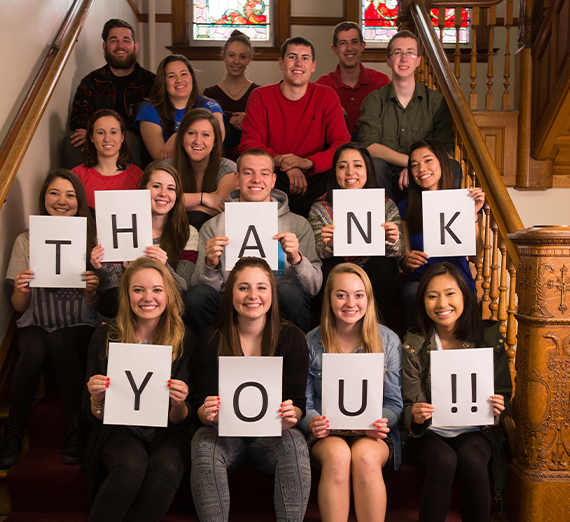 ---
In the spirit of Thanksgiving, we offer these brief reflections from current students sharing how their lives have been changed thanks to the generosity of GU's donors. How lucky are we (and these students) to be met – each day – with passionate, dedicated faculty and staff who so creatively bring to life our Mission. What a partnership between students, faculty and staff, and our amazing benefactors!
"I am the youngest child of two immigrant, Filipino parents who went to great lengths to seek a better life for me and my older brother. At this moment, I am a nursing major and ROTC cadet. I hope to become a nurse for the U.S. Army and, in a sense, give back to the country which has given me and my family so many opportunities. What this scholarship means to me is another chance to continue pursuing my goals and to maintain the opportunities which have been set before me. The door opened for me by my parents is kept opened because of your support. I could never thank you enough."
Dom, Class of 2021
"Not only am I a nontraditional student, but I am a husband, father, and a veteran. I served in the U.S. Navy for six years as a nuclear electrician's mate. It isn't easy trying to go back to school after serving in the military. I would argue that it is even more difficult to return to school as a parent. This scholarship means the world to me and my family: Every dollar goes toward peace of mind. Now I can focus on my work and doing well so I can graduate on time and start giving back to my community. Thank you so much."
Sean, Class of 2020
"I am from Missoula, where I have lived my entire life. I plan to attend medical school in hopes of becoming a pediatric oncologist and to return to Montana where there is not a solid pediatric oncology system in place. I chose Gonzaga mostly due to the strong academic reputation, but also because when I visited I immediately felt like I was home and where I belonged. Thank you so much for this scholarship; without it, I would not have been able to attend Gonzaga. I absolutely love it here and know it is where I belong. It is completely due to this scholarship that I am here."
Makenna, Class of 2023
"I am a sophomore from Billings, Montana. I am majoring in biochemistry in preparation for graduate school, and am also in the Honors Program. I am involved in a research lab, coordinate events for Gonzaga Environmental Organization, am a member of the Social Justice and Solidarity LLC in Kennedy, and I volunteer weekly through Science in Action. I am so incredibly grateful for this scholarship. As one of three students in my family currently attending college, the prospect of attending a private university like Gonzaga was daunting for my family. Yet with the support of generous donors to Gonzaga, my family and I are able to afford a Jesuit education which focuses on both academics and social justice."
Paloma, Class of 2022
You can make a difference through a gift to scholarships.