Gonzaga Hosts 5th International Conference on Hate Studies April 2-4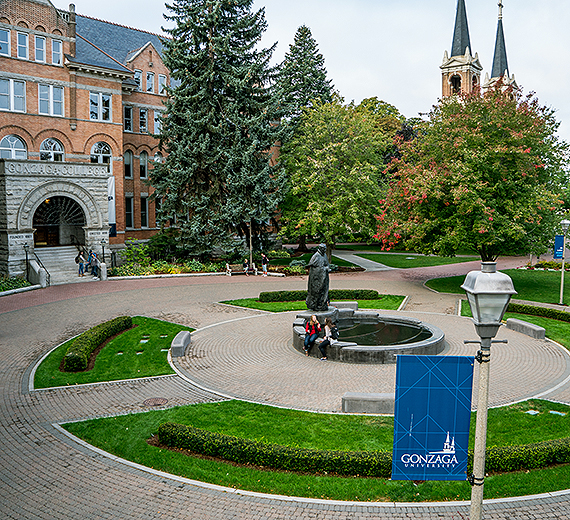 ---
'Building Peace through Dialogue, Kindness, and Forgiveness'
SPOKANE, Wash. — Top researchers and thought leaders focused on hate and building peace will participate in the 5th International Conference on Hate Studies April 2-4 at Gonzaga University's Hemmingson Center.
Titled "Building Peace through Dialogue, Kindness, and Forgiveness," the conference is sponsored by the Gonzaga University Institute for Hate Studies, the Kootenai County Task Force for Human Relations, and the Spokane County Human Rights Task Force. The program represents one of the world's leading interdisciplinary academic forums on hate, related social problems, and ways to create socially just and inclusive communities. The lessons learned and plans that emerge will help educators, researchers, advocates and others better analyze and combat hatred in its various manifestations to lead to communities being committed to peace, human rights and justice. The conference will feature plenary sessions as well as tracks on research, community building, and education and development.
Gonzaga and its human rights partners embrace the opportunity to lead on this complex and timely topic. A conference schedule, available sponsorship opportunities and registration information visit https://bit.ly/2CghlOi. Registration for the conference is required.
"This year we are particularly proud that the conference will include an afternoon session on April 3 dedicated to an interactive community dialogue, where we encourage participation from a range of worldviews to address human rights in our community," said Kristine Hoover, director, Gonzaga University Institute for Hate Studies. "On April 4, those interested in researching more about hate and how to counter hate can participate in the 'Design Charrettes' where we will reveal Phase I of a world-class library resource and ask for input on the design of Phase II." The arts will be incorporated into a fuller understanding of the manifestations of hate as well as aspirations with performances of a play about Ruby Bridges written by a Gonzaga student, a performance and workshop by local artists Power 2 The Poetry, and an evening student choral, theatre, and dance performance, "A New Season: A Celebration of Artistry, Place, and Potential."
The interdisciplinary conference is designed for a wide range of participants, including leading academics from around the world, journalists, law enforcement personnel, educators, representatives of governmental and nongovernmental organizations, human rights experts, community organizers, activists and others to discuss hatred and ways to engage communities with justice. Recognized regional, national and international voices will present.
Specifically, the conference aims to empower and provide participants with enhanced skills to:
Continue, deepen, and broker new conversations focused on building community within the hate studies networks;
Share best practices related to community and individual actions that challenge hate and support social change;
Provide an intersection for the sharing of knowledge, practices, and perspectives from distinct academic communities, activists, professions, and vocations;
Generate, promulgate, and publish interdisciplinary research projects, as well as new theories, strategies and methods — educational, professional, and practical — related to the overall conference theme, specific areas of interest, and social justice and social change concerns at the individual, community, organizational, and structural levels.
"If hate is understood better, then approaches to combat it can increasingly become testable theories, and then analyzed and improved," Hoover said. "This work can have real-world impact, including creating models for changes in society, government, culture and our individual and communal lives."
Confirmed speakers and presenters include:
University of Calgary Law Professor Kathleen Mahoney, chief negotiator for the Assembly of First Nations and primary architect of the Truth & Reconciliation Commission in the historic Indian Residential School Settlement Agreement;
Ann Dinan, Deeper Leadership Institute;
Tony Stewart, Kootenai County Task Force on Human Rights;
Rachel Carroll Rivas, Montana Human Rights Network;
Ken Stern, Bard Center for Hate Studies, Bard College at Annandale-on-Hudson, New York;
Brian Levin, the Center for the Study of Hate and Extremism, California State University at San Bernardino;
Barbara Perry, the Centre on Hate, Bias and Extremism, University of Ontario Institute of Technology at Oshawa, and the International Network for Hate Studies;
Collin Hanson, executive director of Evolve Grand Forks, (North Dakota);
Dean Lynch, Spokane County Human Rights Task Force;
Academic panels, human rights and hate studies research design charrettes, and student choral, theater and dance performances are also planned. Additional speakers may be added. Registration information, costs and schedules visit https://bit.ly/2CghlOi.
For additional information on the conference, please contact Kristine Hoover, director, Gonzaga University Institute for Hate Studies at gihs@gonzaga.edu, use the contact us form at www.gonzaga.edu/hatestudies or call (509) 313-3665. Media please contact Mary Joan Hahn, community and public relations, Gonzaga University; (509) 313-6095; hahn@gonzaga.edu.