Professor Mirjeta Beqiri Directs Gonzaga's MBA Programs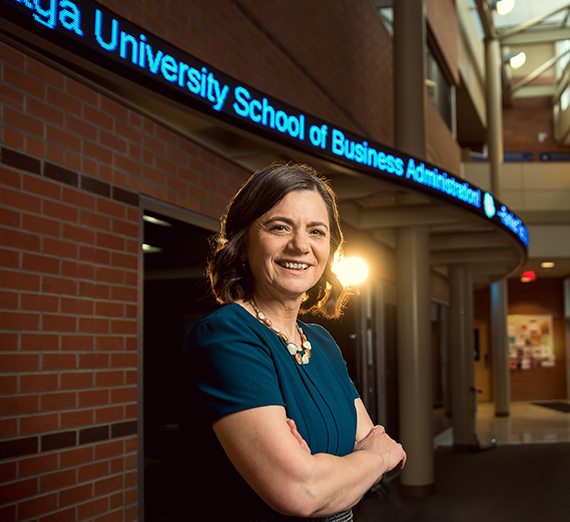 ---
SPOKANE, Wash. — Mirjeta Beqiri, professor of operations management for the Gonzaga University School of Business Administration, has been appointed director of Gonzaga's MBA Programs, effective Sept. 1. Christopher Stevens, who has directed the programs since 2014, will return to full-time teaching as an associate professor of entrepreneurship.
"I am thrilled that Mirjeta is our new MBA director," said SBA Dean Ken Anderson. "Her extensive experience with our graduate programs will serve her well in her new position. Mirjeta's passion, work ethic, and dedication to our students are second to none and I am confident she will continue the work of moving our MBA programs forward."
Beqiri, who hails from Albania and began teaching at Gonzaga in 2002, has more than 25 years of teaching experience. She earned a bachelor's degree in statistics from the University of Tirana, Albania, and an MBA and Ph.D. in operations management from Southern Illinois University, Carbondale. In addition to teaching undergraduate and graduate MBA courses in data analysis and operations management, she teaches inferential statistics in the doctor of nursing practice program in the School of Nursing and Human Physiology, and teaches as a volunteer in the Jesuit Worldwide Learning program.
"I consider developing students' skills and providing guidance to each student to reach for their highest personal goals, as both a responsibility and a privilege, and I view my appointment to this position in a similar way," Beqiri said. "I feel grateful to have been given such an incredible opportunity to teach at Gonzaga and would like to pay it forward in any way I possibly can."
Professor Beqiri has taught in all three Gonzaga MBA programs: traditional, American Indian entrepreneurship, and the healthcare management program. She was instrumental in the design and direction of the healthcare management program, overseeing revisions in the MBA curriculum and successfully developing (in 2017) the first faculty-led MBA study abroad program — Doing Business in Europe: Gonzaga in Belgium and Italy — along with Gonzaga-in-Florence faculty member Tamara Evans.
Her research interests include service quality, outsourcing, business ethics, business education, and distance learning. Before coming to Gonzaga, Beqiri directed the Statistical Directory of the District Council of Shkoder, Albania, and served as an assistant professor and department chair of business administration at the University of Shkoder "Luigj Gurakuqi."
She is a member of several professional organizations, including the Decision Sciences Institute, the Production and Operations Management Society, and the European Operations Management Association. Also, she served on the selection committee for the Ruane Award for Business Education Innovation (2016-2017) and co-chaired the Instructional Award Innovation Competition for the Decision Sciences Institute (2017). Her deep contributions to the GU community include service on multiple committees, including the Gonzaga Faculty Senate. In Spokane, she is a board member for the Big Brothers Big Sisters of the Inland Northwest (in addition to supporting other organizations).
She has been honored with GU's Faculty Exemplary Award (2013), MBA Professor of the Year Award (2007, 2009, 2010, 2012, 2013), Wilfrid and Patricia Loeken SBA Vision and Values Award (2013), Wilfrid and Patricia Loeken SBA Excellence Award (2014), Centioli Faculty Award (2016), Jepson Faculty Fellowship (2007, 2009, 2015), and Barnes Research Award (2018). Additionally, she has been awarded with the Gratitude of University of Shkoder (Albania) for "distinguished contribution in the establishment, sustainment and advancement of the School of Economics."
For more information or to arrange an interview with Professor Beqiri, please contact Peter Tormey at (509) 313-6132 or tormey@gonzaga.edu.