Aizley Hansen Teaches in Spain on a Fulbright Award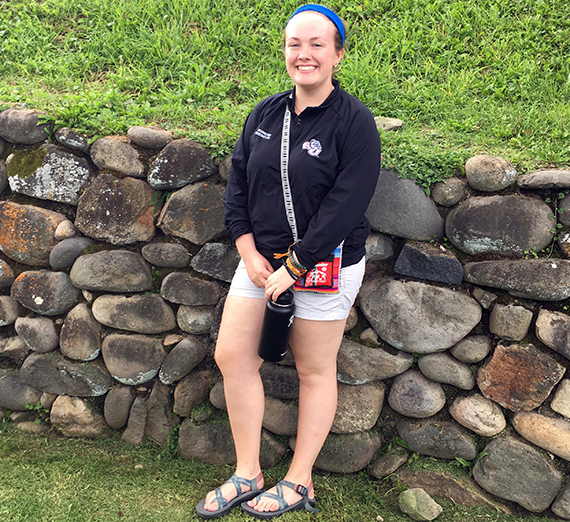 ---
Gonzaga News Service
SPOKANE, Wash. — Aizley Hansen, a May Gonzaga University graduate with a double major in political science and international relations, is teaching English at a bilingual high school in Madrid, Spain, through a prestigious Fulbright scholarship.
Hansen, from Vancouver, Washington, continues to expand her world travel and experience — teaching the Model United Nations program, which she was involved in at Gonzaga, and serving as a cultural ambassador to the United States through a Fulbright English Teaching Assistant award.
"When I saw I would be teaching Model U.N. at a bilingual high school, I was immediately drawn in," she says.
Hansen's educational globe trekking began the summer before her senior year in high school when she spent eight weeks in San Juan, Dominican Republic as part of the Amigas de los Americas program in a project focused on youth leadership, children's rights and gender equality.
Though she initially considered pursuing chemical engineering and English when applying for college, Hansen said she her experience in the Dominican Republic eventually convinced her to study international relations and political science.
At Gonzaga, Hansen spent three years involved with Mission Possible, a weeklong service immersion program during spring break where GU students serve and learn alongside community partners across the country. During the program, she went to Denver and St. Louis.
With the help and support of her professors, particularly Stacy Taninchev in the political science department and Emily Clark and John Sheveland in the religious studies department, Hansen became even more involved and applied for scholarships.
Through Taninchev, she was involved for four years in the Model U.N. program, which provides students an environment for students to better understand diplomacy and international relations. She was recognized as an outstanding delegate in the program's environmental assembly.
Last year, she studied Swahili at the MS Training Centre for Developmental Cooperation near Arusha in Northern Tanzania through a Boren Scholarship.
Hansen said she aims to use education to help address human rights violations and help people to understand their rights and recognize when they are being mistreated.
While she enjoys reading about policy and making policy recommendations, Hansen said she is particularly keen about human interaction, engaging with communities and figuring out what resources she can provide to facilitate growth.
"I want to be able to share my experiences because not everyone will have the opportunity to live in Tanzania for five months," she said. "I want to be able to communicate those experiences with other people and hopefully let people live vicariously through my experiences to some extent."