SEAS Clubs Encourage Hands-on Learning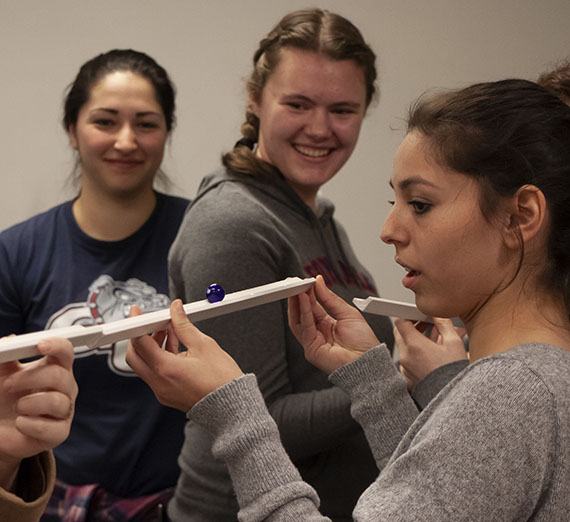 ---
On a spring evening in the Manufacturing Technology Center, Courtney Maciolek ('19) ground the end of a steel bar, shaping it to fit a handmade coupler as part of a student-built bridge. A few yards away, Abe Hobson ('19) contoured the nd of a tube to fit the frame of the new Baja Car. Across the room, a model rocket hung in a spray paint booth as David Barnes ('19) prepared to coat it with primer.
These were only a few of the tangible projects undertaken by student clubs and chapters of computer science clubs focus on networking, including bringing speakers to campus to share advice on careers and internships. All of projects fulfill a goal professional organizations during the past academic year. Some of Gonzaga's other engineering and of the School of Engineering & Applied Science: give students opportunities to translate classroom theory into practical skills.
SEAS has spent the past several years encouraging student chapters of professional organizations and clubs. That effort is paying off with a dozen active clubs and chapters. Each one provides networking opportunities, presentations, and projects designed to transform their studies into career-enhancing experiences.
"I'm happy to see this level of involvement by the students," said Dr. Rhonda Young, who advised the American Society of Civil Engineers (ASCE) student organization in 2018-'m19. "These events let students problem-solve and show resilience in a way we can't create in the classroom. Interacting with professionals and other schools creates connections that last throughout their engineering careers."
Maciolek's Steel Bridge team competed in early May, and she said the experience was exciting and encouraging. "The judges and other teams recognized Gonzaga hasn't been in this competition for many years, and they cheered us on and wished us luck. We got to see how others designed their bridges, and they loved to talk about details when asked," she said. "I got involved with the bridge because I was drawn to the idea of applying concepts I learn in class to more practical situations."
Hobson, a Baja Car competition project manager for the Society of Automotive Engineers (SAE) Gonzaga chapter, says that more opportunities happen at Gonzaga because of its smaller program size. "This is one of the few schools where you can get hands-on experience as early as freshman year," he says. "Other schools have a waiting list to get on their competition teams, and make the first-year and second-year students only watch."
SAE group members specifically asked newer students to join the team designing the club's fifth consecutive Baja Car. Molly Fackelman ('21) jumped at the chance.
"It's gotten me experience in the machine shop and with SolidWorks before I would have in classes," she said, referring to the computer-aided design programs that students typically learn in their second year.
Networking is a key goal for many of the clubs. The Society of Women Engineers (SWE), Institute of Electrical and Electronics Engineers (IEEE) and the American Society for Engineering Management (ASEM) each held events with guest speakers on a range of career topics.
Each group also performs service to school and community. In February, members of several SEAS clubs banded together to call all students accepted into an engineering or computer science program for Fall 2018.
At the orientation for incoming freshmen, those first-year students in the SEAS programs are welcomed with invitations to experience the clubs for themselves. No matter what their interests, these incoming students commonly find one or more groups excited to help them develop skills together.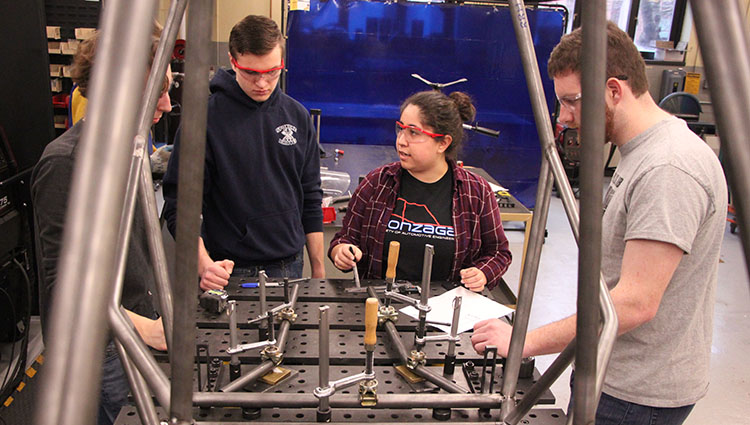 Designers of the "Holy Rollers" Baja Car team review specs for the annual Society of Automotive Engineers race.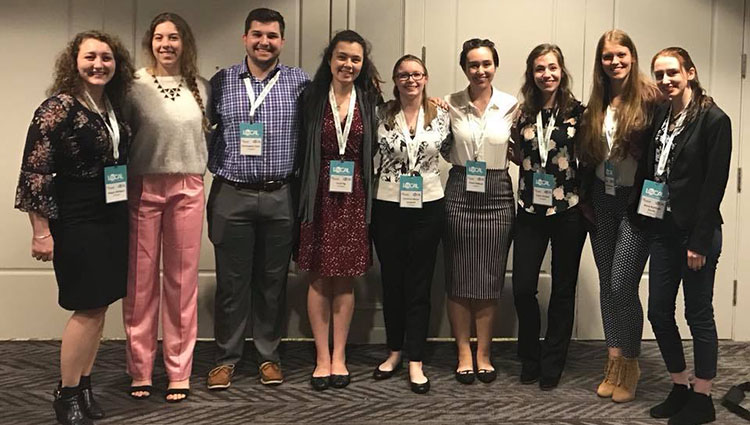 Students of the Society of Women Engineers pose at a Portland conference.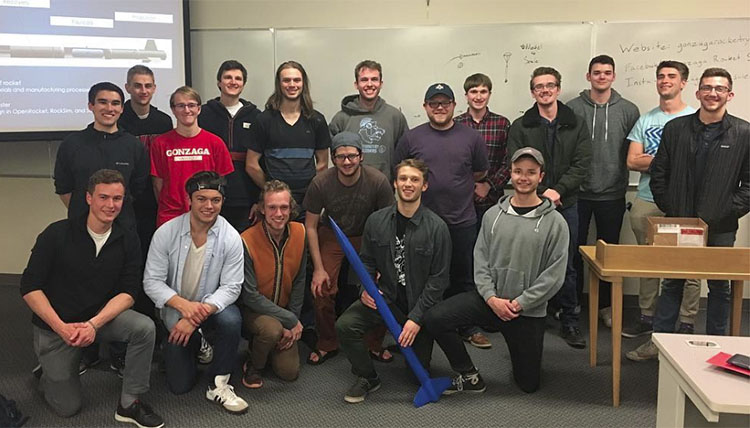 Students in the American Society of Mechanical Engineers pose with their first self-made rocket.