Megan Carroll: 'Truly One of a Kind'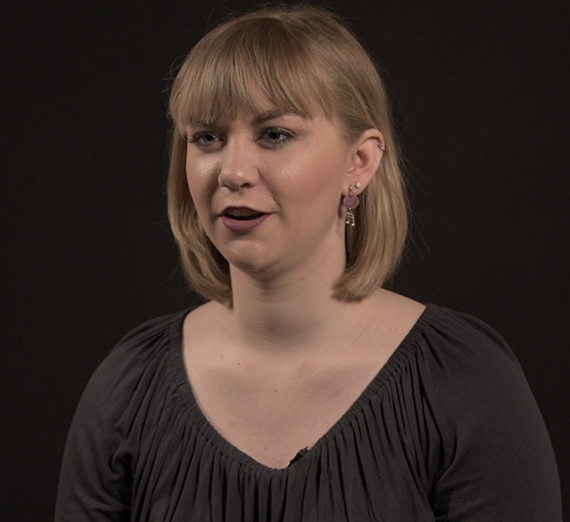 ---
By Kendra Andrews
Class of 2019
Gonzaga News Service
SPOKANE, Wash. -- For many Gonzaga University graduating seniors, this time of year brings the excitement of commencement, the culmination of four years of hard work, and the hunt for a job. For Megan Carroll, a dynamo who is earning a degree in journalism with an interdisciplinary arts minor in three years and has secured a full-time job, it's a tad different.
"Graduating is exciting in some ways because I am 21 years old and am going to do what I really want to do," said Carroll, who transitions from a part-time job at Spokane's KREM-TV to a full-time news position there after graduation May 13. "It's also a little sad. I long for that last year everyone gets. That's been a little tough to process, but I'm overall excited."
Carroll, who studied print journalism, will be a news producer for KREM, where she expects to be involved in a full range of digital and social media efforts along with newscasts.
"I never thought I'd go into TV," she said. "I thought I would go into web or print writing but there is a lot of writing involved with TV producing so I applied for the KREM job."
Carroll says Gonzaga has nurtured her love for music, theater, dance and journalism. A high school dual credit program and her no-nonsense focus on academics have facilitated her early graduation.
Suzanne Ostersmith, assistant professor and director of dance, describes Carroll as a gifted storyteller with an artist's sensibilities.
"She is truly one of a kind," Ostersmith said. "Many students have commented on how impactful her Senior Project in dance was for them to see. She took her written word, love of dance and the important subject of mental health awareness and created a truly resonant dance work. She will be missed!"
Carroll calls Ostersmith "a beacon of light and hope in my journey."
"Thanks to her, I've broken out of my shell and pursued art that's important to me and indicative of some tough personal experiences," Carroll said. "Her dedication and love have changed my life."
A member of the Gonzaga Concert Choir, she also appreciates Tim Westerhaus, director of choirs and vocal studies.
"He challenged me, encouraged me and showed me so much grace," said Carroll, who also credits Instructor Darnelle Preston, her voice coach, and the entire GU music department "for helping me grow into a better singer and person."
Despite her harried schedule, Carroll has found time to volunteer helping developmentally challenged adults through GU Specialized Recreation. Also, she served as president of GU Women's Chorus, and taught free lyrical ballet classes through the Boundless Dance Club.
Gonzaga's journalism faculty "have been integral in teaching me how to be a good journalist and how to interact with people," said Carroll, who also wrote news and feature stories for Gonzaga News Service for nearly two years, and wrote for Gonzaga Magazine. An internship for Spokane Faith and Values, an online publication, also helped her learn to cover multifaceted issues.
Carroll, who served as a writer and news editor for The Gonzaga Bulletin student newspaper, has always had an interest in writing and news but did not envision a journalism career until her senior year in high school in Las Vegas, Nevada.
"I love writing, but I also love meeting people -- unique, exciting people with wonderful or heartbreaking stories to tell," she said. "Then I get to tell those stories to a lot of people."
As she begins a new chapter in life, Carroll reflects on her life as a Zag.
"I think I learned to be more compassionate at Gonzaga and I learned to really try to tune into others' experiences and figure out how I could play a role in helping people grow," she said. "Also, I have also grown in the things I love to do. Having people support me in that has cultivated a lot of things I enjoy in my life."