Gonzaga Fosters Kayla Gunther's Passion for Research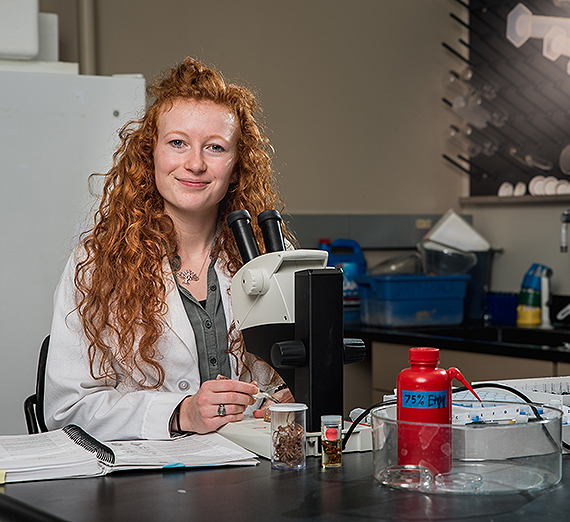 ---
Gonzaga News Service
SPOKANE, Wash. -- While Kayla Gunther carries many fond memories of Gonzaga University with her following her graduation May 13 with a bachelor's degree in biology with a research concentration, one particular recollection stands out. This memory relates directly to her discovery of a love for research.

Gunther's eyes sparkle as her mind flashes to a summer's evening following her freshman year. She was fortunate to have been selected to conduct research that summer on the mating behavior of wolf spiders at the Arachnids of the Inland Northwest Lab with biology Lecturer Steven Schwartz and students DeShae Dillard and David Dommermuth.

"It was 11 p.m. and we had just spent about three hours in the field at Slavin Conservation Area. As we hiked out of the forest area and into the clearing, you could see more stars than anywhere else in the Spokane area. Field nights were always fun and beautiful, as long as everyone remembered the mosquito repellent!" she recalls, smiling. "Having the opportunity to be a part of the AIN lab helped foster my passion for scientific research."

Gunther, from Kennewick, Washington, will gain more research experience this summer before applying this fall to graduate programs in biology. She recently was hired by the forestry department at Oregon State University to be part of a field team collecting data on the success of wildfire protection procedures in the Malheur National Forest.

Looking back on her time here, she said Gonzaga has lived up to her expectations.

"I wanted to be a Zag because of the great sense of community and high level of academic focus here on campus," she said. "Students here are very happy and friendly to one another, I never even feel unsafe or uncomfortable leaving my things out on a table if I need to. The students here have integrity and are generally very studious."

Gunther said Gonzaga's financial support -- including the Dean's Merit Scholarship, Gonzaga Science Scholars Grant, and the Gonzaga Grant -- has been instrumental in her success.

Her best advice to prospective Zags?

"Make the most of it," Gunther said. "That doesn't necessarily mean that you need to join every club and go to every event but make sure you take advantage of the support that is available to you and work on exploring your interests and building up a skill set that you will take with you after graduation."

For example, she has found the biology department's weekly seminars engaging, informative and career-enhancing.

"They invite someone to come talk about their research, and I try to attend as many of these as I can since it is so readily available and interesting to me," she said, noting she will miss her friends and professors after graduation but intends to keep in touch with them as well.

"I have really enjoyed my time with these people," she said. "They are truly what makes Gonzaga so special."