Gonzaga Law Students to Serve at International Criminal Court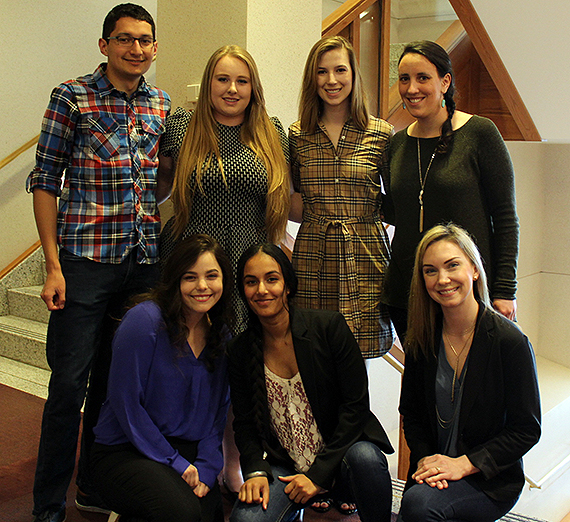 ---
The inaugural class includes standing (from left): Ryne Smith, Micaela Meadows, Colleen Penny and Rebecca Smith. Front row (from left): Sara Duross, Gurpreet Dhatt and Lesley Gangelhoff. Not pictured is Creighton Law student Ellen Prochaska.
Inaugural Class of Gonzaga Law's New
Center for Civil and Human Rights Fellows
Gonzaga News Service

SPOKANE, Wash. -- In a remarkable new opportunity, seven Gonzaga University School of Law students and a Creighton University School of Law student will travel to The Hague, Netherlands in June to spend two weeks conducting evidence and document review for prosecutors in pending cases at the International Criminal Court.
The students -- all in their first or second year of law school -- will begin the fellowship after studying at the Gonzaga Law in Florence, Italy program, part of Gonzaga-in-Florence, the University's flagship study abroad program. These students have distinguished themselves in the classroom and the community.

"The students who participate in this fellowship program will have an extraordinary opportunity to immerse themselves in the global human rights work of the ICC, to interact with ICC prosecutors and to contribute to real ICC cases," said Professor Holland, director of the Gonzaga Law in Florence program.
This inaugural class of Center Fellows is sponsored by Gonzaga Law's new Center for Civil and Human Rights, which seeks to provide students, scholars, and community leaders with opportunities to explore and address issues relating to civil and human rights through research, education, and community engagement.

"This program is central to the Center's mission of providing students with opportunities to explore and address issues relating to civil and human rights," said Professor Jason Gillmer, director of the Center for Civil and Human Rights. "At the ICC, students will gain first-hand experience with cases impacting communities on a global scale."

The Center Fellows were chosen from an extremely competitive group of applicants.

"This is an extraordinary opportunity for these students," Holland said. "We are especially excited about sending these eight distinguished students to make a first impression."

The International Criminal Court investigates and, when warranted, tries individuals charged with the gravest crimes of concern to the international community: genocide, war crimes, crimes against humanity and the crime of aggression. As a court of last resort, it seeks to complement, not replace, national courts. Governed by an international treaty called the Rome Statute, the ICC is the world's first permanent international criminal court. Learn more about the ICC.
The Center Fellows
Gurpreet Dhatt, born and raised in the Kent, Washington, earned a bachelor's degree from Washington State University. Having experienced how people struggle to understand how the law could help them, she aims to help people navigate the legal system. At Gonzaga, Dhatt is a member of Street Law where she presents legal information to local high school students. She is also a member of the Women's Law Caucus and has volunteered to help people in the Tri-Cities apply for U.S. citizenship.
Sara Duross, Clearwater, Florida, who graduated cum laude from University of Florida, has a passion for public service and has dedicated more than 2,000 hours to community service. Committed to helping vulnerable people, she was drawn to Gonzaga because of its Jesuit mission and dedication to serving others. She is an intern with the Moderate Means Program, and is particularly interested in international human rights and immigration law.
Lesley Gangelhoff, a Spokane native and Eastern Washington University alumna, spent the summer before her senior at EWU in an internship in Cape Town, South Africa, working with survivors of sex trafficking and prostitution. This experience played a big role in her desire to attend law school. She hopes to work for justice for individuals and help provide more access to the legal system. Before law school, she worked at a local business for 14 years.
Micaela Meadows, East Wenatchee, Washington, who earned bachelor's degrees from Gonzaga. As an undergraduate, Meadows worked with elementary students, many of whom faced issues of abuse, abandonment or both. Those experiences helped shape her desire to become a special victims prosecutor to advocate for children.
Colleen Penny, a Boise, Idaho, native and Boise State University alumna, aims to combine her passions of law, history and travel. She has worked at two law firms, done an internship with the Idaho State Senate and studied abroad. She plans to pursue a career as a prosecutor in human rights law.
Ellen Prochaska, from Blair, Nebraska, is a Creighton University School of Law student who will participate as a Center Fellow as a visiting student - through Gonzaga Law's valued international programs affiliation with Creighton Law. As an undergraduate at Creighton, Prochaska served as a tutor and as president of her sorority, Alpha Phi. Passionate about helping students, particularly women, achieve their greatest potential, she is a member of the Women's Law School Association.
Rebecca Smith, from Arcata, California, earned her bachelor's degree from Antioch College in Yellow Springs, Ohio, has served as a volunteer at a sexual assault crisis center in the Middle East and provided legal services in detention centers throughout the Midwest. As an attorney, she hopes to challenge unjust institutions that perpetuate global inequality and injustice, particularly mass incarceration and the criminalization of immigration in the United States.
Ryne Smith, Albuquerque, New Mexico, earned a bachelor's degree from New Mexico State University, became interested in international criminal law while studying in Spain and Ireland. At Gonzaga Law, Smith dedicates his time to organizations including the International Law Society, Criminal Law Society, Medical Law Society, Mission: Possible, Street Law and the Gender and Sexuality Alliance.
For more information about the Center Fellows, visit the ICC Fellows webpage.

MEDIA: For more information, please contact Kevin Carr, marketing manager for Gonzaga Law, at (509) 464 9901.