Prelaw Magazine Gives Gonzaga Law Facilities Top Honors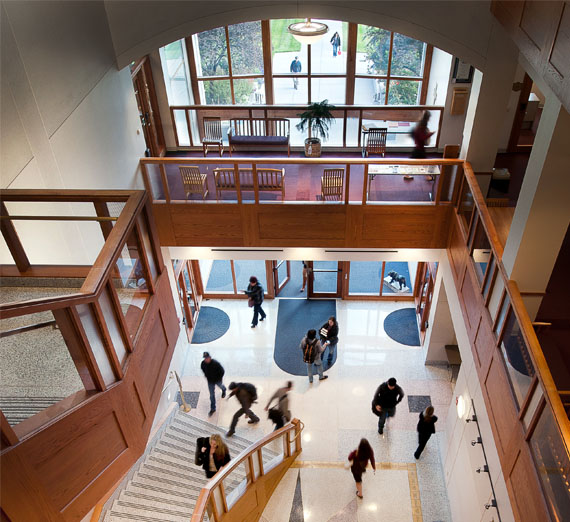 ---
Prelaw magazine, a National Jurist publication, has given Gonzaga Law an "A" grade for its phenomenal facilities.

Completed in 2000, the Law School building is a high-tech, four-floor facility that includes a two-story courtroom, a three-story library, lounges, clinics, and a suite of interactive classrooms with fiber-optic connected network access at every seat. Law students can always plug in, but when they want to unplug, they can be found on a river-view balcony or relaxing on the school's lawns, watching the marmots play near the Spokane River.

The Law School's in situ dining option, Café Lawte, also helps students maintain the mens sana. Sheila Zeppenfeld, manager of Café Lawte lends a sympathetic ear as she brews coffee and forever lobbies food service to fulfill student requests for new items to supplement the café's menu of espresso drinks, tea, sandwiches, salads, cold drinks and other eatables.

The Centennial Trail runs around the Law School on its path from Coeur d'Alene, Idaho. Across the parking lot lies the Rudolf Fitness Center which houses all of the fitness necessities to keep a corpore sana.

Along with phenomenal facilities, Gonzaga Law is lucky enough to be found in Spokane, WA—one of Sunset Magazine's Best Places to Live in 2018. Read more about Spokane here.