The March Continues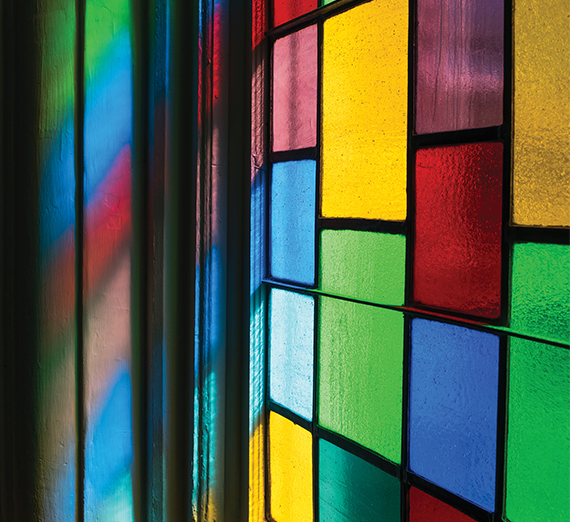 ---
"Presidential Perspectives" by Thayne M. McCulloh
From Gonzaga Magazine's Spring 2018 edition
Above photo: Taken inside Dexter Avenue Baptist Church, where Dr. Martin Luther King was pastor. Students visited this and other civil rights sites during Mission:Possible.
As our nation observes and commemorates 50 years since the assassination of Rev. Dr. Martin Luther King Jr., I want to recognize his leadership of and participation in nonviolent protests, and advocacy for racial equality through civil disobedience. These ultimately culminated in the passage of federal legislation aimed at eliminating discrimination on the basis of race, color, religion, sex or national origin in employment practices, voter registration requirements, schools and access to housing.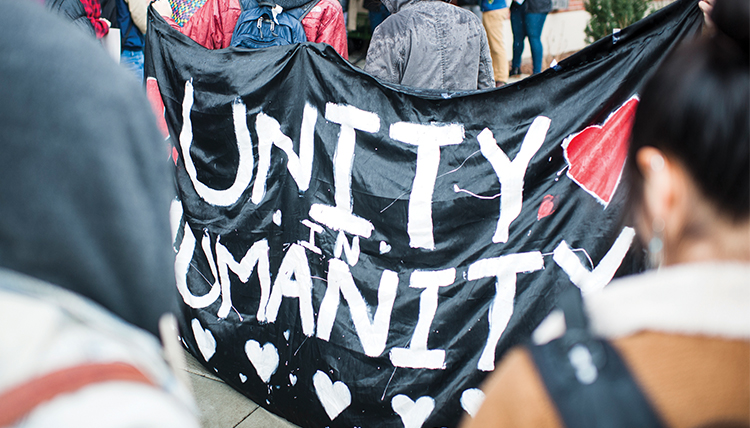 Last year, our Center for Community Engagement added a new destination to the list of cities where Gonzaga students could travel for their Spring Break immersion experiences: Montgomery, Alabama. Considered the birthplace of the civil rights movement, it was the setting of events indelibly marked in our nation's history: the arrest of Rosa Parks, the attack of the Freedom Riders, "Bloody Sunday," and of course, Dr. King's leadership of peaceful protests against segregation and other racist practices.
There, our students heard stories from Dr. King's personal barber – a man who remembers both the laughter and the fear he shared with the young Baptist pastor. They met survivors of the famous march from Selma to Montgomery. They sat at the kitchen table where Dr. King had his "midnight epiphany" after threats were made on his daughter's life.
Those students returned to Gonzaga changed. They embraced a new understanding of racism – not just its ugly history and the way it continues to pervade societal systems, but also the quiet way our own individual biases form. They joined the many students, faculty and staff who want all members of the Gonzaga community to embrace diversity, equity and inclusion more broadly and deeply: for this to be a place – rooted in the words and true meaning of our Catholic and Jesuit mission – that " … fosters a mature commitment to dignity of the human person, social justice, diversity, intercultural competence, global engagement." A place where all people, regardless of race, ethnicity or cultural background are truly valued, included, and all leave with a deeper capacity to not only work and interact respectfully with other people, but also to create and support respectful environments themselves.
Over the past couple of years, I and my colleagues have had a number of face-to-face conversations with students about their experiences on our campus. Out of these discussions it becomes clear that while we have made progress, there is work to be done if we are to truly be a place of inclusive excellence. As a result of these discussions, leaders continue to advance the causes of diversity, equity, inclusion and cultural competency. We are addressing these challenging topics from perspectives of academics and the classroom experience,student development (including residence life, clubs and activities), the work of institutes and institutional task forces, and bringing speakers to campus who, we hope, will inspire further reflection and action.
It is clear, too, that broader cultural milieu – whether local, national or international – are wrestling with these same issues, with the result that underrepresented people continue to remain the targets and victims of oppression. Earlier this year, stickers with white supremacy messages were found on the Gonzaga campus as well as other local college campuses. Racist rhetoric and hate crimes in communities around the globe continue to make headlines. It is my belief that institutions of higher education, particularly Catholic and Jesuit universities such as Gonzaga, must work actively to identify, call out, and reject racism and prejudicial and discriminatory behaviors. Our students, faculty and staff from historically underrepresented groups deserve to know that our campuses are safe places and that we are doing our part to educate the broader community about how to address bias and racism.
These are the reasons we have devoted this issue of Gonzaga Magazine to the discussion of race. Our readers have said they want to understand what today's students are facing, so we're providing you with some examples. Some of you may have had similar experiences of alienation during your own college years and understand all too well where these students are coming from. We all come to this topic with a mindset fixed, to some extent, on what we already believe about racism.
The pursuit of higher education is, at a deep and fundamental level, about creating access to greater opportunity; in that sense, it is at its heart a positive and hope-filled project. From its founding, Gonzaga University has existed to serve diverse populations, from native peoples, to first-generation immigrants, to international students. Our students from historically marginalized populations seek the same chances and opportunities that every college student does – and the ability to pursue their dreams in an environment that values, respects and includes them.
My hope is that we follow our students' lead in having courageous conversations – civil yet candid discussions wherein we can honor one another's experiences and perspectives without assuming that one of us has to be right and the other must be wrong. Ultimately, combating racism requires reducing fear, finding and celebrating points of commonality as well as difference in one another, and seeing in each other that unique human being, made in the image and likeness of God. May God continue to bless and inspire each and every one of you.
Sincerely,
Thayne M. McCulloh, D.Phil
President
Read the special issue of Gonzaga Magazine: "Raising Our Voices"