A Kindness She'll Never Forget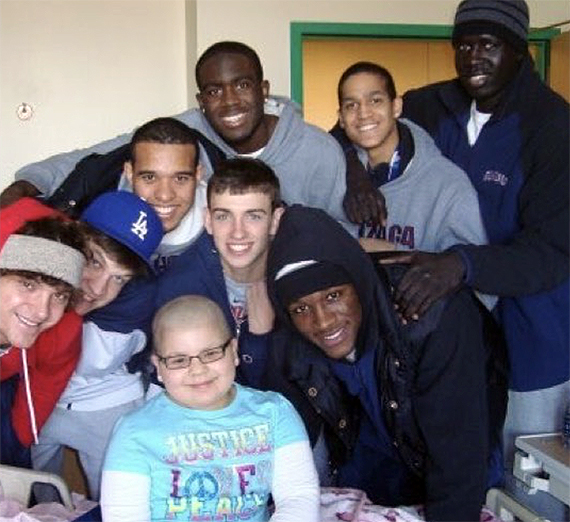 ---
Pictured above: Gonzaga basketball players visit Briana Hermsmeyer in the hospital in 2010 when she was receiving treatment for bone cancer. Hermsmeyer is now a Gonzaga freshman.
Gonzaga News Service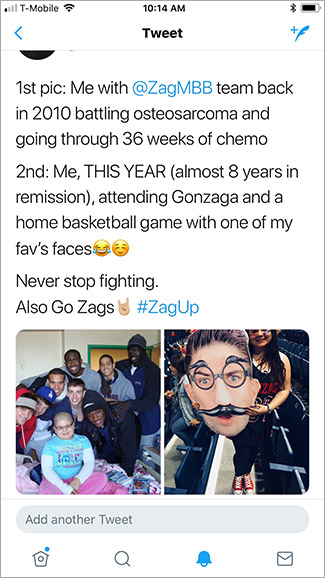 SANTA ROSA, Calif. -- For special reasons, Briana Hermsmeyer will huddle with family around the TV tonight rooting for her beloved No. 4 seed Gonzaga Bulldogs who take on No. 9 seed Florida State in the Sweet 16 in Los Angeles. Eight years ago this spring, Gonzaga basketball players lifted her spirits by visiting her at Sacred Heart Children's Hospital in Spokane when she was battling bone cancer and enduring 36 weeks of chemotherapy.
The kindness left an indelible impression on Hermsmeyer, now a freshman broadcasting major at Gonzaga. She will watch the game at her grandfather's home in Santa Rosa along with her mother and a younger sister. Her father, younger brother, and another younger sister will watch the game at the family home in Post Falls, Idaho.
"Basketball was absolutely a huge factor in my decision to attend Gonzaga," noted Hermsmeyer, a graduate of Coeur d'Alene (Idaho) High School who vividly recalls the day the Zags came to visit on a cloudy morning in the spring of 2010.
"A nurse came in to check my vitals and told me that there was a basketball team coming around the peds oncology unit visiting with patients and taking pictures with them. About five minutes later, a very tall group of eight guys walked into my hospital room and introduced themselves as the Gonzaga men's basketball team. At 10 years old, I was elated, having heard of Gonzaga a little and knowing that I was being visited by college students."
She recalls the players were "super friendly" and spent time with her. "It was easily one of the coolest experiences I had while in the hospital, and still one of my favorite memories to this day."
Ever since, Hermsmeyer said, "I knew I wanted to attend Gonzaga and be part of the community that these guys influenced and encouraged. The rest of the 2010 basketball season, I watched the men's team dominate on the court and made it my mission to watch one of these games in person one day."
Fast forward eight years.
"I'm in remission from treatment and attending every game I can and contributing to the energy of the Kennel with my fellow Zags. It's easily one of my favorite parts about being at Gonzaga, and it's where I feel the most connected with my school," she said. "Granted, I love most everything about GU aside from basketball, and have created meaningful relationships with new friends and even my professors. Gonzaga is where I found my passion for broadcast journalism, something I probably would not have considered had I gone to a different school."
Entering Gonzaga, Hermsmeyer said she was unsure of her major until she took a broadcasting class as an elective and ended up loving it.
"Through this major, I have made a lot of new friends I may not have otherwise and feel I have really found my place in life post-high-school," she said. "The community at GU is unmatched and it's absolutely become my home away from home. There's no doubt in my mind that I made the right decision in choosing my college, and I have the basketball program to thank for that."