Unrivaled: Robots with heart
Meet Christopher Birmingham.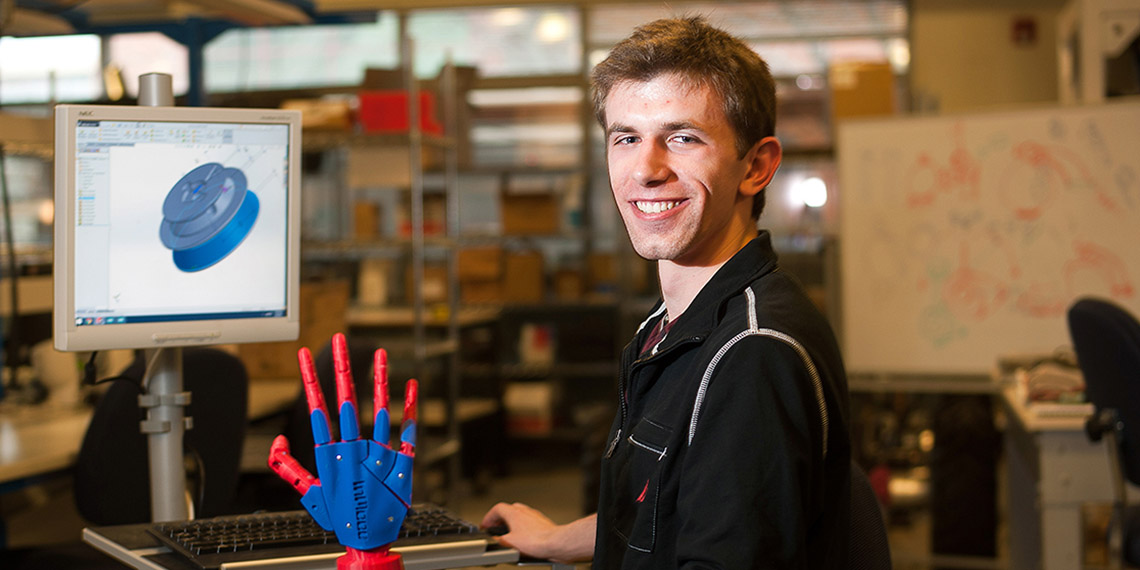 The robot researcher.
Only a rare intellect wins a Marshall Scholarship, or builds robots to care for the elderly. This recent graduate does both.
Christopher Birmingham ('15, B.S. Electrical and Electronics Engineering) built his first robot when he was in third grade. His skills have developed quite a bit since then, but his fascination with robotics has never wavered. A recent graduate of Gonzaga's Honors Program, he majored in electrical engineering with a minor in computer science. His goal: to develop robots that can assist the elderly and disabled.
Now Birmingham is one (huge) step closer to reaching that goal. He won a prestigious and highly competitive Marshall Scholarship to pursue advanced graduate study in the United Kingdom at the University of Bristol. (To give you an idea of the challenge involved, only 3.6 percent of applicants in 2014 received the scholarship.)
While at Gonzaga, Birmingham displayed another of his exceptional qualities: humility. He said, "I could not have done this without the support of all those who helped me along the way and without my rich and diverse education at Gonzaga." Birmingham's journey at the University of Bristol is set to begin Fall 2016. In the meantime, he is working at a venture/private equity investment firm in Washington, DC where he is deploying his technology expertise in analyzing start-ups and other investment opportunities.
Academics
Careers & Outcomes
School of Engineering & Applied Sciences
Electrical Engineering
Computer Science