From Enron to Engie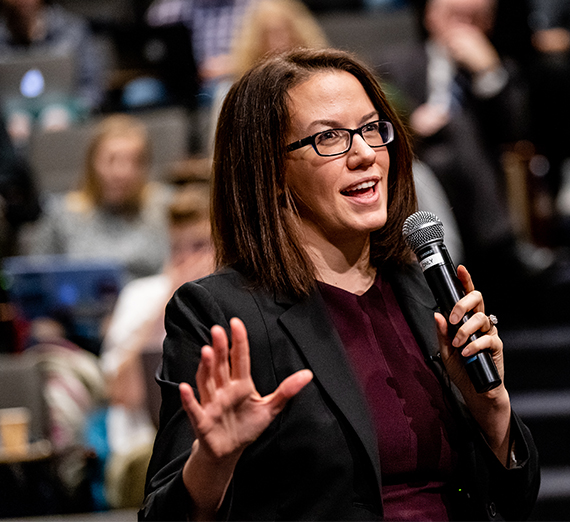 ---
SPOKANE, Wash. — Coming out of Boston College Law School in 2002, Christine Uri had more than $100,000 in student loans.
"When I graduated, I thought about how to pay those back," she said. "The most profitable job was a business law firm."
But that job didn't come without costs of its own, she shared with students at the Gonzaga School of Business Administration's 2018 Aram Lecture on Nov. 5. "On the first day, I went to lunch with a senior partner who said my first job, my first year, was going to be working on the Enron case."
Jesuit-educated herself, Uri, now chief legal and human resources officer at Engie Insight (formerly Ecova), shared a bit of her professional journey from a mindset of making money to one focused on purpose.
In 2001, Enron was "making money hand over fist," she said. Its leaders were on the January 2001 cover of Fortune magazine and rated the No. 1 place to work in the country. On Dec. 2 that year, it declared bankruptcy. "They hadn't actually been making money – they folded like a house of cards," she recalled.
"I was one of about a thousand lawyers working on the Enron case. I never felt I was working on something meaningful. I never felt a calling to that. In the end, I walked in to my managing partner's office and I quit my job. I didn't have another job lined up. I took 100 people out to coffee or lunch to learn about what other people do. I wasn't sure I wanted to practice law, and I was no longer in a place where I needed to work only for money."
Ultimately, Uri chose to be in business because of its potential to enact the greatest innovations of our time.
Engie, she explained, is helping other companies to figure out how to become more sustainable in their operations. "The U.S. is second to China in terms of gross emissions and we have a lot less people," she said. "A month ago, the intergovernmental panel on climate change released a new report, indicating we simply have to achieve a higher standard."
The indications point to increased poverty for millions of people as global warming threatens more disasters. "It is time: Everybody needs to get on board with it," Uri said.
In October 2018 video clips from the TV show "Mad Money," host Jim Cramer interviews Dion Weisler of HP Inc., who says the company produces 9,000 tons of recycled material, is cleaning up the ocean and promises to have 40 percent renewable energy by 2020.
That's a lead CEO on a talk show "discussing sustainability – not because it's trendy but because it's the right thing to do," Uri said. "Twenty years ago, that was a fringe movement. Now, we are at this point that businesses and sustainability have come together on the same page."
"Sustainability today is not just about being a good person, it is also an imperative for business success and business ethics."
Directing her attention to students, Uri said, "Here's my ask: Think about how you can contribute to businesses having an impact on this world. You are business students about to head out to the working world, and you have the opportunity to choose businesses that are committed to ethics. Research shows that if you work with purpose and you feel like what you do has meaning, you'll be a happier person and live longer. Working with purpose makes a huge difference."
For Uri, working at Engie has demonstrated that difference: "Being able to work for a company that truly lives its mission really does make me want to go to work."
The core elements of corporate ethics according to the U.S. federal sentencing guidelines, and the Sarbanes-Oxley anti-fraud law of 2002 (in response to Enron), boils down to bare minimum actions, Uri explained. "We should have a broader goal than keeping a CEO out of jail or having a lower sentence. Companies should be asking themselves what is the right thing to do for the world, for the environment, and to act on those things."
While she says it's distressing that there are still those who deny climate change, many companies are getting serious about renewable energy, building solar fields, and divesting in coal producers.
"This change in how businesses operate is being adopted by the investment market as well. Consumers demand it," she said. "They want to support businesses doing the right thing, and they're voting with their dollars."
But company ethics around sustainability go further than investments and changes in operations. Sometimes the biggest challenge is in the behavior of employees — like being willing to adjust the thermostat to decrease the use of heating and cooling systems, or taking the time to understand which garbage bin is for which type of refuse. "Those smaller changes are critical," Uri said.
The endowed Aram lecture serves as a tribute to the late John Aram, a former Gonzaga Trustee and benefactor whose service to the forest industry spurred Weyerhaeuser Company, Boise Cascade Corp., Potlatch Corp., and the George F. Jewett Foundation to establish John L. Aram Chair of Business Ethics at Gonzaga. The lecture is designed to provide students with a better understanding of business and government ethical issues. Professor Brian Steverson has held the John L. Aram Chair of Business Ethics at Gonzaga with distinction since fall 2008.