Steering Them in Faith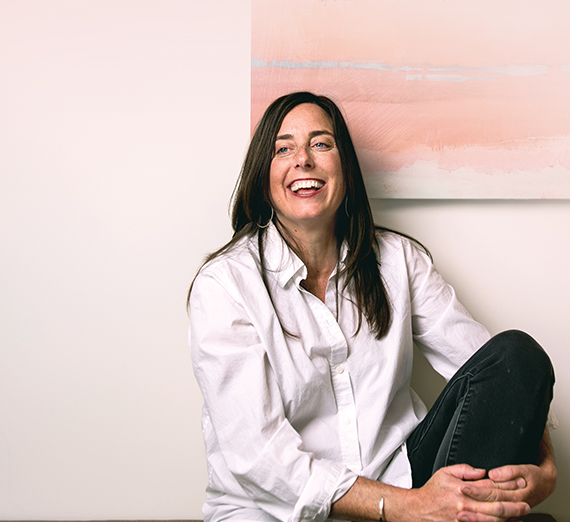 ---
In the humble setting of the original Kennel, they gather on Monday evenings for an hour, out of the spotlight, away from the cheering crowds, as a faith-centered community. The assembled Gonzaga University student-athletes who are participating in Bulldog Athletic Ministry (BAM) represent a swath of the men's and women's athletic teams, gathering in a circle of trust to share their private challenges and victories in life.
On this night, Rev. Janeen Steer patiently waits for her flock to trickle into Martin Centre. Several of the regular attendees won't be present; some are playing out of town, others are speaking at an athletic fundraiser banquet. Those who can attend are welcomed with expressions of joy by an energetic Steer, who's toting two pans of homemade treats to share at the kick-off to the new academic year.
Steer is a senior coordinator and seven-year employee of Gonzaga's Office of Mission and Ministry. She is the lead minister and driving force behind BAM, a successful evolution of Gonzaga's longstanding ecumenical student-athlete ministry programs.
Supporting students' faith life – regardless of the specific tradition – is a hallmark of life at Gonzaga. Participation and expression are based on individual preferences. With BAM, student-athletes can be vulnerable with each other and offer support, sharing a unique bond as athletes that permeates the atmosphere and weaves itself into heartfelt sharing and caring.
Steer's unassuming personal style pairs powerfully with a deep spiritual side. The disarming combination has a profound impact on students of all backgrounds. As a Presbyterian minister in a Catholic institution, she naturally resides a bit outside the mainstream. That's just the beginning of Steer's charisma, though, as her colleagues and dozens of students would attest.
"Janeen embodies both authentic care and ministry," says Office of Mission & Ministry Director Luke Lavin. "Students are drawn to her because they know how much she delights in their joys and walks with them in their pain. Her humanity – her ability to laugh, cry and burp – without skipping a beat allow others to be themselves."
That's all evident in her interactions with students from all walks of life, whether they are dropping into her office or she seeks them out. BAM student-athletes each seem to have an offbeat story about their mentor.
At this year's initial gathering, Steer shares a wild and self-effacing tale of a recent family vacation with unexpected, challenging events. While the story leaves the students laughing, her message is deeper: Be prepared to deal with any situation you face, in or out of sports.
The word is getting out across campus about BAM, which saw rapid growth in the 2017-18 year.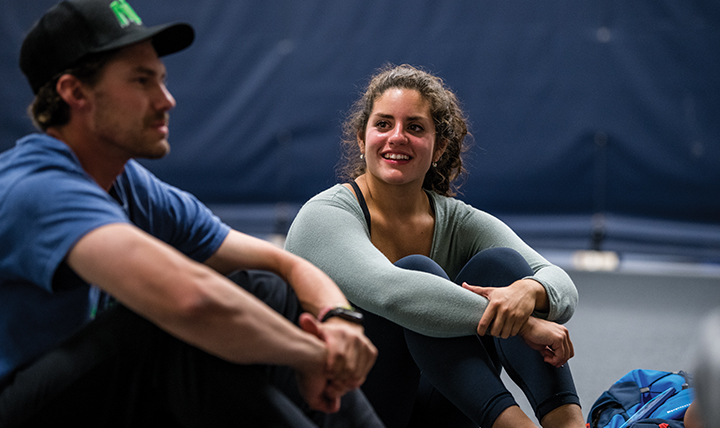 "The biggest part of that was everybody felt comfortable sharing something that was deep in their hearts. We have a family dynamic going; that's something really special about
the group," said rower Ana Delucchi, a senior from Seattle who attends BAM, along with her twin sister and fellow rower, Emma.
Both saw a multiplying effect happening across the population last year, as student-athletes saw the benefit of taking an hour out of their busy schedules to be recharged.
"People realized they could play sports and have this beautiful faith life. A lot of the time it's hard to do both, because there's so much expected of us as athletes," said Emma Delucchi. "No matter where we are on our journey of faith, that means a lot."
"Janeen has been a real catalyst for that to happen," said Mark Voorhees, men's assistant rowing coach, who has partnered with Steer. "I think the biggest thing is just that she loves people. She loves God and loves people. It doesn't matter where the kids are coming from — she's got time for them."
"It's the Holy Spirit," says Steer, who explains, "I have felt moved to be there. It's a deeper movement to show up for them. I love it." BAM is just one aspect of her work for the university, so she's grateful her office's leadership has allowed her to dedicate time to this community.
"I think we have cultivated a culture of people really being seen and known, then loved," says Steer. "It is a place where God's love is. I think that all of us — it doesn't matter where you are on your journey — we all long to be known. We all long to have a love that comes unconditionally."