Alumnae Reid Sisters Shine at Intel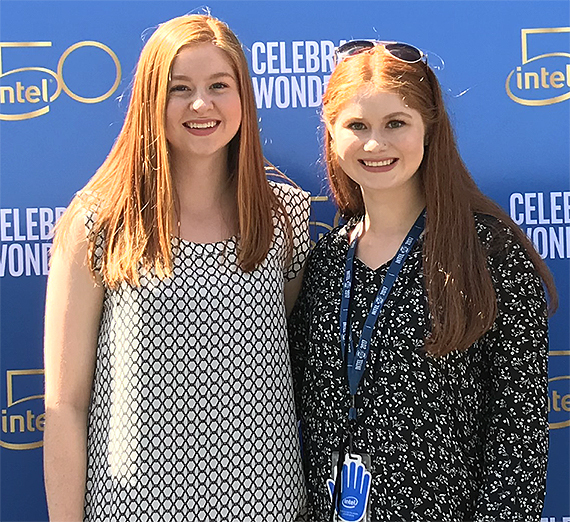 ---
(Above, from left) Marisa ('18) and Sierra ('15) Reid were part of a livestream to the company's 100,000-plus employees during Intel's 50th anniversary celebration.
Gonzaga News Service
PORTLAND, Ore. — Recent Gonzaga University graduates Marisa and Sierra Reid, sisters three years apart, are on the fast track at Intel, where they took center stage in July when the multinational technology giant celebrated its 50th anniversary.

Theirs is truly an Intel family — starting more than three decades ago when parents Pam and Ken Reid met there. Avid cyclists, Pam noticed a cycling poster in Ken's office and they struck up a conversation. Next thing they knew they were biking together, then marriage. They marked their retirement in 2016 by cycling coast to coast — dipping their front tires first in the Pacific and then the Atlantic oceans. Ken worked at Intel for 31 years; Pam 18.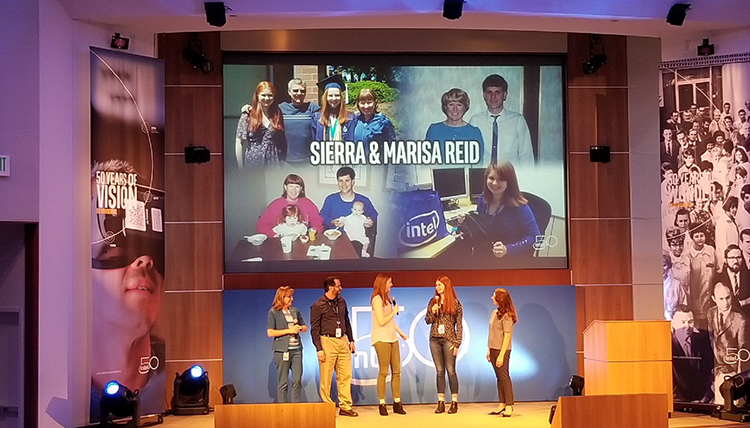 At one point — when Marisa was doing a high school internship at the company — their entire family worked at Intel. Naturally, when the company asked employees for family stories to mark Intel's anniversary, Sierra spoke up.
"On a whim, I submitted our story and it was picked!" said Sierra, who earned a degree in engineering management in 2015 with a focus on computer engineering along with minors in business administration and entrepreneurial leadership. "Marisa and I were presented on stage with an Intel vice president and we did a two-minute talk on our family's story."
Their presentation was livestreamed to Intel's more than 100,000-plus employees worldwide. Suddenly, the sisters, who are often mistaken for twins, were all the buzz at Intel.
"It was awesome to honor our parents and their careers at Intel and also showcase what the future of Intel looks like," said Sierra. "We still get stopped in the hallway from people who remember us from the livestream. It was really fun."
Sierra, who credits Chris Stevens, associate professor of entrepreneurship with having the most impact on her career, travels worldwide as a product marketing engineer in gaming and Esports, but says "nerd translator and cat herder" is a more accurate description.
"The heart of what I do is program and project management, research and production development in an area of new technology or expansion opportunities in the PC gaming ecosystem," she said. "I work with a lot of engineers, marketing folks, external companies, and wind up translating a lot of information and being the mediator. Keeping people on track is where the cat herding comes in."
Marisa, who graduated from Gonzaga in May with a degree in marketing from the School of Business Administration and minors in Spanish and entrepreneurial leadership, started in August at Intel's two-year sales and marketing rotation program, which is comprised of Intel's top new talent.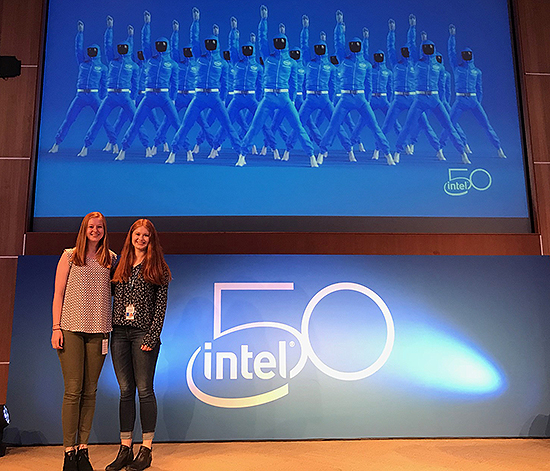 Marisa said she enjoyed the year she and Sierra spent together at Gonzaga and loves their time together at work.
"Working at Intel with my older sister is an absolute blast! She has really taught me the ropes of how to navigate Intel and I can't thank her enough for all the support and advice," Marisa said. "It's hilarious how often other employees think I'm Sierra and I've met a lot of interesting new people as a result of that."
The sisters are grateful for the scholarships that helped them attend Gonzaga, which they credit with preparing them to achieve without limits.
"Gonzaga gave me a fantastic background in technology. The marketing, business application and start-up idea generation all came from the Hogan Entrepreneurial Leadership Program," said Sierra, who received a Trustee/Regent Scholarship, one from the Hogan Program and one from Intel. "I came out of Gonzaga being about as prepared as I possibly could have been for the job I am doing now."
Marisa, recipient of the Regent Merit and Hogan scholarships, calls her Gonzaga experience "absolutely foundational."
"It taught me to be a leader for and with others, a lifelong learner, and a critical thinker. My three years in the Hogan Program challenged me to embrace constructive criticism and collaborate effectively with people from diverse academic and personal backgrounds," she said. "The values instilled in me through my Gonzaga education have been instrumental in my ability to form meaningful relationships and deliver impactful results during my time at Intel."
The sisters emphasize the importance of students starting early on while in school to develop their careers.
Both had internships at Intel in the summer of their junior year. In turn, Sierra has hosted Gonzaga's Portland Trek at Intel since she's been there, and loves to mentor others — noting she learns much in those relationships.
"I was an intern at Intel and am passionate about helping people find their dream job," Sierra said.
"You can find that dream job for where you are given your experience level. I aspire to be a VP at Intel, but I can't be one right now. I need to gain the experience that will get me there."