From Scraps to Scholarships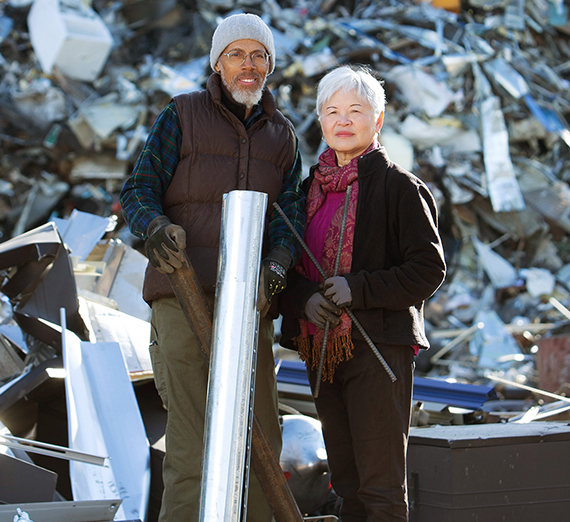 ---
By Madeline Hueske ('19)
It's true that one person's trash can become another's treasure. And in the case of Action and Jackie Jackson, that's exactly what's happening with leftover scrap metal from construction projects — they're turning it into scholarships.
The Jacksons started the John William Jackson Fund (JWJF) in 2000 to provide academic, athletic and artistic scholarships for students. The fund was established after the death of their son, John William Jackson, in a climbing accident. At the time of his passing, he was conducting graduate research at the University of Montana.
JWJF provides containers at construction sites to collect scrap metal, which is then recycled at Pacific Steel in Spokane. They recently completed a collection at Spokane's new Costco location on N. Newport Highway. This project is beneficial not only to the students receiving scholarships, but to environmental efforts as well. If the metal was not collected, it would pile up, becoming unusable, and either be placed in a landfill or shipped away to a recycling plant in the Midwest.
"We're looking to build relationships so the fund can continue," Action says. "Our goal is to reduce scrap metal waste and provide opportunities for youth in the Northwest."
The money from recycling the scraps goes toward providing more than 60 recipient organizations with scholarships each year. At Gonzaga, the JWJF provides scholarships for nursing students.
"We know lots of people who graduated from Gonzaga, so we felt it was a good way to expand our program and include the university in the fundraising," Action says. The first donation to Gonzaga was $2,000. This year, they have pledged to donate $10,000.
Nursing student Travis Xanders ('18), received a scholarship from the JWJF in May 2018. "Every dollar I receive toward my education isn't just for me. It's for my future patients and their families and friends," he says. The scholarship offered him peace of mind in his final semester as he continued to pay his own tuition. Now, Xanders is applying to pediatric nursing positions along the west coast, preparing for a future of helping others.
That's exactly the intention Action and Jackie had when they started the fund nearly 20 years ago.
Photo courtesy of Idaho Community Foundation