Gonzaga Nursing Students Receive $26,000 in Scholarships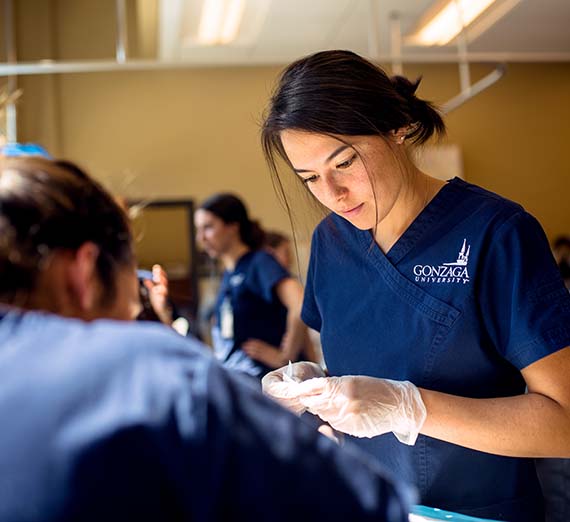 ---
More than a dozen Gonzaga University students have received $2,000 John William Jackson Foundation scholarships to support their nursing and health science educations.
"Now more than ever, recruiting and retaining qualified candidates for nursing and other health science professions is critical," Cy Gearhard, fromer St. Luke's Health System chief nursing officer and John William Jackson Fund advisor, said in announcing the scholarship commitment.
The John William Jackson Fund, which awards grants through its Northwest Health Science Scholarship Initiative, has more than doubled its investment in Gonzaga scholarships since 2019, and increased its total grants to a dozen regional health science programs by more than $150,000.
"The Northwest Health Science Scholarship Initiative-John William Jackson Fund's nursing scholarships make a tremendous difference to Gonzaga nursing students," said Interim Dean of the School of Nursing and Human Physiology Matt Bahr. "In addition to helping fund their education, these scholarships demonstrate a commitment to helping others that the University strives to inspire in its community every day."
Bill and Jackie Jackson of Boise, ID, and Marcus and Pat Meier of Monti Antico, Italy, established the fund in 2000 in memory of John William Jackson, a Georgetown University psychology graduate who lost his life in a climbing accident in the Kyrgyz Republic. The initiative builds on earlier scholarship support from the Jackson family, JWJF, and iYERP metal recycling partners.
"The students receiving these scholarships, and the faculty and staff blessed to engage with them are honored to extend the legacy of John William Jackson," said Vice President of University Advancement Joe Poss. "Support like that of the Northwest Health Science Scholarship Initiative-John William Jackson Fund empowers the University toward fulfilling its mission to educate people the world needs most."
In addition to Gonzaga, schools receiving JWJF grants are Boise State University, College of Idaho, College of Southern Idaho, College of Western Idaho, Columbia Basin College, Concordia Saint Paul – Portland, Eastern Washington University, Idaho State University, Northwest Nazarane University, Treasure Valley Community College, and the University of Utah.
###
For more information, contact:
Cy Gearhard, 208-859-2464, johnwilliamjacksonfund.org
Virgi Blaine, 208-871-6301,johnwilliamjacksonfund.org
Jamie Aitken, 509-313-6131, aitkenj@gonzaga.edu
Learn more about Gonzaga's School of Nursing and Human Physiology