Gonzaga Recognized for Sustainability Efforts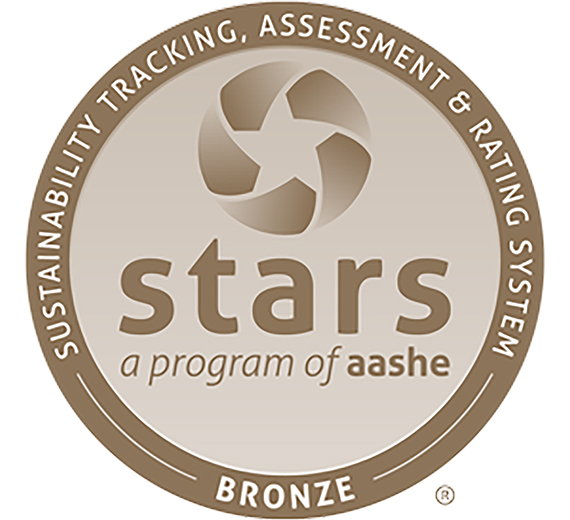 ---
Gonzaga News Service
SPOKANE, Wash. – The Association for the Advancement of Sustainability in Higher Education has awarded Gonzaga University a bronze rating in recognition of its sustainability achievements. The rating is measured through the AASHE's Sustainability Tracking, Assessment & Rating System (STARS) system.
Gonzaga's STARS report can be viewed at the STARS website: https://stars.aashe.org/institutions/gonzaga-university-wa/report/2017-06-28/.
"This recognition further affirms Gonzaga's demonstrated commitment to care for our common home and be stewards of our resources. STARS will inform the continuous improvement of our sustainability and resiliency efforts," said Jim Simon, Gonzaga's director of sustainability.
In 2017, Sierra magazine named Gonzaga to its 11th annual "Cool Schools" list, recognizing the nation's most eco-literate colleges and universities.
In 2013, Gonzaga President Thayne McCulloh approved the Climate Action Plan that seeks to cut emissions 20 percent from 2009 baseline levels by 2020 and 50 percent by 2035. These goals are being advanced through education, research, student-development programs, and operational change – including improvements in construction practices. The plan also aims to broaden sustainability education across the curriculum and in co-curricular programs. In 2012, the Environmental Protection Agency named Gonzaga an "EPA Green Power Partner" for its purchase of clean and renewable energy.
Since the CAP approval, Gonzaga has increased its purchase of locally grown produce, supported student-generated sustainability initiatives financed by the Green Fund, developed the Cataldo Project to (in part) deepen environmental understanding and skills of faculty, and hosted the 2017 Washington Higher Education Sustainability Conference "Caring for Our Common Home."
"As we progress toward our goal of becoming climate neutral by 2050, we will continue to look toward our Jesuit, Catholic, and humanistic values to guide this work," Simon said.
More than 400 institutions have earned a STARS rating, making STARS the most widely recognized framework in the world to publicly report comprehensive information related to a college or university's sustainability performance.
"STARS was developed by the campus sustainability community to provide high standards for recognizing campus sustainability efforts," said AASHE Executive Director Meghan Fay Zahniser. "Gonzaga University has demonstrated a substantial commitment to sustainability by achieving a STARS bronze rating and is to be congratulated for their efforts."
Unlike other rating or ranking systems, this program is open to all institutions of higher education. The criteria that determine a STARS rating are transparent and accessible to anyone. Because STARS is a program based on credits earned, it allows for both internal comparisons as well as comparisons with similar institutions.
For more information about Gonzaga's sustainability efforts, contact Jim Simon at simon@gonzaga.edu or (509) 313-5571. Visit stars.aashe.org for more information about the STARS program.