Spokane Journalist Tim Connor Discusses Landmark LGBTQ Case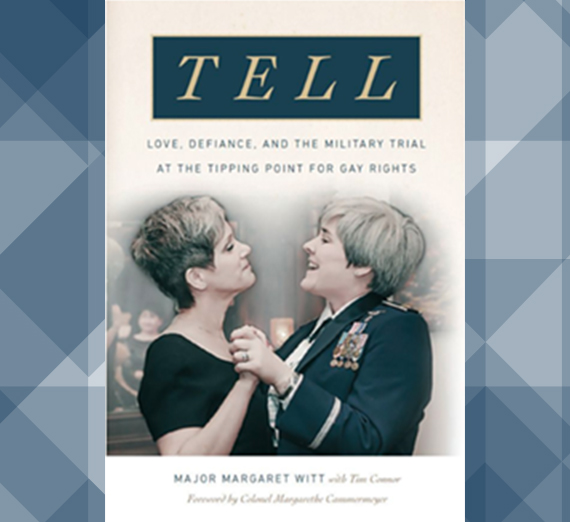 ---
Many law students dream of appearing before the U.S. Supreme Court, fighting for a citizen in a landmark civil rights case, and making history. The facts of Gideon's Trumpet and the fiction of To Kill a Mockingbird seem to have influenced more than one generation of lawyers. Now this generation has its own story to serve as inspiration—a story that also provides plenty of inspiration for current lawyers and law students everywhere. And because this is a Spokane-based story, Gonzaga Law students should take special note.

On Thursday, January 25, 2018, Gonzaga Law's Center for Law in Public Service, the University's Lincoln LGBTQ+ Resource Center, and the Law School's Gender and Sexuality Alliance sponsored a presentation by Tim Connor, a Spokane journalist who co-authored Tell: Love, Defiance, and the Military Trial at the Tipping Point for Gay Rights with Margie Witt. The book details Witt's landmark case that put an end to the "Don't Ask, Don't Tell" policy in our nation's military.

Connor spoke to the audience of law students and other members of the Gonzaga and larger Spokane communities about his experience investigating the legal proceedings, working with Major Witt, and writing the book. Connor is well known within Spokane as the Center for Justice's former Communications Director. In 2011, he won the Washington State Bar Association's Excellence in Legal Journalism Award for his work throughout the state—an honor infrequently bestowed.

Connor told the audience that he did not want to write a memoir that was simply a transcription of Witt's story. Context for her story, including interviews with people from her unit and narrative of behind-the-scenes politicking in the White House over the Don't Ask, Don't Tell policy was key to creating a fully-fleshed narrative that accurately spoke to Witt's experience. After Connor spoke, two members of the audience shared their experiences while service members and Connor answered questions and mingled with his listeners.

In 1993, Witt was an Air Force flight nurse and had even been selected to be the face of the Air Force's "Cross into the Blue" recruitment campaign. By 1999 she had been promoted to Major. On 9/11, she was a reservist working for the Spokane School District and travelled to McChord Air Force Base in Tacoma, WA once a month to attend to her reserve duties as a member of the 446th Aeromedical Evacuation Squadron. Two years later, she was deployed to the Middle East where she was awarded the Air Medal, Aerial Achievement Medal, and an Air Force Commendation Medal. Yet she was living within the deep dissonance of serving her country and risking her life while hiding the other half of her life as a woman in a relationship with another woman.

After being outed by a third party, Witt was suspended from duty in 2004 and eventually discharged under the "Don't' Ask, Don't Tell" policy in the military. The Washington State American Civil Liberties Union took up her case and spent seven years proving that she was not bad for the morale or readiness of the 446th. At trial in 2009 in Tacoma, U.S. District Judge Ronald Leighton ruled Major Witt had been improperly discharged and ordered her returned to service. While completing required hours for nursing recertification, Congress passed a law repealing "Don't Ask, Don't Tell." The landmark ruling took Major Witt all the way to the White House where she watched President Obama sign the order.

While Witt's lawsuit was in progress, Connor worked at the Center for Justice and wrote about notable legal cases related to civil rights. Her case caught his attention. In an earlier interview with the Spokesman Review, Connor stated, "I was really appalled at the start we would even think of taking a decorated flight nurse and removing her from her peers at a time when we needed flight nurses." Over the course of her seven-year case, Connor wrote articles about its progress and a profile of Witt. In 2011, she reached out to him and asked if he would consider writing a book with her. It took a few years to get a contract, and Connor began working on it in earnest in 2014. When the book was published in 2017, Witt and Connor kicked off their book tour at Auntie's in Spokane as Witt had requested. Gonzaga hopes to bring Major Witt to speak next fall.
Learn more about Gonzaga Law's Center for Law in Public Service.