Kendra Andrews Lands Washington Post Internship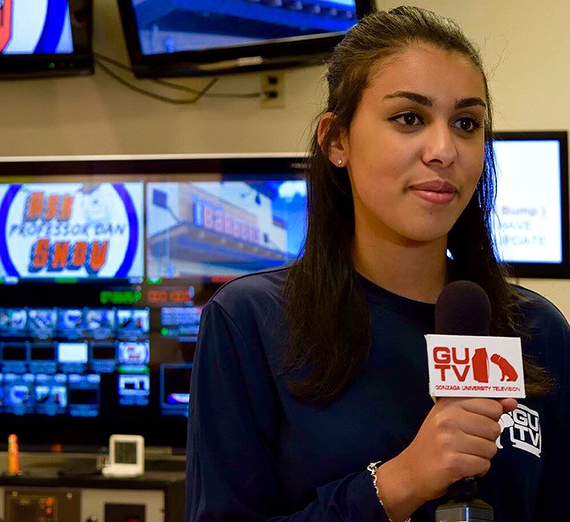 ---
By Megan Carroll
Class of 2018
Gonzaga News Service
SPOKANE, Wash. – Kendra Andrews, a junior at Gonzaga University, recently received news many student journalists dream of hearing. This summer, she will work a paid sports reporting internship for 10 weeks at The Washington Post.
Her coverage will focus on major basketball, baseball, football and soccer teams in Washington, D.C., including the Mystics, Nationals, Redskins, and D.C. United. Andrews initially shied away from applying for the internship – thinking she would not have a chance – until Washington Post sports columnist Jerry Brewer encouraged her to apply.
"When I look around at the newspapers in the U.S., The New York Times and The Washington Post are considered the mecca of journalism," Andrews said. "I think any journalist would love to work at the Post because it is such a highly respected publication."
Andrews, who is majoring in journalism with a minor in solidarity & social justice, grew up in Oakland, California, watching Bay Area sports teams with her family. In high school at the Head-Royce School, she enjoyed memorizing players' statistics and knew she wanted to work in sports. Associated Press sports writer Janie McCauley took Andrews under her wing during a senior-year internship and inspired her to pursue a career in sports journalism.
Now, she serves as sports editor for The Gonzaga Bulletin.
Andrews loves storytelling and her favorite facet of sports journalism is feature writing. During her freshman year at Gonzaga, Dan Garrity, broadcast program director, told her, "You have to find that little nugget." She took his advice and ran with it as a writer and editor. In fact, her sports writers at The Bulletin frequently hear her own words of wisdom: "Find what makes the athletes interesting beyond their sport."
"Every person has this one little thing, the little detail that sets them apart," she said.
In addition to covering Gonzaga basketball, Andrews has written and edited stories about GU soccer, baseball and volleyball and has worked as a freelance reporter for local and national media outlets, including The Spokesman-Review and ESPNU. She is grateful for the opportunities she has received to cover Division I sports through one semester as a staff writer and three as a sports editor for The Bulletin.
"Covering a nationally ranked school is a lot of people's dream and I get do it because I go to Gonzaga. I really try to make the most of it," said Andrews, who also contributes to Gonzaga News Service.
Last summer, Andrews wrote for The Salt Lake Tribune – like The Washington Post, a Pulitzer Prize-winning newspaper – through the Sports Journalism Institute, a nine-week training and internship program for college students, particularly minorities and women. The program accepts eight men and four women each year. Before traveling to Salt Lake City, Andrews spent eight days at a University of Missouri journalism "boot camp."
"It was unlike anything that I'd ever done before and one of the most valuable things I've ever done," she said.
At The Salt Lake Tribune, she reported on events including the Tour of Utah bike race, archery, fencing and a rodeo. Writing about more obscure sports helped her grow as a writer, she said.
Without mentors who push her to be her best, Andrews would not be where she is today. In addition to Brewer, her most influential supporters include her sister Malika Andrews – who covers sports for The New York Times – and Marc J. Spears, senior NBA writer for ESPN's The Undefeated, and former chair of the National Association of Black Journalists' Sports Task Force.
Her Gonzaga journalism professors have also offered never-ending support, she said.
"The journalism professors at GU help you build your resume and all they want is to help you succeed," she said. "The department takes you under its wing and makes sure that you do well. When your professors are so proud of you, it makes you feel really proud of yourself. They are so involved in your career."