The Arts Issue - Innovation at GU and in Spokane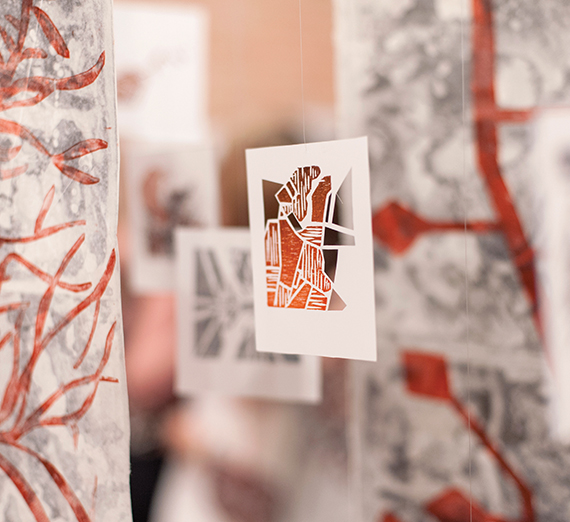 ---
Photo: Senior Art Exhibit at Richmond Art Gallery,
Spokane, Spring 2017.
With this issue of Gonzaga Magazine, we introduce Gonzaga and the Arts, focusing on poetry, literature, theatre, dance and visual art. Don't miss spotlights on Sherman Alexie, Tod Marshall, Brooke Matson and Ken Spiering.
Innovation: At Gonzaga and in Spokane
By Dale Goodwin ('86)
Over the past dozen years Spokane has become a magnet for the visual and performing arts, from music and theater to literature and visuals. The Lilac City boasts a growing number of galleries, exhibits, literary readings and concerts at a number of venues, and many art festivals and outdoor performances are free of charge.
Spokane Arts, through leadership, advocacy, networking and support, has helped to manage public art projects, murals and signal boxes, as well as collaborated with other arts groups to create the citywide Art Tour. Executive Director Melissa Huggins says, "We love to help connect artists with opportunities in the community, and to spotlight what's happening at any given moment in the local arts scene."
In 2017, the Spokane Arts Grant Awards (SAGA) began with support from the City of Spokane and City Council President Ben Stuckart ('01). Winners receive funding to support projects and programs that add inspirational elements to the downtown Spokane experience. Recent examples include Poetry Slam; Window Dressing (a way to showcase talent in the display windows of currently empty buildings); Spokane Tribe artist Shawn Brigman's traditional Salishan sturgeon nose canoe; and See Me Spokane, a photographic project portraying women of Spokane. Another is Millwood Printworks, a traditional printmaking start-up founded by three local artists and supported by donations of unused equipment by organizations like Gonzaga. And,there's Terrain, an innovative art collaborative – started in 2008 by Luke Baumgarten ('03) – that has cultivated the sense of pride in Spokane, encouraging young artists to stay and make incredible things happen here together.
Gonzaga University is proud to be a part of this burgeoning arts science. For example, GU spotlights the role of Jesuits in the arts through Gonzaga's multidisciplinary Jesuit and the Arts series. The Jundt Art Museum offers rotating exhibitions, including the recent Roman Myths and Mythmaking exhibition that drew large audiences. Its galleries are free and open to the public year around. On the academic side, the University is exploring opportunities for interdisciplinary work with the sciences, technology, engineering and mathematics to help build relationships between creativity and innovation. Last fall, Arts and Sciences faculty introduced a minor in interdisciplinary arts.
Elisabeth Mermann-Jozwiak, interim academic vice president, notes that "faculty also are exploring the role of the arts in their relationship to social justice" through projects like the Colombia Initiative, which focuses the way this stressed South American country transitions to a more peaceful society.
The growth of arts programs on the Gonzaga campus parallels the expansion of creative opportunities in the greater Spokane area. One exciting new opportunity for collaboration is the possibility of a Gonzaga "satellite" in a historic downtown building being converted into an Urban Arts School. See details inside the President's Message.

Coming Soon: The Myrtle Woldson Performing Arts Center
A gift of the late Miss Myrtle Woldson, this facility will serve as the cornerstone for arts-related research and performance at Gonzaga. Watch for details on the life of Miss Woldson, through the lens of local and student artists.

Untitled, by Judy Pfaff, Chase Gallery, Spokane
More in our Arts Issue: