A Passion for the Arts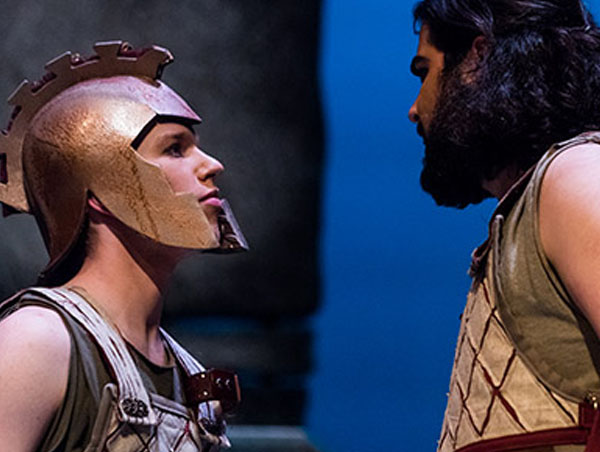 ---
A Jesuit education without the arts lacks part of its soul.
Participating in the creative process helps to shape our imagination, dream new possibilities, experience life more fully, and embrace the Ignatian practice of "finding God in all things." That's why Gonzaga is proud to embark on new journeys that support the growth of our arts programs and increase connections to the Spokane arts community. Here are two of many examples.
In July, we held a blessing ceremony for the construction of the new Myrtle Woldson Performing Arts Center, a two-story, 58,543-square-foot facility that will support Gonzaga's growing music, theatre and dance programs, as well as community events. Miss Woldson's support of the Spokane arts community had been ongoing behind the scenes for many years, and culminated after her death in 2014 with the gift of her estate to Gonzaga University. It was the largest individual gift in school history, and one that also supports a scholarship endowment to ensure talented, high-financial need students can realize their dream of becoming Zags.

Miss Woldson's generosity reminds us who we are: A Jesuit institution with a fundamental commitment to the arts and their role in the formation of individuals for the benefit of society. She has given us an opportunity to be our best and we take that responsibility very seriously.
Expected to open in winter 2018, the 52,000-square-foot Myrtle Woldson Performing Arts Center will include a 750-seat performance theatre named for Father Bernard J. Coughlin, S.J., chancellor of Gonzaga, as well as a 150-seat recital/rehearsal hall for music and dance. There will also be a replica of the main floor of Miss Woldson's historic home, including artifacts that she bequeathed to Gonzaga.
Also on the horizon is an Urban Art School. Terrain, cofounded by Gonzaga grad Luke Baumgarten ('03) and one of our city's most innovative new art institutions, has envisioned a cross-disciplinary arts hub and laboratory for new artists who are finding their voice or developing their first studios. Gonzaga will be a key participant, creating a satellite where members of our Jundt Art Museum, Center for Public Humanities, and departments of art, music, theatre and dance will provide teaching and coaching. While details are still in the works, we couldn't be more excited about the opportunity to engage in the arts with the Spokane community.
There is a synergy between the growth of arts in Spokane and at Gonzaga. It seems we're following parallel tracks toward a colorful and joyous future where art and artists are more highly valued and appreciated for the quality they bring to our lives.
With gratitude,
Thayne M. McCulloh, D.Phil.
President
>> Explore of Gonzaga Magazine's Arts Issue