Pigball Taught Me How to be a Servant Leader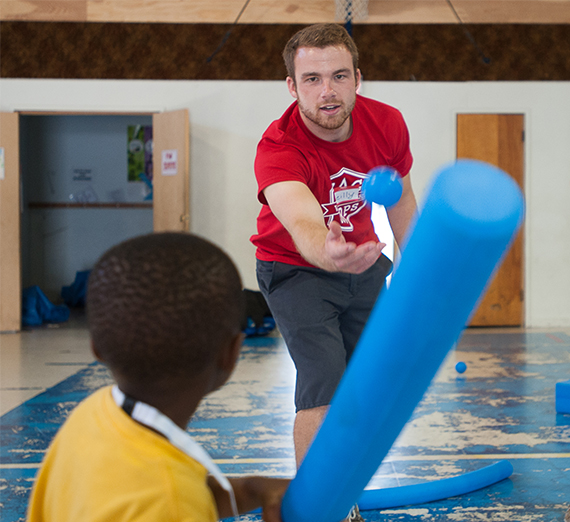 ---
Gonzaga students spend roughly 142,000 hours giving back to the community in a variety of ways. From volunteering at local animal shelters to service immersion trips in South Africa, no place gives back quite like Gonzaga. Because of this commitment to service, I think people are drawn to call Gonzaga University home. Perhaps this servant identity is what draws you to Gonzaga as well.
Whether you have been volunteering all your life or think it's something you want to start doing, Gonzaga is a great place to develop skills in servant leadership. Service is integral to being a Zag, and there are so many ways to develop as a leader through the opportunities at GU such as working to protect the environment, volunteering at an assisted living home, or simply being a friend to someone who needs one.
I volunteered through a program called Gonzaga Athletes Mentoring for Excellence, or "GAME." GAME is a program where GU students go to different middle schools in Spokane and mentor students via sports and other team building activities. Quite honestly it is one of the most rewarding things I have ever done, and I got to do it every week.
20 other Zags and I visited Gary Middle School, which is located in one of the lowest income neighborhoods in Washington State. Before the games started, we brought the kids dinner. During dinner, we got to catch up on how our past weeks went and be a friend and mentor. And then the games begin… literally. We played anything from freeze tag and solleyball (an amazing combination of volleyball, soccer and basketball) to pigball (another unique combination of football and ultimate Frisbee) and basketball. The two hours spent at Gary allowed us to bond with these kids and create meaningful connections. Nothing beats the feeling of coming back and having your mentee yell your name from across the yard in excitement.
I didn't choose Gonzaga because of the potential service opportunities, and I didn't participate in GAME until my academic major required me to enroll in a service program. But these experiences are what make me consider Gonzaga home. For me, nothing is more intertwined with my Gonzaga experience now as the GAME program and service itself.
To check out more of Gonzaga's exciting service learning programs, visit the CCE page.