Sustainable Investing - Offer Your Voice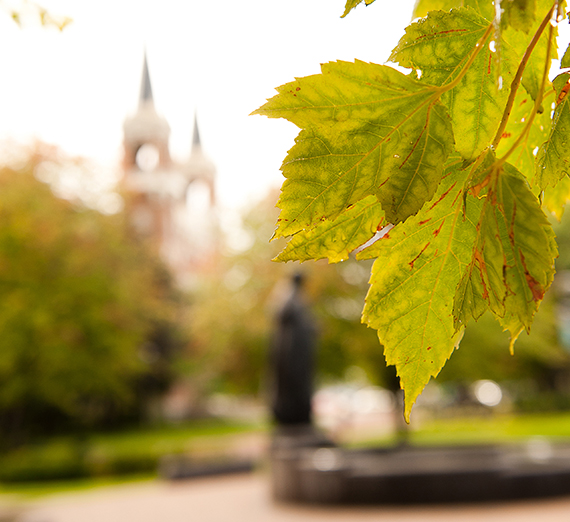 ---
By Joe Smith ('01), AVP of Finance for Gonzaga University
In his encyclical Laudato Si', Pope Francis implores each of us to acknowledge our obligation to care for our common home. As a Catholic, Jesuit institution of higher education, Gonzaga University has a responsibility to support that call, and to aid the Society of Jesus in its advocacy for practices that demonstrate care and concern for the environment. At Gonzaga, this commitment is evident through a range of efforts to advance sustainability and promote social justice related to this challenge shared by all humanity.
While Gonzaga expresses its commitment to sustainable practices in a variety of ways, a number of people in our University community have raised concerns with regard to endowment investments, and specifically the topic of sustainable investing. Gonzaga community members are not alone, as similar conversations are occurring across the landscape of higher education.
When it comes to investing, should we do more to incorporate sustainable practices? In other words, how should our endowment investing strategy support our commitment to care for the Earth? How should the endowment reflect the reality of human-produced emissions resulting from the burning of fossil fuels such as petroleum oil and coal?
Over the past year, in collaboration with the Gonzaga Environmental Organization (GEO) student club, a number of forums were held on campus to discuss these issues. As the 2017 academic year closed, the Gonzaga Student Body Association (GSBA) voted to support an initiative, led by GEO, to recommend divestment by 2020 from the top 200 most carbon-intensive publicly traded coal, oil and gas companies. A number of faculty members also signaled their support via signing petitions and letters of support for divestment.
The administration, together with our governing board, has reviewed the University's investment holdings in fossil fuel companies and is currently engaged in an effort to better understand this developing space. Evaluating how to incorporate sustainable investing practices, such as care for the environment, is no easy task. There are a wide range of alternatives, examples including divestment of specific companies, investing in emerging fossil-fuel alternatives, or favoring those companies or funds that demonstrate a higher regard for social justice matters, such as the environment.
Any change in the University's investment practices requires thoughtful consideration and discernment how best to maximize the endowment's investment performance while incorporating decisions informed by sustainable investing practices. To that end, a task force within our governing board is exploring options and identifying ways to further the University's commitment to sustainable investing practices. Critical to this work is seeking feedback from members of the Gonzaga community.
Q: What is the purpose of Gonzaga's endowment and how much is spent each year?
Our endowment (total value of $282 million as of May 31, 2017) is intended to be invested in perpetuity for the long-term support of the University, its students and programs. Approximately 4.5 percent of the endowment is spent annually from accumulated investment returns, mostly to support need- and merit-based scholarships. Endowment spending for the 2017 fiscal year was $8.2M, a figure that represents approximately 2.6 percent of Gonzaga's annual operating budget.
Q: How much of Gonzaga's endowment includes investments in fossil fuels?
Approximately 4.4 percent of the public equity exposure within the endowment pool owns fossil fuels reserves such as oil or gas, a figure that is 43 percent less than the average globally invested equity portfolio.
Q: What is the primary argument for divestment?
Divestment is the opposite of investment. Those who support fossil-fuel divestment seek a strategy to remove the "social license" of a fossil-fuels based energy economy, in much the same way that activist-led divestment in South Africa was viewed as playing a role in the ultimate demise of an Apartheid government.
We're asking you – alumni, parents, friends of Gonzaga – for your input.
How do you hope to see Gonzaga move forward with these issues? What wisdom can you offer as to how we can advance our sustainability efforts? To what extent should sustainability considerations be included in the investment strategy for the University's endowment?
Email GonzagaSI@gonzaga.edu with your thoughts and observations. Thank you for contributing your Zag voice to this important conversation!
For more, visit: Sustainability.