Zags Top Nation in Graduation Success Rate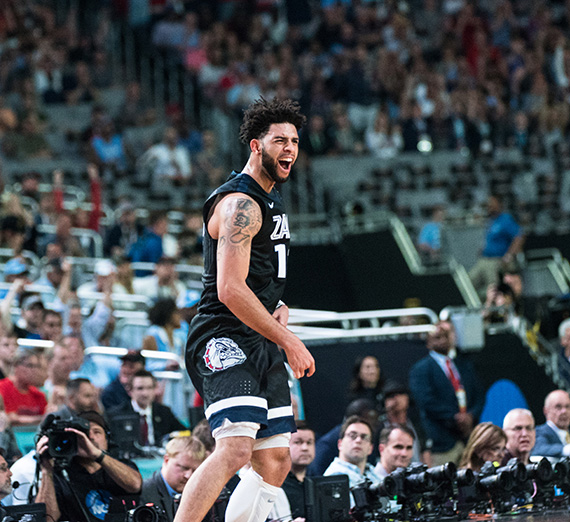 ---
Courtesy Gonzaga Athletics
SPOKANE, Wash. – Gonzaga student-athletes are graduating at a rate of 99 percent according to the latest Graduation Success Rate (GSR) numbers released by the NCAA this week, which is tied for the highest percentage in the nation.

The Zags, who are tied atop the country with Columbia, Dartmouth, Harvard, Loyola Chicago and Yale, have the top GSR in the West Coast Conference. For comparison, the NCAA average is 85 percent and the WCC average is 90 percent.

"To be tied for the highest Graduation Success Rate in the nation is an amazing accomplishment by our student-athletes, and it is a testament to the hard work and dedication they put in to not only be great athletes, but great students as well," said Mike Roth, Gonzaga's director of athletics."It's not an easy task to achieve at such a high level both in competition and in the classroom, and our coaches, faculty and academic support staff have done a great job in allowing our student-athletes to flourish at Gonzaga."

Eleven Gonzaga squads achieved perfect 100-percent GSR scores, including men's basketball for the first time in program history. Zags' women's cross country and track and field and women's golf had a perfect 100-percent GSR for the 13th straight year, while GU women's tennis achieved the feat for the 12th straight year. Men's cross country and track and field (10 straight), men's tennis (nine straight), men's soccer (eight straight), women's soccer (seven straight, ninth time overall), and men's golf (six straight) all extended their impressive streaks of 100-percent GSR scores. Women's rowing had a perfect 100-percent GSR for the sixth time in program history.

Bulldog men's soccer was one of only 34 programs in the country to have a 100-percent GSR, and women's rowing was one of only 38 programs. Men's cross country and track and field (one of 56 programs) and men's basketball (one of 59 programs) were also among an elite small number.

All 13 of GU's countable programs finished above the national average in their respective sports. Men's basketball achieved a 100 percent GSR score, 21 percentage points higher than the national average of 79 percent for the sport. Gonzaga women's volleyball had a 96 percent GSR (5 percent above the NCAA GSR average) and Bulldog baseball had an 89 percent GSR (8 percent above the NCAA GSR average).

According to the NCAA, the Division I Board of Directors created the GSR in response to Division I college and university presidents who wanted data that more accurately reflected the mobility of college students than the federal graduation rate.

The GSR formula removes from the rate student-athletes who leave school while academically eligible and includes student-athletes who transfer to a school after initially enrolling elsewhere. This calculation makes it a more complete and accurate look at student-athlete success.