School of Business Presents 9th Annual Aram Lecture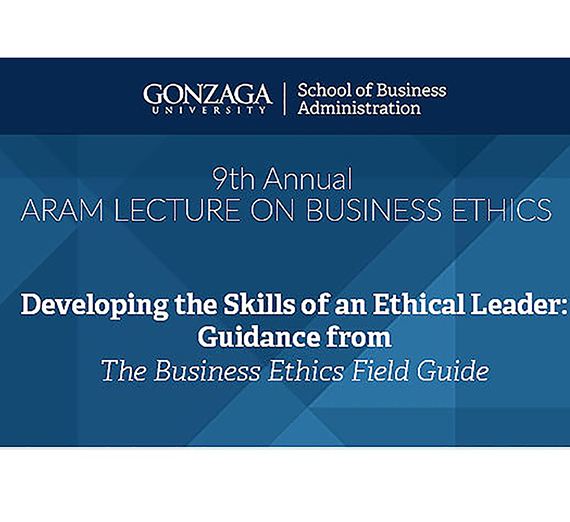 ---
'Developing the Skills of an Ethical Leader' Oct. 9
SPOKANE, Wash. – Brad Agle, the George W. Romney Endowed Professor at Brigham Young University, and Bill O'Rourke, inaugural president of Alcoa Russia, will present the Gonzaga University School of Business Administration's 9th annual Aram Lecture on Business Ethics at 6 p.m., Monday, Oct. 9 in the Jepson Center's Wolff Auditorium.

The free public lecture, titled "Developing the Skills of an Ethical Leader: Guidance from the Business Ethics Field Guide," follows a 5:30 p.m. reception. The duo will discuss the research behind their (2016) book "The Business Ethics Field Guide," which identifies 13 fundamental ethical dilemmas that organizations encounter and explores how to deal with these based on experiences from hundreds of practicing managers.

Agle is a professor of ethics and leadership in BYU's Marriott School of Management. He serves as president of the International Association for Business and Society, as chair of Merit Leadership and of the Wheatley Institution's Ethics Initiative, in addition to involvement with other ethics committees and advisory boards. His writings appear in top academic journals in management and ethics. He is the recipient of multiple research and teaching awards, and has provided board and executive training for many organizations.

O'Rourke serves on John Carroll University's Board of Trustees and as a Fellow of the Wheatley Institution at BYU. He retired in 2011 as a vice president of Alcoa after a distinguished 30-year career in a number of leadership positions after joining the company as a patent attorney. From 2011-2014, O'Rourke was the executive director of the Beard Institute in the Palumbo-Donahue School of Business at Duquesne University. He lectures widely on business ethics and chairs the board of Sustainable Pittsburgh in addition to serving on a number of other civic, charitable and religious organizations.

The endowed Aram lecture serves as a tribute to the late John Aram, a former Gonzaga Trustee and benefactor whose long and dedicated service to the forest industry spurred Weyerhaeuser Company, Boise Cascade Corp., Potlatch Corp., the George F. Jewett Foundation, and many industry associates and friends to establish John L. Aram Chair of Business Ethics at Gonzaga. Aram's life exemplified a commitment to ethical values in both his business and personal endeavors. Professor Brian Steverson has held this chair with distinction since fall 2008. The lecture is designed to provide students with a better understanding of business and government ethical issues.