The Benevolent One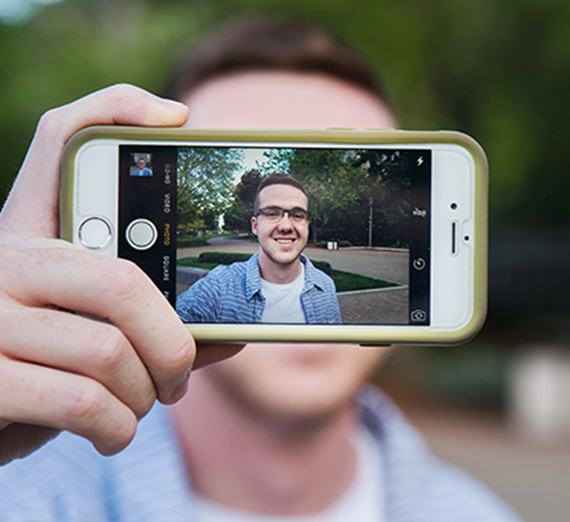 ---
It was summer and Konner Sauve ('19) was watching the Oregon landscape whiz by the windows of the family car when inspiration hit. He'd just finished his junior year of high school and had been thinking about the typical struggles of that period. What if his fellow students had a little recognition for their unique talents and gifts? What if he could share those tidbits publicly, yet anonymously?

Over the course of his senior year, Sauve used an Instagram account he named "TheBenevolentOne3" to post a photo and a note of affirmation to every student in the class of 2014, 2015 and 2016 from East Valley High School in Yakima, Washington.

Initially, students doubted its duration, thinking it would peter out within a month. When it didn't, their attention turned toward figuring out who was behind it. During the graduation ceremony, when Sauve delivered his covaledictorian speech, he revealed his secret. The class went wild. The audience gave him a standing ovation. At a graduation party, a friend said she had called the local media to share the story and after that aired, the national office of ABC News called for an interview. The Benevolent One became a sensation on Instagram, where his account grew to 11,000 followers.

Quoting Maya Angelou, Sauve posted, "I've learned that people will forget what you said, people will forget what you did, but people will never forget how you made them feel." He continued, "It is easy for people to be cruel over social media, so I decided to counteract the negativity. Over the past year I saw a change occur in our high school, a positive one; it seemed as though we were more united."

That message received 4,400 likes and 800 comments, including this one from Granbury High School in Texas: "I love this account so much I made one for my district!"

When Sauve arrived at Gonzaga as a freshman that fall, some students instantly knew who he was. A similar Instagram account then started at Gonzaga called "DailyDoseofKind16" with a simple slogan: "Our words matter." Sauve wasn't directly involved but he definitely inspired the movement.

He's the first to say the outcomes of The Benevolent One weren't what he expected. "Going in, I was looking to recognize other people and make them happy. Then I realized how much happier I was myself in doing that for others."

Sauve is working on a degree in psychology to complement his deep desire to listen to and help people. We think he's going to do just fine in that line of work, don't you?