Opus Prize Moves Student to Act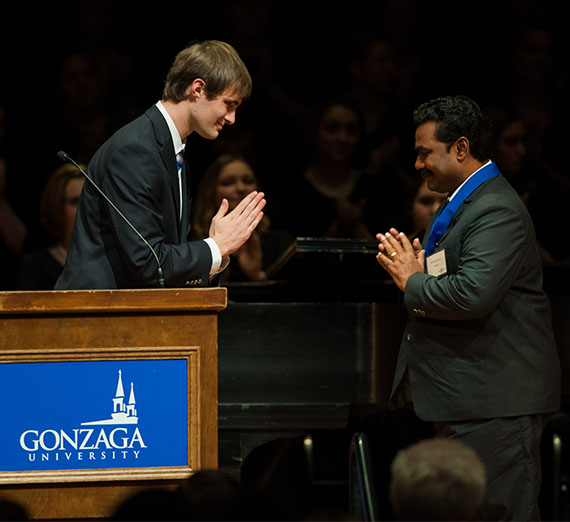 ---
SPOKANE, Wash. – Gonzaga University's hosting of the Opus Prize last fall recognized some of our world's top faith-based humanitarians, including Gollapalli Israel. A finalist for the award, Israel serves the people most marginalized in India – the Dalit "untouchables." Inspired by Israel's work, Gonzaga rising junior Aaron Danowski is now doing all he can to help Manoj Prabhakaran, a 22-year-old Indian "untouchable," achieve his dream of studying at Gonzaga.
While India technically abolished its caste system decades ago, centuries of stigma remain. The Dalits are generally limited to occupations considered impure, and remain at the bottom of the social hierarchy. Prabhakaran was raised in the slums of Chennai, where Israel runs the nonprofit Janodayam Social Education Centre to help the Dalits. Janodayam stands for "people arise." Inspired and encouraged by Israel, Prabhakaran has overcome much adversity to earn a bachelor's degree at Loyola College in Chennai. Now, he aims to earn a master's degree in organizational leadership at Gonzaga, where he has been accepted. Danowski is working to help him clear the financial hurdles to become a Zag.
Prabhakaran is the son of manual scavengers – a term used to describe cleaning human waste from latrines, streets and sewers. His father died from alcoholism in 2013, putting him and his brother in charge of supporting his family. Two sons of his older sister were left in the care of Prabhakaran and his brother. Making matters more difficult, Prabhakaran's youngest sister was left physically handicapped from an assault at school. Israel helped Prabhakaran cope with this tremendous adversity, and encouraged him to succeed in school.
"At that time, Janodyam intervened, and they counseled me effectively," Prabhakaran said.
To begin the immigration process and apply for a visa, Prabhakaran must prove he can pay tuition, room and board. Danowski has been working with him since last summer to help raise funds to make his dream to become a Gonzaga graduate student reality. So far, they have raised $11,400 of the estimated $22,000 needed.
Danowski, who is majoring in business administration with minors in entrepreneurship and sociology, has become passionate about social justice. He remembers meeting Prabhakaran last year when he traveled to Chennai as part of a Gonzaga delegation to evaluate Israel's work.
"There was something different about him, he wanted to come to the United States and continue what Mr. Israel was doing and use that opportunity as a means of giving back to his community," Danowski said. "That really stuck with me."
Danowski believes Prabhakaran would become the first of an estimated 600,000 Dalits in Chennai to study at a U.S. university – an achievement that could inspire many others to dream big.
"I think he is going to do big things and this is a chance for us to step up and say, 'We support you and we stand in solidarity with you,'" Danowski says.
Beyond this project, Danowski is passionate about social entrepreneurship and social change.
"I went to Jesuit High School (in Portland, Oregon), so I learned about men and women for and with others and kind of got the Jesuit vernacular stuck in my head," he said.
Growing up, Danowski attended a French immersion school for nine years. As a fifth-grader, he participated in a two-week homestay in Paris and another homestay in Costa Rica. Traveling to India last summer, however, was his first experience with crippling, systemic poverty.
At Gonzaga, he is working with student development to foster more ways for undergraduates to use their education to make a difference in the world. Additionally, he participates in a program called Ashoka U, a social entrepreneurship initiative that empowers students to solve social problem and foster change in the world.
"We knew that bringing the Opus Prize to Gonzaga would inspire our community and our students, as it has Aaron," said Mike Herzog, chief of staff to the president and coordinator of Opus Prize 2014 at Gonzaga. "Of course, being who he is, Aaron would be engaged in social entrepreneurial work regardless, but his Opus Prize involvement focused his amazing energy on helping Prabhakaran change his life for the better in this tangible way."
This summer Danowski will be interning at REBUILD Globally, a sandal company and social enterprise in Port-au-Prince, Haiti. This fall, he will study in the African nation of Cameroon, conducting social entrepreneurship research. He hopes to one day create sustainable change by helping build systems that allow other countries to become independent of U.S. aid.