Trading Fatigues for Waders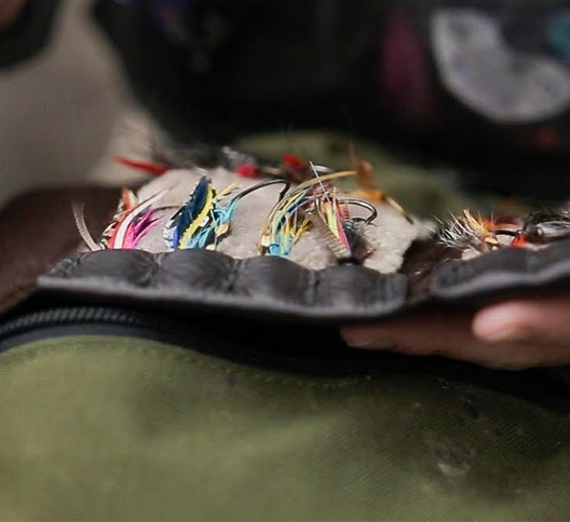 ---
By Kate Vanskike
How does a combat veteran find his way in the world again? What does he wear in place of his fatigues when he needs to feel strong?
For David Fineran ('03), healing from the effects of devastation in Iraq would come in the calm, cool waters of Oregon rivers, where he'd stand in waders, doing the gentle dance of a fly fisherman.

After graduating from Gonzaga in 2003, David Fineran spent the next seven years as an Army officer, leading a tank platoon and an infantry mortar platoon, teaching military science and training troops. Twice he was deployed to Iraq to stabilize and rebuild cities that the previous years' combat had destroyed.

Back on U.S. soil, Fineran donned a business suit, traveling as a business development consultant for a hospital communications and marketing firm. Today, he is a national sales executive for Insight Worldwide, a company serving human resource managers with hiring tools and solutions. He is putting his Gonzaga degree in business and HR management to good use.

But it was while standing hip-deep in the waters of wilderness river bends that Fineran found a new passion. One that would combine the delicate art of crafting flies for fishermen with a drive to save children on the other side of the globe from the perils of human trafficking.

A sixth-generation Oregonian, Fineran had returned to Salem after being gone for many years, and found himself relearning the region with new perspective. He adventured in the outdoors and threw himself into fishing the wild, clear rivers for steelhead, but something still felt amiss.

Then one day he met Bucky Buchstaber, a fellow angler, while on the Clackamas River.

"I thought it was a joke when he told me his name, but I figured I'd never see him again, so I went with it and chatted with him for a few minutes before moving on," Fineran recalls. "What I didn't know was that we would continue to cross paths – and when I say cross paths, I mean on different rivers, in fairly difficult-to-reach wilderness river bends. It was after a third or fourth meeting that I felt a calling to learn who this Bucky guy was and why we kept running into one another."

Fineran says you "can't throw a rock on an Oregon river and not hit a bearded fly angler," but he figured if Bucky Buchstaber was someone's real name, it would be an easy online find. Sure enough, he found Buchstaber on Instagram, where the two strangers were already following one another and "liking" each other's fish pictures. A closer look revealed that Buchstaber was a pastor nearby.

With contact information now in hand, Fineran called Buchstaber and said, "I'm the guy you keep running into on the river. I think we're supposed to talk."

When the two fishermen met the next week, Buchstaber shared his vision for using the passion of flyfishing to help friends build fish farms for orphanages.

"I then knew why we had been introduced and I immediately wanted to be involved," Fineran recalls.

Before long, a committee turned into an official not-for-profit organization, and at the next Northwest Annual Fly Tying Expo, Buchstaber, Fineran and others were handing out freshly printed business cards for the Fly Fishing Collaborative. FFC's mission is to provide sustainable ecosystems and nutritional care to orphanages globally, through the construction of aquaponics-based fish farms and gardens that feed children who have been rescued from sex slavery and other forms of trafficking.
How does a group of anglers raise the funds for this kind of endeavor? Quite simply, through professionally guided fly-fishing trips and by selling custom-made leather fly wallets. The handcrafted leather wallets are filled with hand-tied flies donated from across the U.S., Canada, Italy, England, Japan, Ireland, France and beyond. That's just one of the unique ways the Collaborative invites everyone to use their own creative passions, Fineran says. All proceeds from each wallet sale go to the farm construction projects – about $20,000 per farm – to pay for pumps, filters and locally resourced construction materials.
Fineran thinks back to that first expo and how the "outpouring of support and encouragement was far and above anything I expected." In fact, he says, "It was emotionally overwhelming. Seeing anglers and non-anglers alike getting involved internationally, we know that with each person collaborating, the dream to help more kids could be a reality and a success."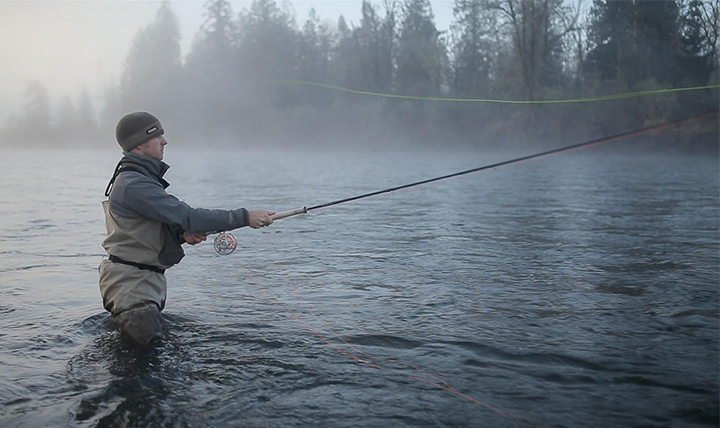 The Healing of a Combat Veteran
Since 2014, these passionate fishermen have built or supported farms in Thailand, Belize, Rwanda, Uganda and Zimbabwe that provide sustained food and economic support for more than 1,000 kids annually. The most innocent and vulnerable of these kids otherwise would be lost to slavery.

But in truth, Fineran himself is reaping benefits of this grassroots work.

"It means a lot to see a community organize and provide solutions, after personally witnessing some of the world's greatest cruelties," he says. "Fly-fishing is a lifetime love for me, handed down over generations. But until seeing the mission of FFC, I never truly realized how it helped heal my spirit and my faith following combat deployments.

"I can't express enough thanks for the blessings FFC has returned to me."
Learn more about the work David Fineran loves, at flyfishingcollaborative.org.
Have a story about an experience that has changed your world? Email editor@gonzaga.edu.