Mind of a Zag (first-time) Voter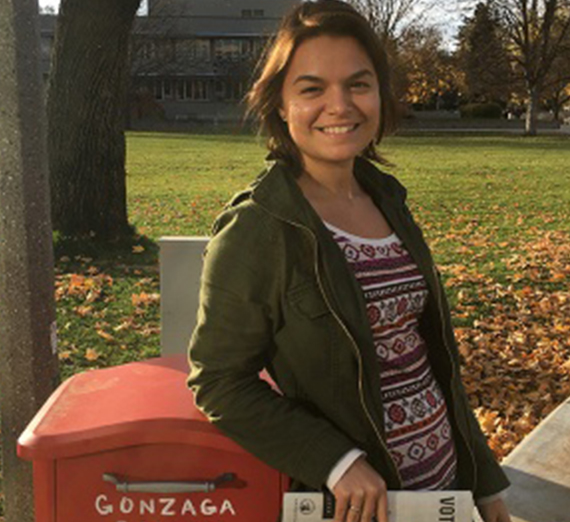 ---
I think I'll always remember the first time I got to vote in a presidential election. The feeling of slipping my finger under the envelope and tearing open the adhesive. Seeing the bright yellow envelope where I'd seal my own votes. The surprise at the size of the ballot, unfolding and unfolding and unfolding all the complexities of every issue and electorate into a tidy two-dimensional grid. The little boxes ready for my blue or black ink pen to mark.

For this 2016 election, I sat at my kitchen table armed with my laptop, voter's pamphlet and a strong cup of coffee. I felt empowered. After months upon months of election coverage, I was ready to act. No more talking, tweeting or tossing and turning in bed wondering what will come of us on November 8 and into 2017.

In my short two decades, I've seen and heard more about the dark side of American politics than I care to recall. Corruption, corporate greed, debt and disrespect. But I've also learned about the suffragettes, about protests and rallies and activism.

I've always been taught to count my blessings twice, so with this opportunity to vote, I sat down to do more than just fill in some boxes.

I'm methodical, analytical, and an enduring optimist. I honestly expected it to take under an hour for me to complete my votes. My spine straightened and my brow lifted as I began to explore the issues. I was on a mission to make informed votes, but informed by what? My own opinions? Personal experiences? The voter's guide? Reviewing six initiatives, two advisory votes, a senate resolution, candidates for executive, legislative and judicial offices, senators and house representatives took three hours., Even after research and reading, most of my votes entailed throwing my hands up in defeat. At one point I exclaimed in front of housemates, "I don't know what the right answer is here! I just don't want the elderly to get scammed!' The fact was, I wasn't an expert on any of these issues and a single student can only read so many op-ed articles. This shining moment of citizenship was turning out to be a daunting deliberation. And still the last box loomed – the presidency. I put my ballot away, with that one gaping hole, and decided I need one last night of tossing and turning before I could seal the deal and send my ballot in, completed.

When I first laid the issues and the individuals out before me to make informed decisions, I thought informed meant the vote would be made with a clear and concrete understanding of all the facts. What I learned in this process is that every citizen's vote is inherently personal. In the last few moments before one puts pen to paper, passion overrules politics. Filling in each box was always a quieting moment in my mind as I cast my vote for my vision of a better America.
Encouraging College Voters: A Gonzaga Rally
It's a momentous occasion when a presidential election year rolls around, especially on college campuses where students become eligible to vote for the very first time. The intent of higher education is to develop young people into thoughtful citizens, so at Gonzaga, high value is placed on the opportunity to help 5,000 undergraduate students get excited about civic engagement and the electoral process.

Colleen Vandenboom, Assistant Dean of Student Involvement has championed the cause during this very significant United States presidential election season.

Her intention was to make the voting process as accessible as possible for busy and inexperienced students. On September 16, Constitution Day, a voter registration table in the Hemmingson Center assisted approximately 200 students who had questions about the election process, and provided them with a free constitution book. A month later, students had an amazing chance to be engaged in politics when Washington State Senate candidates Patty Murray and Chris Vance debated on the Gonzaga campus.

If either of those opportunities was missed by students, comprehensive voter information has been collected and curated for ease of use at www.gonzaga.edu/voteredu/. The site has been praised by the Spokane Elections office for its comprehensive nature, including a document with links to every single state.

Fifty-one percent of the Gonzaga total student body (undergrad and graduate included) is from out of state, so the Center for Student Involvement went the extra mile for these absentee student voters, even providing free stamps for their ballots. Out-of-state Zags even received notifying emails about their personal voting process with a friendly state-specific subject line; Hey Arizona Zag! For students who are residents of Washington State, there will also be an on-campus ballot collection spot.

The suspense of discovering the results of an election is great, but Vandenboom is also eager to see if our Zag community has made her proud. A former professor of civic engagement at UCLA, she is hopeful. "I've heard many students talk about watching the debates together as housemates. It feels like they are engaged." Vandenboom says they'll be able to discern approximate student voter turn-out through the use of zip code records and a count of how many of those free stamps they gave out.