Hockey Helps Youth, Warms Hearts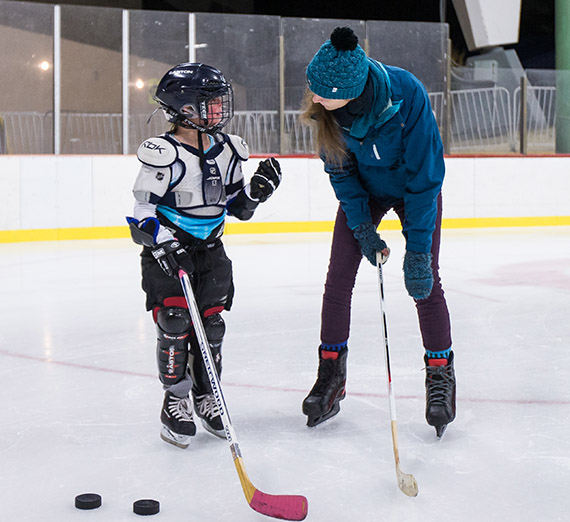 ---
By Dale Goodwin
SPOKANE, Wash. – Gonzaga Exceptional Hockey, launched by Gonzaga University special education Professor Mark Derby in 2008 to help youth overcome learning and communications difficulties, has caught the attention of the Vancouver Canucks of the National Hockey League.
Derby and up to 25 Gonzaga student volunteers gather for 10 Friday winter evenings at Riverfront Park Ice Arena to help the youngsters, whose ages range from 3-22, become more socially adept and open to learning. Last fall, the program became part of the Canucks Autism Network, coordinated through the Canucks of the NHL. CAN helps train the Gonzaga students to teach hockey to the children and young adults.
Gonzaga students – whose majors include special education, counseling psychology, psychology and business – may be assigned to coach one-on-one with a participant or in small groups.
There is no shortage of smiles lighting up the winter ice.
"Little Avery, age 5, was skating for the first time last week," says junior business major and first-time program volunteer Kayla Tademy, from Mission Viejo, California. "He had his Spiderman helmet on, and Captain America knee and elbow pads. By the end of the night he was skating circles around us. When he fell, he'd get himself right back up and keep skating."
Mikaela Kang, a junior special education major from Sammamish, Washington, volunteers to gain experience in the field.
"I worked with a 14-year-old named Brittany, who's been doing this program for four or five years," Kang says. "She has all the hockey gear, and is so excited to be playing with all the other young people here."
While the number of students enrolled in the program varies from year to year, Derby says there is never a shortage of Gonzaga student volunteers.
"One thing about Gonzaga is you'll never have an inadequate number of students who want to do something for others," Derby says.
The Centers for Disease Control estimates that 1 in 68 American children have some form of learning or communication disorder.
Gonzaga brings a research component that helps analyze best methods to teach the children to learn and communicate more effectively. Derby conducts the research with help from a graduate student and two undergraduates. So far they have published two reports on their findings: one shows an increase in social interaction among children who are exposed to the program, and another that identifies certain prompt strategies that have proven effective in giving verbal reinforcement. Examining the most effective training strategies for coaches is the group's current research assignment.
"Hockey allows us a social context whereby kids can identify things to talk about through an activity they're all engaged in. They learn skills to interact with others and to follow directions within a group context," says Derby, who has been skating since he was a child.
As part of the research, some children are videotaped to help the researchers understand how best to coach the special needs children. Derby and associates also are studying specifically how best to teach children with autism.
The best part of the program is our pizza party at the end where, unless you knew these kids had some special needs, by the laughter and the stories being shared, you'd certainly think otherwise," Derby says. "The most poignant moment for me is when a longtime participant, who has severe autism, calls me every other week beginning in the fall and asks when hockey starts . . . it's so special to hear his voice every time."
The program is funded through donations that cover ice rental, equipment and the pizza party. Debbie McQuilkin, wife of Gonzaga Trustee Kevin McQuilkin from Connecticut, provided initial seed money for the program. Catholic Charities of Spokane, the American Special Hockey Association, and USA Hockey have helped maintain the program. The program is free to participants.
After a holiday break, the Friday practices (5:30-6:30 p.m.) start again on Jan. 15 at Riverfront Park Ice Arena.