Smart Antenna & Radio Lab Provides Insights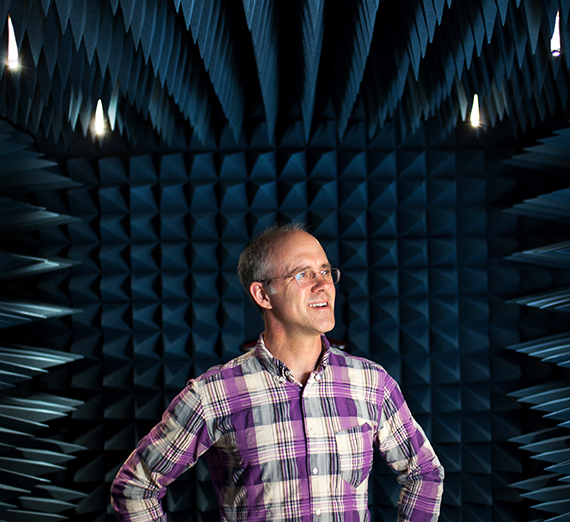 ---
Gonzaga University's Smart Antenna and Radio Laboratory, completed in 2011 thanks to a $1.1 million grant from the National Science Foundation, is providing one-of-a-kind research opportunities to faculty and students alike in efforts to meet the increasing demand for reliable and secure high-bandwidth wireless communications.
Steve Schennum, professor of electrical engineering, received the award – Gonzaga's largest federal research grant ever – to build an anechoic chamber to conduct advanced research to send more data wirelessly, and to send it faster. The technology has widespread commercial applications, including first-responders such as police and fire-rescue units.
Its commercial applications range from smart phones to underground mining communications to radio-frequency identification (RFID) tag reading to smart-energy applications that self-report customers' utility usage. Future applications envisioned include systems to conserve household energy through integration with a so-called "smart grid" that will allow customers to use energy when demand is low – saving money and reducing load on the electrical grid.
The shielded anechoic chamber absorbs reflections of sound or electromagnetic waves, and prevents external electromagnetic radiation from getting inside. The lab gives Schennum and his student research assistants unique opportunities for hands-on research and experiential learning.
"As students, this is amazing," said Caitlyn Croskrey, a rising senior electrical engineering major from Spokane who will graduate in 2016. "There are (only) a handful of universities that have anechoic chambers and professors who are interested in this kind of stuff."
In the lab, students test antennas, radios and other electronic products for companies before the Federal Communications Commission certifies them. Electronics are tested to ensure they don't radiate electromagnetic waves that interfere with one another. A couple of companies pre-test their appliances at the lab, which provides funding to Gonzaga and the student researchers.
In addition to the lab, Schennum's research work involves designing "smart antennas." Unlike most antennas, the smart antennas can send horizontal radiation signals, which are invisible to the predominantly vertical signals that are being used in most electronics today. Changing the polarization of the signals make them less susceptible to interference.
By furthering technology, the concepts involved in smart antennas could be applied to help save lives by improving communications for first-responder emergency personnel.
"If a fireman goes into a burning building and drops a call it's kind of a problem," says Schennum. "Especially in a big city where they have lots cell phones and public safety phones interfering with each other."
Several Inland Northwest companies are paying to use Gonzaga's SARL, including LHC2 Inc., a Liberty Lake-based wireless equipment design, manufacturing and deployment company. The lab also contributes collaborative research and educational opportunities for faculty and students at University of Idaho, Washington State University, Eastern Washington University, Spokane Community College, and others.