Smart, Savvy Cheerleaders Smash Stereotype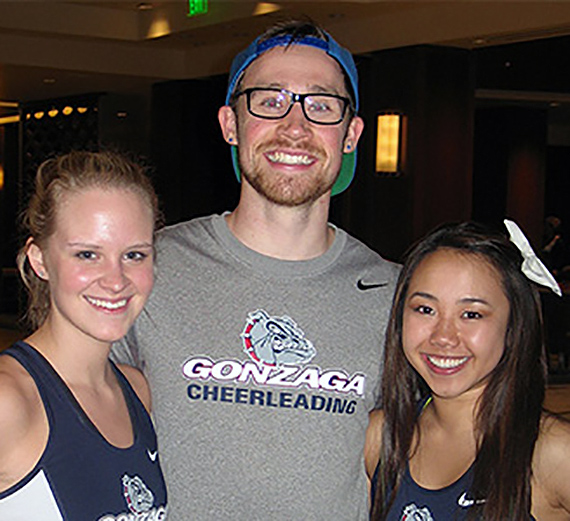 ---
By Peter Tormey
SAN DIEGO — Gonzaga University's cheer squad has heard all the clichés about cheerleaders, but these Zags — all outstanding students — smash that stereotype to smithereens.
"We're as intellectual as anybody else," said senior co-captain Becca Ryan, a civil engineering major from Denver.
"By no means do we have a stereotypical 'dumb cheerleader,'" said Sam Wyss, a junior co-captain and philosophy major from Denver. "We have a lot of really intelligent girls and guys."
Senior Cat Truong, from Spokane, is earning a degree in electrical engineering.
"I think it's really fun to disclaim the stereotype of the ditzy cheerleader because none of us is like that," said Truong who started cheering as a high school junior. After putting her pom-poms down due to the rigors of engineering, Truong picked them back up again after finding she's a better student when she's cheering.
"Actually it helps me get better grades," she said. "I have to be much more focused."
Wyss, who played hockey and lacrosse in high school, decided to try cheerleading as a freshman when someone suggested it at a spiritual retreat.
"I fell in love with it and have been involved in cheer for the past three years," he said.
Ryan, who has cheered since the third grade, opted not to cheer as a freshman. Like Truong, however, Ryan noticed that she too was a better student when she was cheering.
"By the end of high school, I thought I was burned out with it," Ryan said. "I noticed a big change in the way I studied and with my grades for a while. I had way too much time to kill and putting a lot of things off to the last minute. When you cheer and know that you are going to be traveling, you have to stay on top of things."
Truong said she too took a break from cheering but found she missed it and didn't perform as well academically without it.
"The one thing that it's taught me is having to balance in work and play," she said. "I really need that balance."
Ryan said cheerleading also gives her and Truong the opportunity to surround themselves with students with diverse academic pursuits and interests to complement their engineering experiences.
"It's good to learn from everybody else too and not just be with the same like-minded people because I think that stagnates you," she said. "Especially with Gonzaga they want you to grow your whole person and not just in your major. So being able to be around a bunch of these different people, it teaches you a lot more than just academics."
Pumping up the collective spirit for Zag Nation is something the cheerleaders cherish.
"We really feed off the energy of the crowd and I feel I have been very lucky to have been a part of that experience," said Truong.
Wyss said the crew prays together before every game. The prayer typically focuses on passion and channeling it for Zag Nation.
"When you can find that inner passion and get these guys excited, it's infectious," Wyss said. "You get that whole crowd rowdy and they feed off your energy and you feed off theirs. You are really supporting the team."
Regardless of all life's other stresses, Ryan said she never has a bad day at the center of the crowd, exhorting the Zags to victory.
"There is no happier place for me," said Ryan. "That is my mecca."
"A great community that I would not have experienced anywhere else," is how Truong describes her Gonzaga cheerleading experience.
Wyss concurs.
"I'm definitely cherishing this community. It is something that has brought me up and made my GU experience. I'm very thankful, very thankful," he said.
For students to get the most from Gonzaga, they must take advantage of the many rich experiences beyond academics that add so much richness to their lives, Ryan said.
"It's not just about academics," she said. "You are coming here to find out who you are. I wouldn't be the person that I am without this team."
Like the men's basketball team, the cheer squad also has fought through adversity this year.
"I broke my ankle this year, in October, and it was a really, really rough recovery," Ryan said. "I couldn't have gotten through it without this team. We're not just a team, we're a family and it's one of the things I'm going to miss the most about Gonzaga."
Go GONZAGA, G-O-N-Z-A-GA, GO GONZAGA!