Alumna Lewis Pursues Singing Dream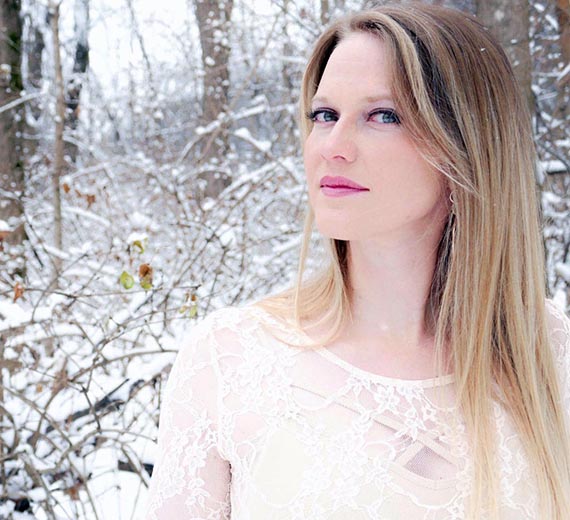 ---
By Taylor Hornney
Class of 2016
SPOKANE, Wash. — Nicole Lewis came to Gonzaga University as a musically inclined freshman from La Grande, Ore., who planned to study hard and become a pharmacist. She could not have imagined that a decade later, with biology degree in hand, she would be pursing a much different dream — one of pop country singing stardom.
With more than a little help from her friends, especially Gonzaga music faculty Mellad Abeid, Daniel Cox, and David Fague, she recently released her first album, "My Kind of Paradise." Cox plays drums while Gonzaga alumni Abeid ('02) plays guitars and banjo, and Fague ('00) performs bass and sings.
The album's first six tracks were recorded early last year in Nashville at Dark Horse Recording — the studio used by artists such as Taylor Swift, Tim McGraw, Faith Hill and others. The band recorded the remaining nine tracks in Spokane in time to release the album in December (2013).
A soft-spoken and thoughtful science student seeking to scratch her musical itch, Lewis met Cox and Fague through Gonzaga's popular Jazz Ensembles (18-piece big band) and Jazz Combos (4-7 people) — groups that perform regularly and are open to all students regardless of major. In fact, only two of 40-some students in the groups this spring are music majors.
"Most everyone who plays in Jazz Combos or Jazz Ensembles are pre-med majors, engineers, history, physics, English majors you name it," said Fague who directs both. "All of these students were musicians first before they were engineers. They were musicians before they became science majors. My whole mission in the jazz program is to give students useful skills to use when they leave here."
The mission appears to have been more than successful in the case of Lewis.
After performing mostly jazz around town with Cox and Fague for two years, the band added Nicole's co-songwriter Abeid, and swung decidedly toward the pop country genre. Local guitar ace and producer Joe Brasch joined the group a year ago and they decided the sound was sweet enough to sell.
The album, a compilation of upbeat country pop songs and lyrics that speak to the beauty of life, embodies a paradise that resonates with many.
"I always try to have an undertone of the goodness of life — it's important to savor the moments and people," says Lewis. "I think a lot of my songs reflect that, and my writing always starts from that perspective."
Lewis' first big break came in 2007 as a Gonzaga junior when she won the "Gimme the MIKE!" singing competition at Northern Quest Casino and drove home a new Toyota Camry. Since then, she has advanced in other popular musical contests such as "American Idol," "The Voice," and she won the state competition in the Texaco Country Showdown.
Lewis, who likes to relax at times reading anatomy and science books, said Gonzaga has taught her to live life being open to the universe and all its myriad possibilities — including those we may not have planned. Her life underscores the intrinsic interconnectedness of arts and science and the beauty of the Jesuit educational system. Her involvement in the extracurricular jazz groups on campus opened the door to her musical career.
"Luck is when opportunity and preparedness meet, I think that's one of the big things I learned here at Gonzaga from the Jesuits and my professors," says Lewis, who also sang in the a cappella group "Big Bing Theory."
If it hadn't been for Gonzaga, Lewis says she would not be where she is today, pursuing an unexpected career in tune with her soul that simultaneously challenges and rewards her at every turn — including the non-artistic yet equally important business aspects of becoming a successful recording artist.
"Performing is the payoff. If I could spend all of my moments singing songs with that band on stage, just sharing those thoughts and that language with my audience, I'd do it every second of the day," she says.