Building Community: Luke Baumgarten & Leah Sottile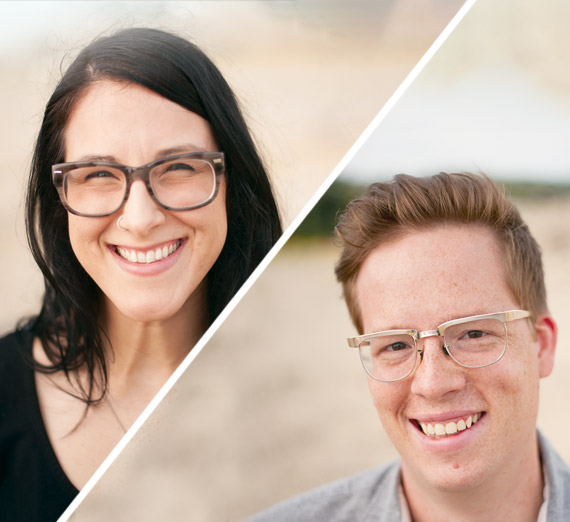 ---
Luke Baumgarten & Leah Sottile
More Art, Please. And While We're At It, More Music, Too.
In May, a music festival named Volume welcomed 80-plus bands to Spokane. In June, local artists sold more than $30,000 of work at Bazaar, a first-year event. And in October, the seventh annual Terrain festival celebrated visual and performance artists in one effervescent Spokane night.
All three events were founded by Gonzaga alumni. None started with lofty goals. All had humble beginnings.
"We had all these really talented friends and people we knew from the scene who would move to Seattle or Portland where there was a better scene, or where they thought there was a better scene," said Luke Baumgarten ('03), founder of Terrain and Bazaar. "Literally, the genesis of Terrain was simply just trying to get people in a room and put some art on the walls, throw a good party and have people enjoy each other."
It worked. This year, Terrain's jurors reviewed more than 1,000 submissions; and the festival has launched a campaign to fund a permanent site and ongoing presence. The popularity of Terrain convinced Baumgarten and his co-founders to organize Bazaar, which focuses on selling local art – and supporting up-and-coming artists.
"If we want people to sell work we need to find or help cultivate people that will buy work," he said. Baumgarten, a former writer for Spokane's weekly, the Pacific Northwest Inlander, believes the festivals also are building a sustainable creative community. "If people know and care about each other they'll help each other," he said. "It's something I think we've gotten away from as a society."
Volume developed in a similar manner, says founder Leah Sottile ('03). A self-described Portland music rat, Sottile grew up on live music. At the time, she worked as the Inlander's music editor.
Neither Sottile nor Baumgarten began with the express purpose of creating a community event. Instead they saw a hole and decided to fill it. Both turned to networks they established through the Inlander, which sponsors Volume.
Like many, Baumgarten moved to Seattle as soon as he took off his cap and gown. He saw Spokane as a creative dead-end, especially for film review, his passion then. Creative competition and the high cost of living brought him back to Spokane.
"I think the biggest misconception about Spokane is that there aren't the caliber of artists here," said Sottile. Although she won't manage Volume in the future, she said, "I think there are better artists here and better musicians because we don't have a high cost of living. We don't have all these constraints. It's kind of this artistic playground."