History by Horak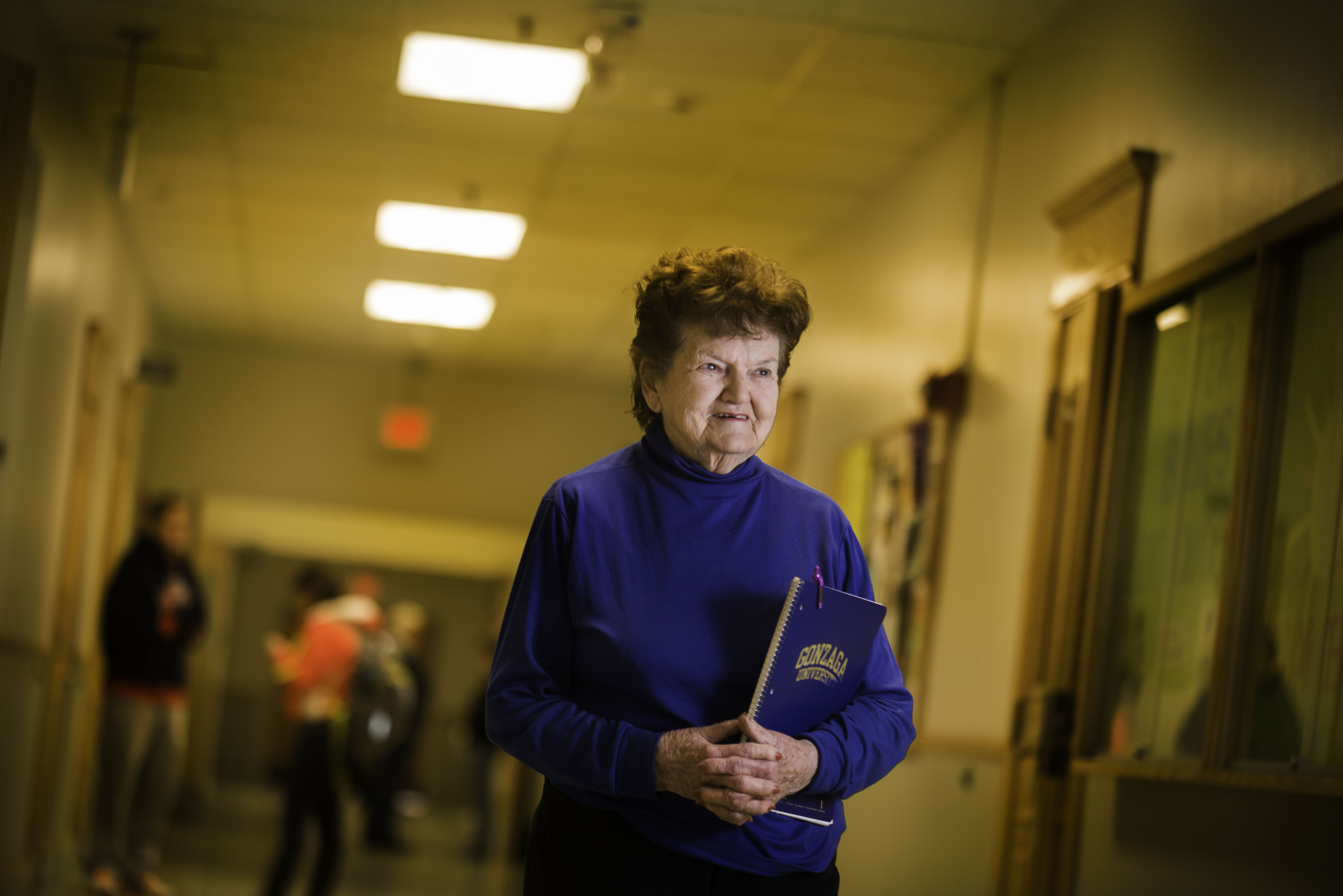 ---
(Republished from Gonzaga Magazine 2013)
"You'll recognize me. I'll be the oldest one there," Betty Horak reassured me on the phone. We met in the Crosby Student Center, and she was right. In a sea of college students cramming for finals, Betty was easy to spot. She also will stand out when, at age 88 (94 in 2019), she receives her diploma in May at the Spokane Arena, 70 years after graduating from high school. By all accounts, she is the oldest individual to earn her bachelor's degree from Gonzaga.
When Horak was young, women didn't have a lot of options. Most jobs were reserved for men in the Great Depression.
"When I grew up, if you did go to college you became a nurse or a schoolteacher," she explained. "Otherwise you became a beautician or an office worker. Or if you didn't get that far you scrubbed somebody else's floors. That's no fun. If you were female and you had a job, if you got married you lost your job, so a man could have it to support a family. Now you girls can be doctors, you can be lawyers, you can go into politics, you can do anything you darn well please, and I think that's wonderful."
Horak has always lived in Spokane and she did what was expected, marrying a Marine, "Tex," who came home from World War II. He attended Gonzaga on the G.I. Bill, and they raised two daughters, sending their youngest, Patty, to Gonzaga, too. For 43 years, Horak worked as the office manager for the Long Lake Lumber Company.
Upon retirement, though, Horak decided to do all the things she didn't have time or resources for when she was young. She took ballet lessons at 70 and voice lessons at 75. She taught herself to swim – she had never learned because her mother had been afraid of water. And in 1998, she enrolled at Gonzaga. Since then, she's taken time off for illness and to care for dying friends. In recent years, she's taken just one class a semester, because she wants to enjoy her time at school and focus on each class to allow herself to really and truly learn. Her undergraduate degree has taken 14 years, but she has made it.
"Everyone says that's perseverance," she jokes. "I say my husband would have called it bull headedness." That stubbornness serves her well in the classroom, where Horak, a history major, proved herself a strong student.
"She's always ready, always on time, always dressed nicely. Life was not given to her on a silver platter," explained Fr. Michael Maher, S.J., professor of history, who has taught Horak in several courses. She does every bit of the reading for each class, and often provides unusual insight, especially in courses focused on the 20th century.
"Sometimes I read things in our textbooks, and I think, 'That's just wrong,' " she said. "They talk about Roosevelt's WPA" – the Works Progress Administration – "and the CCC" – the Civilian Conservation Corps – "and they say that was a giveaway era. Those men worked hard and earned their money and held their heads up high. When I heard that, I had to speak up."
"It's good to have a more diverse group of people, especially in a history class," said senior Stephen Barbarossa, who took Maher's class with Horak. "She can remember how events were perceived when they occurred, not just what happened. She provides a cultural perspective that we can't."
"I've lived through a lot," Horak said. "And I've enjoyed every part of my life. I don't mind being old, it's really kind of nice. There are so many things I understand better now – and things that were so important when I was young, who cares now? It's really great. I hate to see anyone scared to get older. Don't fight it. You can do anything you want, no matter how old you are."