125 Years of Tradition Informs, Inspires GU's Increasingly Global Future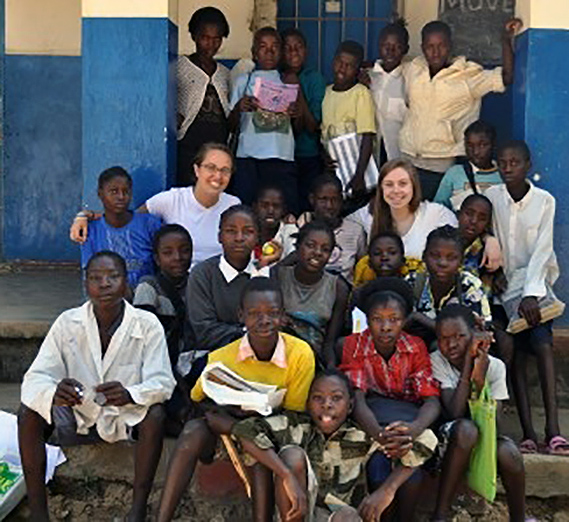 ---
By Peter Tormey
SPOKANE, Wash. — While Gonzaga's founding in 1887 was an intercultural educational apostolate of the Jesuits in the pioneer West, the University's future mission is envisioned as an educational force for social good on a much larger scale — the global frontier.
In a world shrunk by communications technology and interconnected like never before, an increasing global emphasis has become a growing imperative for Gonzaga.
"Our world is profoundly global, multicultural and international," said Patricia O'Connell Killen, Gonzaga's academic vice president. "Globally focused graduates acknowledge that their opportunities and challenges are inextricably linked to those of people in Syria, Afghanistan the Congo or any place in the world."
Gonzaga will direct its global focus through the new Center for Global Engagement, to be led by Joseph Kinsella, Ph.D., recently recruited from DePaul University in Chicago. An anthropologist with deep experience in international and intercultural education, Kinsella becomes the center's first permanent director in early April.
"With the Center for Global Engagement, Gonzaga has a point of animation and coordination that will enhance current and make possible new initiatives to globalize the campus," AVP Killen said.
In an interview from Chicago, Kinsella said among the first priorities he will address at Gonzaga are the "comprehensive needs of the matrix of international people on campus, including returned study abroad students as well as our international students, and how we can best serve them all," adding that his focus will be on helping Gonzaga reach the next level in international education.
Kinsella praised Gonzaga's Master of Arts in Teaching English as a Second Language program, which helped Gonzaga become No. 1 nationwide for small colleges and universities whose graduates serve in the Peace Corps.
"The fact that Gonzaga has an English Language Center for international students is a huge leg up," Kinsella said. "I plan to engage all of this international community to nurture a healthy community of international scholars." These efforts, Kinsella said, ultimately "will foster an engagement with the world that reflects our international Jesuit nature and identity."
Benefits of an increased global focus include animated faculty learning communities that consider the global content and global dimensions of the curricula; improved collaboration with universities worldwide to meet shared challenges; facilitation of scholarly and student exchanges; and fostering of study abroad and service learning-opportunities, Killen said.
Gonzaga builds upon its significant existing international and intercultural resources, faculty, curricula and programs to continue preparing graduates for success wherever opportunities and challenges exist. Among its most prominent global efforts, Gonzaga celebrates the 50th anniversary of its study-abroad program in Florence, Italy in the fall.
The yearlong 125th Anniversary celebration, "Tradition & Transformation," which began with a powerful commencement address last May by Nobel Prize Laureate Desmond Tutu, has celebrated Gonzaga's mission and helped inform its increasingly global future.
"Gonzaga's 125th Anniversary has helped inform why the past is relevant to the present and why there is power in this idea of 'tradition and transformation,' " said Raymond Reyes, Gonzaga's associate academic vice president. "It's because the founding of Gonzaga was an intercultural encounter. Culture and human difference are intimately woven, braided into the ethos, the soul, and the cultural DNA of the Jesuits."
Most Rev. Tutu, the South African Anglican Archbishop Emeritus, encouraged Gonzaga's graduates to dream of a world without war, hunger, racism and other forms of oppression, and to partner with the Lord to make their dreams come true. Contributing to the global perspective, Gonzaga President Thayne McCulloh has invited a variety of world-renowned voices to campus in the past year, including Tutu, Pulitzer Prize-winning journalist Thomas Friedman, and internationally recognized futurist Sir Ken Robinson. Pioneering primatologist Dr. Jane Goodall speaks at Gonzaga April 9.
Reyes is among the many faculty and administrators instrumental in helping Gonzaga achieve its expanding global initiatives. He was in Zambia as part of a collaboration between Gonzaga and the Jesuits' Charles Lwanga Teachers College for the first National Gonzaga Day on Jan. 24. Reyes admires the Jesuits' historic respect and desire to learn from the cultures they encounter.
"That's why they are the consummate linguists," Reyes said. "They first thing the Jesuits do in an intercultural encounter is learn the language of the people so they can communicate. Communication is essential for their social apostolate, their educational mission."
Guiding Gonzaga's global approach is its rich and living mission to educate people for others through the time-tested Jesuit ethos and educational system, inspired by the centuries-old words and deeds of St. Ignatius of Loyola.
After all, Kinsella said, Gonzaga's purpose in engaging with other cultures is both to teach and to learn.
"That's the beauty of how we understand engagement," Kinsella said. "Our mission is to engage."