Gonzaga Rises to No. 1 in Nation for Alumni Peace Corps Volunteers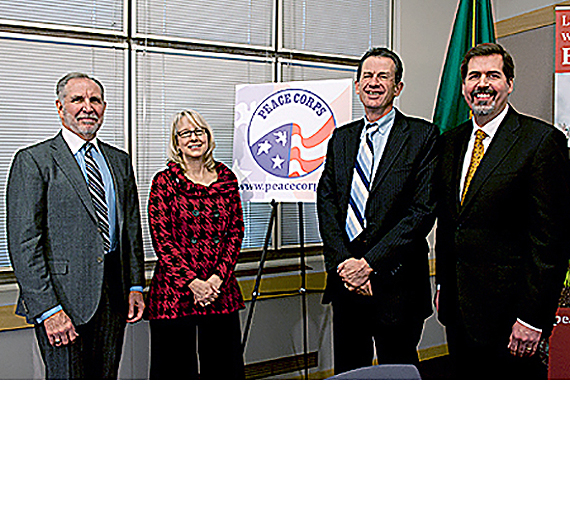 ---
(Above) GU President Thayne McCulloh (far right) at the Peace Corps announcement that included (from left) UW President Michael Young, Peace Corps Acting Director Carrie Hessler-Radelet and WWU President Bruce Shepard. Photo courtesy UW
Gonzaga News Service
SPOKANE, Wash. — For the first time, Gonzaga University has climbed to No. 1 nationwide among small colleges and universities whose graduates serve in the Peace Corps. Twenty-four Gonzaga undergraduate alumni are serving overseas as Peace Corps volunteers, lifting Gonzaga's historical total to 311 alumni with Peace Corps service.
Gonzaga President Thayne McCulloh, who was in Seattle for the announcement earlier this month, said the honor represents a tribute to Gonzaga's enduring mission of service to others, and to Father Joseph Cataldo, S.J., who founded Gonzaga 125 years ago.
"Today's announcement underscores the commitment of Gonzaga's graduates to work toward a world of peace, justice and greater understanding among people around the world," said President McCulloh. "Our graduates demonstrate every day that our tradition is one of transformation — both institutionally in educating people for others, and individually, as students and alumni carry their inspired missions into many career fields."
The honor is especially meaningful during the yearlong celebration of Gonzaga's 125th anniversary, which is themed, "Tradition and Transformation," President McCulloh said.
Gonzaga, which has consistently ranked among the Peace Corps' Top Colleges, began its ascent to the top of the rankings in 2011 — rising four spots to No. 3 nationwide. In 2012, Gonzaga moved up to No. 2, tying its previous all-time high (set in 2008).
Significantly, Gonzaga is among a select group of some 80 schools nationwide to offer a Master's International program in collaboration with the Peace Corps. In 2008, Gonzaga's Master of Arts in Teaching English as a Second Language (MA/TESL) program became a partner in the Peace Corps Master's International program. This program offers an important avenue for recent Gonzaga alumni to enter the Peace Corps.
Washington Universities Lead Nation
This year marks the first time that the top schools in all three categories hail from the same state. University of Washington and Western Washington University also rank No. 1 on the Peace Corps 2013 Top Colleges rankings in the large and medium school categories, respectively. It's the first time WWU has been ranked No. 1 and the fifth time for UW. Five other universities in Washington also made the Peace Corps 2013 Top Colleges rankings, all in the small school category: Seattle University (No. 5, 19 alumni currently serving), University of Puget Sound (No. 8, 18 alumni), Evergreen State College (No. 8, 16 alumni), Whitman College (No. 8, 16 alumni), Pacific Lutheran University (No. 18, 15 alumni).
More than 8,000 volunteers serve in the federal agency established by President John F. Kennedy in 1961. Volunteers work with communities in 76 host countries on projects related to agriculture, economic development, education, environment, health, and youth development.
The Peace Corps ranks Top Colleges annually according to schools' enrollments. Small schools have less than 5,000 undergraduates, medium-sized schools have between 5,000 and 15,000 undergraduates and large schools have more than 15,000 undergraduates. Rankings are calculated based on fiscal year 2012 data as of Sept. 30, 2012 as self-reported by Peace Corps volunteers.
"Peace Corps announces Top Colleges annually to recognize the schools that contribute the most alumni who are making a difference overseas through volunteer service," said Peace Corps West Coast Regional Manager Janet Allen. "Having Washington state be the home to all three No. 1 schools is a coup of which I'm especially proud. We thank and congratulate University of Washington, Western Washington University and Gonzaga University for producing globally-minded leaders who turn idealism into action as Peace Corps Volunteers."
Peace Corps Acting Director Carrie Hessler-Radelet said graduates of colleges and universities nationwide each year make a difference in communities overseas through Peace Corps service. "As a result of the top-notch education they receive, these graduates are well prepared for the challenge of international service," Hessler-Radelet said. "They become leaders in their host communities and carry the spirit of service and leadership back with them when they return home."
Amanda Walsh ('12) to Serve Peace Corps in Africa
Amanda Walsh, a 2012 Gonzaga graduate, is among those who have pushed Gonzaga to its No. 1 ranking in the Peace Corps. A native of Baltimore, who majored in French and international relations and lives in Spokane, Walsh will depart for Togo a small, West-African nation, in June to begin pre-service training as an English and gender education Peace Corps volunteer.
Walsh says she became interested in Peace Corps in high school and will live Gonzaga's mission focus as a person for others.
"I decided that I wanted to do something more than become a teacher here in the United States," Walsh said. "The Peace Corps is doing great things around the world and I just really wanted to be part of something greater than myself."
During her first three months of service, Walsh will live with a host family in Togo to become immersed in the country's language and culture. After acquiring the language and cultural skills necessary to assist her community, she will be sworn into service and be assigned to a community in Togo. Walsh will live and work for two years with the people of Togo. She is doing so through Gonzaga's Peace Corps Master's International program in which she is finishing her master's degree in Teaching English to Speakers of Other Languages (TESOL).
More than 2,720 Peace Corps volunteers have served in Togo since the program was established in 1962. Currently, 88 volunteers serve in Togo. Volunteers work in the areas of education, environment, health, business and information technology. Volunteers are trained and work primarily in French, but are also trained in the following languages: Adja, Bassar, Ewe/Watchi, Gourma, Haoussa, Ifè (Ana), Kabiyé, Kotokoli, Mina and Tchokossi (Anoufo).